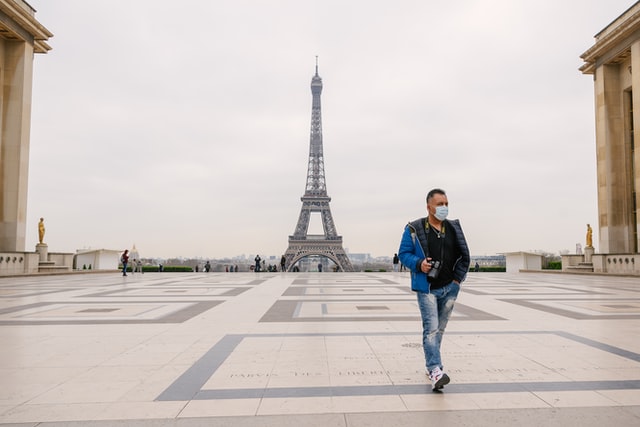 With the contraction of tourism, the French economy started to flatten weeks before the lockdown in mid-March. But as in many countries, the lockdown itself has generated an unprecedent shock. According to the INSEE or OFCE, the contraction in GDP may be an unprecedented 35%.
The French labor market was already characterized by a high degree of churning: annual hiring equalled the stock of private jobs. In March alone, almost half a million jobs vanished, the number of jobseekers rose by 5%; and figures for April will be even more dramatic, since millions of workers were on short-term contracts that are being terminated. For workers on permanent contracts the shock has been delayed thanks to immediate and massive governmental support to firms. Small businesses received emergency cash, and multinationals enjoy credits of dozens of billions of euros guaranteed by the state. The furlough program is generous: by early May firms had applied for support covering nearly half the total private workforce, although effective coverage will probably be only 25%. The result is that the number of business failures is currently historically low, and that is likely also true for redundancies.
The lockdown came late, fuelling the diffusion of the virus into large portions of France, especially the north-east. That late introduction makes predicting the health consequences of loosening the lockdown beginning May 11 very uncertain. In turn this makes it impossible to draw an economic scenario for the French labor market in the next two quarters. But we can already be certain that the large seasonally dependent hotel restaurant and cultural sectors will be ravaged this summer. A double-digit unemployment rate is very likely, even with all the government support being offered.
Beyond unemployment, the crisis has already exacerbated inequality between workers and regions. Comparing Central Paris and the nearby département Seine Saint-Denis provides a dramatic illustration. About 20% of Paris's population fled at the start of the lockdown. Professionals and managers went to their secondary homes with their families for teleworking. By contrast, low-paid workers in "essential" activities (utilities, care homes, food stores, etc.), resident in Seine Saint-Denis—the poorest metropolitan département—have continued to work on-site and to take public transportation without PPE, amid mask shortages. In addition, the government has relaxed labor regulations, for example, allowing employers to postpone vacations and days off. Employers' obligation to provide appropriate PPE was only imposed effective May 11 (when high-paid workers started returning to their offices). The result is already a human drama: for the first two weeks of April, the mortality in Seine Saint-Denis was almost triple that of 2019.
Poor (working) families are also squeezed by inflation in food prices, magnified by closures of schools and leisure centres which provided basically free meals for their children. Queues lengthen at food banks. Exceptional financial help (100 to 500 euros) is expected for four million families. Whether it will be sufficient to avoid creating feelings of injustice that generate social unrest at least as severe as the 2005 riots or the recent yellow-vests protests is unclear.
© Philippe Askenazy
Philippe Askenazy is senior researcher in economics at the French National Center for Scientific Research (CNRS) and associate professor at the Ecole Normale Supérieure.
Read more on the coronavirus crisis:
"Coronavirus and the labor market," by Daniel S. Hamermesh
"Fighting a coronavirus recession," by Daniel S. Hamermesh
"Pandemics and the labor market—Then and now," by Karen Clay
"Pricing the lives saved by coronavirus policies," by W. Kip Viscusi
"Health effects of the coronavirus recession," by Christopher J. Ruhm
"The long-term consequences of missing a term of school," by Simon Burgess and Hans Sievertsen
"Coronavirus, telecommuting, and the labor market," by Nikos Askitas
"Expectations about Covid-19 social-distancing measures in Italy and their impact on compliance," by Guglielmo Briscese, Nicola Lacetera, Mario Macis, and Mirco Tonin
"The coronavirus crisis and the next generation," by Bart Cockx
"Korea: A paragon of dealing with coronavirus," by Sok Chul Hong
"Economic implications of postponing the Tokyo 2020 Olympic Games," by Peter J. Sloane
"The sudden growth of employee autonomy during the coronavirus lockdown," by Elisa Gerten and Michael Beckmann
"Mitigating the work–safety trade-off," by Tito Boeri, Alessandro Caiumi, Marco Paccagnella
"Trading off lives for jobs," by Daniel S. Hamermesh
"Trends in Covid-19 infection: What New York City neighborhoods tell us," by George J. Borjas
"Labor markets during the Covid-19 crisis: A preliminary view," by Olivier Coibion, Yuriy Gorodnichenko, Michael Weber
"Did California's shelter-in-place order work? Early coronavirus-related public health effects," by Andrew Friedsen, Drew McNichols, Joseph J. Sabia, Dhaval Dave
"200 billion hours to spend: The Covid-19 opportunity to upskill," by Peter Siminski, Emil Temnyalov
"The CARES Act—Massive government intervention in the economic crisis," by Richard Prisinzano
"What is happening to unemployment in the post-Covid-19 labor market?," by Katharine G. Abraham
"Measuring employment and unemployment—Primer and predictions," by Daniel S. Hamermesh
"Can inflation be accurately measured during a lockdown?," by Erwin Diewert and Kevin J. Fox

Please note:
We recognize that IZA World of Labor articles may prompt discussion and possibly controversy. Opinion pieces, such as the one above, capture ideas and debates concisely, and anchor them with real-world examples. Opinions stated here do not necessarily reflect those of the IZA.