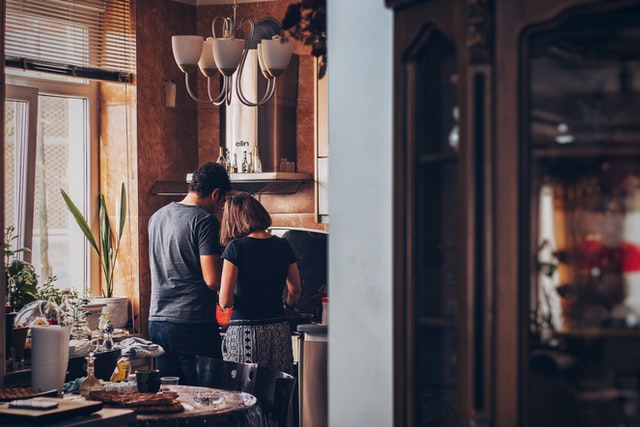 Despite The Turtles' titular 1967 song, are people really happy together? The question is especially relevant when people in many countries are still locked down, unable to leave their homes except for medical emergencies, food shopping, and exercise. If married they are stuck at home with their spouse; if single, they are stuck alone. Are people who are married or cohabiting so happy together, and the single unhappy alone?
It would be great to examine how lock-downs have affected happiness. Sadly, we don't yet have data on the impact on happiness of being stuck at home during this crisis. But we can use information on past behavior showing how happy people are depending upon with whom they spend time and how much time they spend alone. I examined how people's happiness in the US in 2012–2013 and in the UK in 2014–2015 varied with the amount of time alone and with the amount of time spent with a spouse, other relatives, and friends. Looking at this behavior allows predicting how people's happiness might react to the restrictions that lock-downs impose on how we spend our time.
Taking people with the same demographic characteristics—same age, educational attainment, race/ethnicity, geographical location, and others—single adults are less happy the more time they spend alone on a particular day. The impacts of additional time spent alone in this group are almost identical in the US and the UK. These findings suggest that, over and above the unhappiness caused single adults by the uncertainties about the future of the impact of Covid-19, their spending more time alone each day than usual because of the virus has added to their unhappiness. This suggests that the burden of lock-downs is especially heavy on people who are unmarried and not cohabiting.
The results are different for married adults without children at home. In both countries men and women are happier the more time each day that they spend with their spouse. But the gain in happiness diminishes the more time spent together, to the point that for a small fraction of married people extra time with their spouse makes them less happy. As the old saying goes, "for better or for worse, but not for lunch." Nonetheless, in both countries most married people who spend more time together are happier.
A lock-down may or may not make couples happier. But the evidence suggests that spending more time with a spouse is more enjoyable for married people than being alone or even being with friends. So even though we're locked down and worried about our futures, there's the bright spot for many of us that we are forced to spend more time together with our spouse, the person with whom we find spending time to be most enjoyable. And that makes us happier than we otherwise might have been—it might offset at least to some extent our unhappiness about the effects of the Covid-19 crisis on our economic and more general personal well-being.
© Daniel S. Hamermesh
Daniel S. Hamermesh is Distinguished Scholar at Barnard College, USA, Director of Research Network at IZA, and Editor-in-Chief of IZA World of Labor
Read more on the coronavirus crisis:
"Coronavirus and the labor market," by Daniel S. Hamermesh
"Fighting a coronavirus recession," by Daniel S. Hamermesh
"Pandemics and the labor market—Then and now," by Karen Clay
"Pricing the lives saved by coronavirus policies," by W. Kip Viscusi
"Health effects of the coronavirus recession," by Christopher J. Ruhm
"The long-term consequences of missing a term of school," by Simon Burgess and Hans Sievertsen
"Coronavirus, telecommuting, and the labor market," by Nikos Askitas
"Expectations about Covid-19 social-distancing measures in Italy and their impact on compliance," by Guglielmo Briscese, Nicola Lacetera, Mario Macis, and Mirco Tonin
"The coronavirus crisis and the next generation," by Bart Cockx
"Korea: A paragon of dealing with coronavirus," by Sok Chul Hong
"Economic implications of postponing the Tokyo 2020 Olympic Games," by Peter J. Sloane
"The sudden growth of employee autonomy during the coronavirus lockdown," by Elisa Gerten and Michael Beckmann
"Mitigating the work–safety trade-off," by Tito Boeri, Alessandro Caiumi, Marco Paccagnella
"Trading off lives for jobs," by Daniel S. Hamermesh
"Trends in Covid-19 infection: What New York City neighborhoods tell us," by George J. Borjas
"Labor markets during the Covid-19 crisis: A preliminary view," by Olivier Coibion, Yuriy Gorodnichenko, Michael Weber
"Did California's shelter-in-place order work? Early coronavirus-related public health effects," by Andrew Friedsen, Drew McNichols, Joseph J. Sabia, Dhaval Dave
"200 billion hours to spend: The Covid-19 opportunity to upskill," by Peter Siminski, Emil Temnyalov
"The CARES Act—Massive government intervention in the economic crisis," by Richard Prisinzano
"What is happening to unemployment in the post-Covid-19 labor market?," by Katharine G. Abraham
"Measuring employment and unemployment—Primer and predictions," by Daniel S. Hamermesh
"Can inflation be accurately measured during a lockdown?," by Erwin Diewert and Kevin J. Fox
"The Covid-19 crisis exacerbates workplace injustices," by Philippe Askenazy
"Graduating during the Covid-19 recession," by Philip Oreopoulos
"Covid-19 and immigrant employment," by George J. Borjas, Hugh Cassidy

Please note:
We recognize that IZA World of Labor articles may prompt discussion and possibly controversy. Opinion pieces, such as the one above, capture ideas and debates concisely, and anchor them with real-world examples. Opinions stated here do not necessarily reflect those of the IZA.