A quarter of America's young adults still live with their family; Australian NRL players boycott gay pride jersey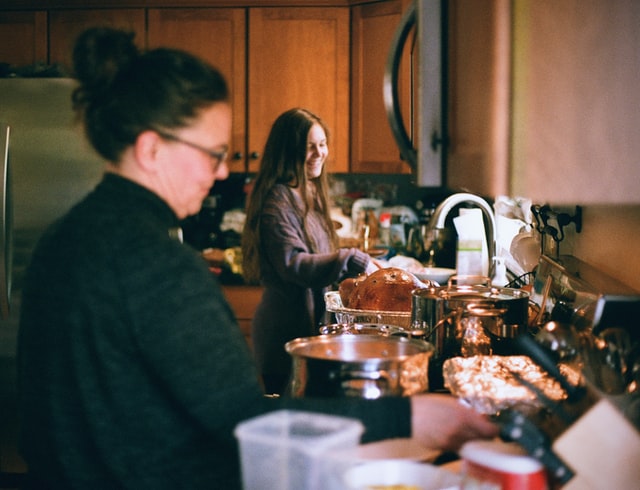 Today's global news summary brings news affecting the US and Australia, and discusses issues as diverse as living arrangements, homophobia, and unionization.
A quarter of America's young adults still live with their family
Demography, family, and gender
As reported by Pew Research Center, a quarter of US adults aged 25–34 lived in a multigenerational family household in 2021, up from 9% in 1971. Such multigenerational living has actually increased among all age groups over the last 50 years, but has been fastest among this younger cohort. The growth is especially pronounced among those without a college degree. Financial pressures—young adults without a bachelor's degree earn substantially less than those with a degree—are partly to blame. Young adults in multigenerational households with two parents (3%) were also found to be less likely than those with one parent (10%) or no parent in the household (14%) to be in poverty.
"As economies recover [from the pandemic] and businesses begin to hire, there are steps youths can take to minimize adverse effects from the recession. Those youths who are more mobile—switch jobs more often—recover faster. Getting back onto a steeper wage trajectory requires seizing better job opportunities when they come along. A willingness to move cities or to consider a wider range of industries will also help accelerate the recovery path," writes Philip Orreopoulos for IZA World of Labor.
Related content
IZA World of Labor articles
Do youths graduating in a recession incur permanent losses?
Effects of entering adulthood during a recession
Does homeownership affect education outcomes?
The labor market in the US, 2000–2020
Key topics
How should governments manage recessions?
Youth unemployment
Opinions
Graduating during the Covid-19 recession
Videos
Effects of entering adulthood during a recession
Australian NRL players boycott gay pride jersey
Demography, family, and gender
Seven players in Australia's National Rugby League (NRL) will boycott a key match over their team's decision to wear a gay pride jersey, reports BBC News. This week the Manly Warringah Sea Eagles will become the first team in the competition to wear a kit which promotes LGBT inclusivity in the sport. Seven players have objected to the move on religious and cultural grounds and will therefore not play as players from the same team cannot wear different jerseys. Players were not consulted on the jersey decision, for which coach Des Hasler has apologized. In a press conference on Tuesday, Hasler said the club had made a "significant mistake" that had caused "confusion, discomfort and pain for many people, in particular those groups whose human rights we were in fact attempting to support." Prime Minister Anthony Albanese praised Manly for its stance, saying: "It's important in Australian society that we respect everyone for who they are." Former Manly star Ian Roberts—the first former NRL player to come out—says that homophobia is still a big problem among fans and players and described the boycott as "sad and uncomfortable."
Marie-Anne Valfort tells us in her article that, "Anti-discrimination policies that rely on a punitive approach are not sufficient to combat discrimination. They must be complemented by policies that counter prejudice and stereotypes and that limit the expression of cognitive biases and attention-based discrimination."
Related content
IZA World of Labor articles
Sexual orientation and labor market outcomes
Trans people, well-being, and labor market outcomes
Do anti-discrimination policies work?
Key topics
Workplace discrimination
Opinions
Sexuality and the workplace: Coming out and losing out?
Videos
Discrimination and anti-discrimination policies: Harry Holzer in discussion with Daniel S Hamermesh
IZA Discussion Papers
Sexual Orientation Discrimination in the Labor Market against Gay Men
Reducing Sexual-Orientation Discrimination: Experimental Evidence from Basic Information Treatments
How to Reduce Discrimination? Evidence from a Field Experiment in Amateur Soccer
Concerns companies are union-busting by closing stores
Labor markets and institutions
Starbucks and Chipotle store closures in the US in the wake of employee organizing efforts are drawing allegations from workers and labor advocates of union-busting, writes Quartz. Starbucks has announced 16 store closures as a result of crime and community safety issues. Two of those stores are unionized while another had scheduled a union election. Chipotle has also announced the closing of a store due to chronic understaffing, the store had also recently announced plans to hold a union election. Workers affected by the closures have filed unfair labor practice charges with the National Labor Relations Board, arguing that the closures are both retaliation for organizing and an attempt to discourage employees at other locations from unionizing.
"Declining union power would not be an overwhelming cause for concern if not for rising wage inequality and the loss of worker voice," says John T. Addison in his IZA World of Labor article.
Related content
IZA World of Labor articles
The consequences of trade union power erosion
Alternative dispute resolution
Union wage effects
Key topics
Trade unions and collective bargaining
Opinions
The recent push toward unionization in the US
The union wage premium: Is it real?
How can governments mitigate the global decline in labor income share?
IZA Discussion Papers
Evolution of Union Wages and Determinants
Are Unions Detrimental to Innovation? Theory and Evidence