Elevator pitch
Discrimination is a complex, multi-factor phenomenon. Evidence shows widespread discrimination on various grounds, including ethnic origin, sexual orientation, gender identity, religion or beliefs, disability, being over 55 years old, or being a woman. Combating discrimination requires combining the strengths of a range of anti-discrimination policies while also addressing their weaknesses. In particular, policymakers should thoroughly address prejudice (taste-based discrimination), stereotypes (statistical discrimination), cognitive biases, and attention-based discrimination.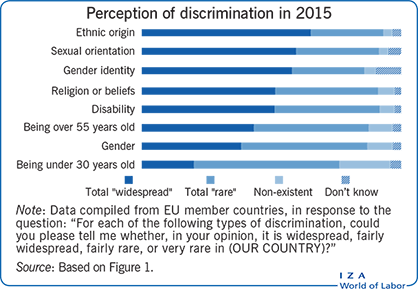 Key findings
Pros
Banning discrimination against at-risk groups likely contributes to protecting them once they are hired.
Monitoring the composition of the workforce together with wage gaps helps identify non-complying firms and, hence, improves the share and earnings of individuals at risk of discrimination.
Prejudice-reducing policies, such as de-biasing interventions at school, should curtail taste-based discrimination.
Narrowing the productivity differential across groups and easing employers' access to information on candidates' individual productivity can reduce statistical discrimination.
Machine learning for screening résumés and managing careers limits the expression of cognitive biases and attention-based discrimination.
Cons
Anti-discrimination laws do not seem to reduce hiring discrimination, and may even increase it.
Defining target values for the workforce composition and wage gaps of different groups is not feasible.
Little is known about how to calibrate de-biasing interventions in order to maximize their impact and persistence.
Policies aiming to counter statistical discrimination are known to generate perverse effects.
It is not possible to develop human resource (HR) analytics, the use of big data for human resources, in small firms.
Author's main message
Anti-discrimination policies that rely on a punitive approach are not sufficient to combat discrimination. They must be complemented by policies that counter prejudice and stereotypes and that limit the expression of cognitive biases and attention-based discrimination. New research is shedding light on the impact of interventions that aim to reduce taste-based discrimination, dampen statistical discrimination, and address people's mental limitations. However, much more research is needed to understand how to calibrate the various components of this policy mix in order to improve its effectiveness.
Motivation
In 2015, a majority of the population of the EU viewed discrimination as being widespread, with this proportion having increased over time (Figure 1). Moreover, 62% of those surveyed were in favor of new measures to protect groups at risk of discrimination (as opposed to 27% who did not consider such measures necessary and 11% who did not know). Many Europeans are indeed critical in their assessment of the effectiveness of national efforts to fight discrimination; less than a third believe the efforts made in their country are impactful. In particular, a large share of respondents perceive that discrimination exists in recruitment practices. Yet little is known about how to devise effective anti-discrimination policies, particularly in the labor market, although new evidence is providing clearer insights into "what works."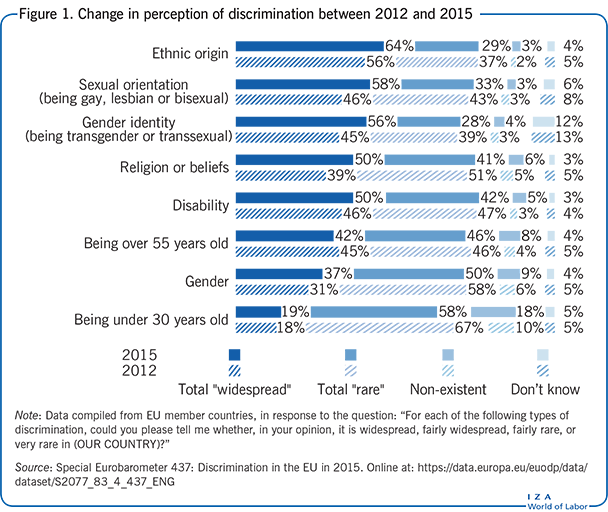 Discussion of pros and cons
Discrimination in the labor market refers to a situation in which equally productive individuals are rewarded differently due to their membership of different groups (defined on grounds at least as diverse as those presented in the illustration on page 1 and Figure 1). Consistent with the divide between prejudice and stereotypes in social psychology, the economics literature distinguishes two potential sources of discrimination. On the one hand, employers, co-workers, and/or customers may harbor a distaste for a particular group of individuals that often turn out to be members of the so-called "out-group." Such "taste-based discrimination" flows from prejudice (or prejudgment), i.e. beliefs without sound knowledge of the relevant facts. On the other hand, discrimination can also derive from a more rational process. Because they do not observe candidates' productivity perfectly, profit-maximizing recruiters rely on their supposedly rational beliefs about how the distribution of unobserved productive individual characteristics correlates with group membership. This is the so-called "statistical discrimination" that constitutes a manifestation of stereotypes, i.e. mental representations aiming to identify real differences between groups. While taste-based discrimination relies on misrepresentations about the out-group, statistical discrimination is supposed to reflect actual differences in productivity across groups.
In considering potential solutions to the discrimination problem, it is possible to distinguish four broad categories of anti-discrimination policies: (i) policies that aim to sanction discriminatory behavior toward job applicants and employees, irrespective of their source; (ii) policies that specifically target taste-based discrimination; (iii) policies that mainly focus on statistical discrimination; and (iv) policies that seek to limit cognitive biases and attention-based discrimination (the latter being a consequence of taste-based and statistical discrimination during résumé screening).
Limitations and gaps
Groups previously discriminated against may remain excluded long after discrimination ends, due to habitual behaviors. This can occur in a number of ways, including: (i) self-stereotyping and self-censorship (when the stigma of social exclusion is so profound that it durably negatively affects individuals' self-perception); (ii) "fast thinking," for instance, people living in neighborhoods that lack institutions to prevent crime develop an automatic response of non-compliance to authority that hurts them at school (by contrast, middle- and upper-class youth are not exposed to this tension since their appropriate response to authority is typically the same in the home and school environment); (iii) "adaptive preferences," in which an oppressed group views its oppression as natural due to individuals' limited ability to imagine counterfactuals. In other words, anti-discrimination policies must be supplemented by interventions that counter the mental models that discrimination has set up since these models may be powerful enough to outlive the elimination of discrimination. For instance, to counter self-stereotyping, interventions that frame the idea of intelligence as a malleable trait that grows in response to hard work (rather than as a fixed trait) have proven to help socially excluded groups improve their performance.
Summary and policy advice
Anti-discrimination policies that rely on a punitive approach are necessary but not sufficient to combat discrimination. They must be complemented by policies that specifically target (i) taste-based discrimination, through the enactment of inclusive laws and prejudice-reducing interventions, (ii) statistical discrimination, through, for instance, the increase in fathers' share of parental leave (for a better inclusion of women) and the creation of hiring subsidies (for a better inclusion of other discriminated groups), and (iii) cognitive biases combined with attention-based discrimination, through the use of HR analytics.
However, much more research is needed to measure the impact of prejudice-reducing approaches and its persistence. It is also critical to minimize the perverse effects associated with policies that seek to counter statistical discrimination. In particular, increasing fathers' share of parental leave in order to promote gender equality can be effective provided this increase is stepwise and modest to start with. Additionally, hiring subsidies must be implemented with caution. They must be set at a level that ensures closing the average hiring gap across groups ceteris paribus, no more, no less. This condition is important to avoid having the individuals that the subsidies target be perceived as receiving more than their fair share and, hence, be further stigmatized. Hiring subsidies should also be accompanied by the development of employment intermediaries specialized in certifying the skills of their beneficiaries to ensure that their hiring and career advancement are regarded as deserved, i.e. dependent on the beneficiaries' competence rather than their minority status.
Finally, more research should be devoted to figuring out how to limit the expression of cognitive biases and attention-based discrimination with machine learning. To the extent that historical HR data reflect discriminatory practices, it seems essential to train algorithms from scratch, by relying on the so-called bandit method. But this precaution is not sufficient. One must also ensure that the algorithms are trained on a large number of observations, suggesting that they can hardly be developed internally in small firms. In this setting, improving these firms' access to big data is a key prerequisite to making HR analytics the next frontier for cutting unconscious biases and attention-based discrimination.
Acknowledgments
The author thanks an anonymous referee and the IZA World of Labor editors for many helpful suggestions on earlier drafts. Previous work of the author contains a larger number of background references for the material presented here and has been used intensively in some parts of this article (Valfort, M.-A. LGBTI in OECD Countries: A Review. OECD Social, Employment and Migration Working Paper No. 198, 2017).
Competing interests
The IZA World of Labor project is committed to the IZA Guiding Principles of Research Integrity. The author declares to have observed these principles.
© Marie-Anne Valfort