Air pollution causes chess players to make more mistakes; Businesses call for change to UK apprenticeship levy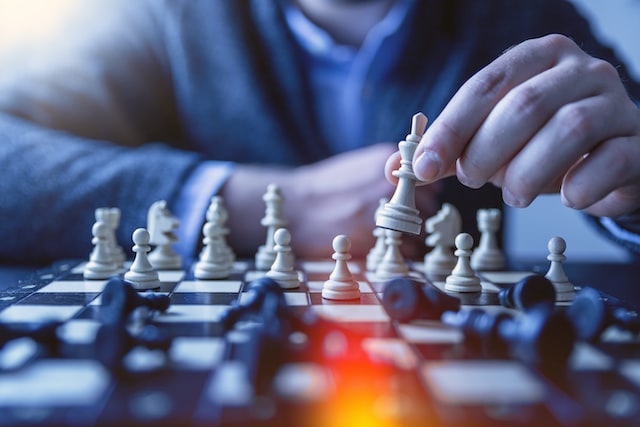 Today's global news summary brings news affecting Germany, the UK, and Mexico and discusses issues as diverse as air pollution, apprenticeships, and obesity.
Air pollution causes chess players to make more mistakes, reveals new study
Environment
A new study has revealed that chess experts make more mistakes when air pollution levels are high, reports the Guardian. The study, published in Management Science, has implications for all strategic decision making in polluted areas. A modest increase in fine particulate matter—expelled from car engines, coal plants, forest fires, and wood burners, for example—increased the probability of chess players at German tournaments making a mistake by 2.1 percentage points. "We find that when individuals are exposed to higher levels of air pollution, they make more mistakes, and they make larger mistakes," says Juan Palacios, an economist at MIT's Sustainable Urbanization Lab and a co-author of the paper. The authors say the research has implications for anyone having to think hard at work in polluted areas, adding that it could therefore have an economic cost to society.
Sefi Roth tells us that "improving air quality may also improve social mobility, as evidence suggests that air pollution affects educational outcomes unevenly across the income distribution," in his IZA World of Labor article.

Related content
IZA World of Labor articles
Air pollution, educational achievements, and human capital formation
Air pollution and worker productivity
Employment effects of green energy policies
Environmental regulations and labor markets
Key topics
Environmental regulation and the labor market
Opinions
Pandemic meets pollution: The role of air quality for Covid-19
Videos
IZA World of Labor discussion on the environment and the labor market
Panel discussion on air pollution and human development
IZA Discussion Papers
VOG: Using Volcanic Eruptions to Estimate the Impact of Air Pollution on Student Learning Outcomes
Air Pollution and the Labor Market: Evidence from Wildfire Smoke
Air Pollution Affects Decision-Making: Evidence from the Ballot Box
UK Industry is calling for urgent reform to the apprenticeship levy
Program evaluation
Under the current UK apprenticeship levy system firms contribute hundreds of millions of pounds to a pot to be spent on very specific types of training. For example, businesses cannot use the money to fund courses shorter than one year in duration. They say this has left them unable to spend £3.5bn of funds. In a letter sent to government ministers, the British Retail Consortium (BRC), UKHospitality, techUK, and the Recruitment & Employment Confederation (REC) said the government was "holding back investment" in critical training that could increase productivity, fuel economic growth, and raise wages, reports the Guardian. If the money set aside is not used within two years, the funds are taken by the Treasury. Trade bodies are asking the government to widen the apprenticeship levy into a broader skills levy that can be spent on a wider range of accredited courses including shorter, more targeted ones.
"Apprenticeship training is usually a profitable investment for firms as well as workers," writes Robert Lerman in his IZA World of Labor article.
Related content
IZA World of Labor articles
Do firms benefit from apprenticeship investments?
Does vocational training help young people find a (good) job
Skills or jobs: Which comes first?
Key topics
Who benefits from apprenticeships and training?
Opinions
Do/can firms benefit from training apprentices?
Videos
Do firms benefit from providing apprenticeship training
IZA Discussion Papers
Apprenticeship and Youth Unemployment
Are Apprenticeships Business Cycle Proof?
Schools in Mexico are using bike desks to counter obesity in teenagers
Demography, family, and gender
A third of all Mexicans are obese, reports Reuters. A recent national study shows about 8% of children under five are overweight or obese, which rises to almost 19% for children between the ages of five and 11. A high school outside the city of Monterrey is attempting to tackle the issue by installing bike desks, so children can exercise as they study. The school currently has two classrooms fitted out with the desks, but hopes to add them to all 21 of its classrooms. One student said they found being physically active also helped their focus in class.
"Obesity threatens to become an increasing burden on all taxpayers as a result of the associated higher medical costs, lower productivity and wages, and reduced probability of finding employment," writes Susan L. Averett in her IZA World of Labor article.
Related content
IZA World of Labor articles
Obesity and labor market outcomes
Consequences of the obesity epidemic for immigrants
Is maternal employment related to childhood obesity?
Key topics
Workplace discrimination
Opinions
Weighing more and earning less: The hidden individual costs of obesity
Videos
Discrimination and anti-discrimination policies: Harry Holzer in discussion with Daniel S Hamermesh
IZA Discussion Papers
Time Spent Exercising and Obesity: An Application of Lewbel's Instrumental Variables Method