Elevator pitch
Upon arrival in a host country, immigrants often have lower obesity rates (as measured for instance by BMI—body mass index) than their native counterparts do, but these rates converge over time. In light of the worldwide obesity epidemic and the flow of immigrants into host countries with higher obesity rates, it is important to understand the consequences of such assimilation. Policymakers could benefit from a discussion of the impact of immigrant obesity on labor market outcomes and the use of public services. In particular, policies could find ways to improve immigrants' access to health care for both the prevention and treatment of obesity.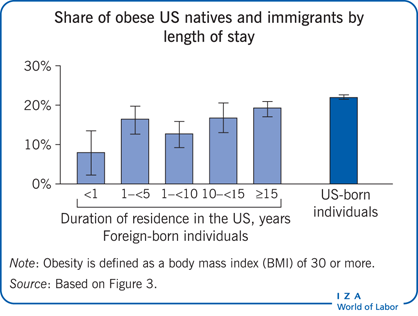 Key findings
Pros
Immigrants arrive with lower BMI and lower obesity rates than those of natives.
Obesity among immigrants remains low in ethnically concentrated areas where acculturation occurs slowly.
Immigrant obesity remains low for males and the college-educated.
In the US there is little evidence of a wage effect of obesity for immigrant men.
Immigrants rarely seek health-care services, so increases in obesity should not result in the overuse of public services.
Cons
Migration generally flows from low- to high-BMI countries. As migrants' stays increase, they adopt natives' unhealthy lifestyles and their BMIs approach the higher levels of native populations.
In the UK, lower immigrant obesity rates are associated with higher wages and employment.
In the US, obese immigrant women who stay less than five years incur a wage penalty; In the UK, obese immigrant men experience a significant wage penalty.
The children and grandchildren of immigrants face accelerated obesity rates.
Estimates of "healthy immigrant effects" and the labor market effects of weight may not fully account for factors that can bias the results.
Author's main message
When migrating to countries with high obesity rates, immigrants adopt natives' behaviors and ultimately face similar obesity risks. Immigrants to the US, for instance, are largely spared labor market penalties for obesity. In the UK, when immigrants' BMIs remain low they earn more, but this wage advantage is eroded as obesity increases over time. Immigrants seldom seek public-health programs, even in the face of increasing obesity, possibly because they lack access. The challenge for policymakers is to connect immigrants to programs that could reduce obesity and thus ensure more positive labor market outcomes.
Motivation
Obesity is a worldwide epidemic. Rates in many countries have doubled or even tripled since 1980 [1]. Unhealthy weight afflicts 1.9 billion adults and 42 million children under the age of five, who risk serious illness and early death. In addition, overweight and obese individuals may face wage and employment penalties.
Migration from developing to developed countries and from rural to urban areas means migrants often move from areas with lower obesity rates to areas with higher ones. The impact of the obesegenic environment on migrant overweight and obesity rates and outcomes linked to weight status has changed in recent years. Migrants are eating the same unhealthy foods as native populations but do not counterbalance this with physical activity. Unlike their labor market assimilation, immigrants' adoption of the unhealthy habits of native populations can have negative consequences for them and for their children and grandchildren. The debate over the consquences of migration should thus address changes in obesity rates after migration and their implications for labor market outcomes and public expenditures.
Discussion of pros and cons
Limitations and gaps
The lack of sufficient, accurate, and consistent data poses an impediment to studying obesity and its consequences for immigrants. Such data would include measures of height and weight or body fat, country of origin, timing of migration, and labor market outcomes for a sufficient sample of immigrants, of both genders and all age groups, from a sufficient number of countries. But this is costly and difficult to obtain.
In addition, unmeasurable factors may distort the data. For example, the healthy immigrant effect may be exaggerated because migrants in ill health are likely to return home [7]. Also, patterns of weight status at migration and weight transitions that occur over immigrants' stays show that BMI may be influenced by the simultaneous impact of age, timing of immigration, and current trends in the weight status of an individual migrant in a group. Studies that carefully account for these factors find that immigrants' BMIs increase somewhat slower than previously thought, but obesity still increases over time [5], [9].
Finally, to date, most research in this area is limited to some developed countries. Data from other countries would help to give a more comprehensive picture.
Summary and policy advice
Some debates on immigration concern immigrants' rising overweight and obesity rates, associated illnesses, and the consequent labor-market and health-care costs. But most immigrants arrive with substantially lower BMIs than natives, which points to their better health. Immigrants tend to maintain low BMIs for a substantial period and are less likely to use health-care services, so they do not strain public services. Nevertheless, their obesity rates tend to rise and converge to those of natives as they adopt natives' habits. This could prove costly to labor-market outcomes and health-care services.
Maintaining one's ethnic identity and traditional behaviors mitigates against rising BMI. So, dietary acculturation must not progress unimpeded. Policies that provide nutritional interventions can be effective. Policies that maintain ethnic traditions that include foods that are often healthier than those in native diets are often more readily adopted by immigrants. In addition, better information is needed on obesity patterns, earnings potential, and health-care impacts so as to help shape attitudes toward immigration, improve community support, and guide local and national policies. Such policies could include health-promoting information and preventive diagnoses and treatments, a small price to pay to reduce the risks of immigrant obesity and the accompanying productivity losses in the labor market.
Acknowledgments
The author thanks two anonymous referees and the IZA World of Labor editors for many helpful suggestions on earlier drafts.
Competing interests
The IZA World of Labor project is committed to the IZA Guiding Principles of Research Integrity. The author declares to have observed these principles.
© Laura Argys