Elevator pitch
Skills are widely regarded as being necessary for boosting productivity, stimulating innovation, and creating new jobs, while skill mismatches are often cited as being responsible for a lack of dynamism in the labor market. However, heavy investments in technical and vocational training programs are seldom a "silver bullet." Recent evidence on skill building not only points to the core importance of foundational skills (both cognitive and social) for success in the labor market, but also emphasizes how jobs themselves can lead to learning and shape social competencies that, in turn, ignite innovation and create more jobs.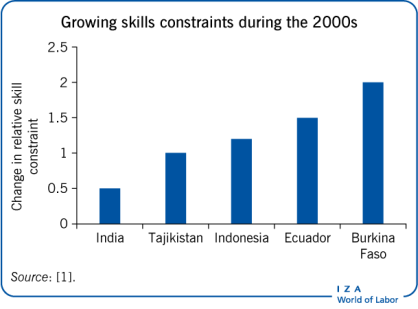 Key findings
Pros
Basic cognitive and social skills are necessary for productive employment, and often acquired early in life.
Many technical and social skills can be built and developed through experience in the workplace and lead to sizable returns, especially during formative years in the labor market.
Pre-employment and on-the-job training can carry positive returns if they address market failures in the education and training system, are closely combined with work experience, and governed by a flexible and modern institutional structure.
More advanced skills can boost job creation by igniting innovation when countries are caught in traps of low skills and low productivity.
Cons
Pre-employment and on-the-job training alone are unlikely to solve a lack of dynamism in the jobs market.
Skill mismatches are most often assumed to originate on the supply side, with education and training systems being tasked to reduce the misfit; but this assumption need not be correct, as the incentives the system reacts to can be the source of the mismatch.
Even when skill mismatches are supply-side driven, the technical and vocational training systems in many countries lead to low returns, distance from private sector demand, and inequitable access.
Schools and training centers rarely include the formation of social skills as an explicit goal.
Author's main message
Foundational skills, both cognitive and social, are essential for productive employment, and these require investment in early learning and education systems. They are also necessary for the development of more specialized skills, particularly for countries seeking to move up the "value-added" ladder of production. Such highly specialized skills can stimulate innovation, enhance learning and, in turn, create more jobs. However, providing technical and vocational training is not always the answer. Work experience in itself can encourage learning and help shape skills, especially for young people.
Motivation
A commonly held view is that skills lead to job creation, higher productivity, and increased national income. As a result, shortcomings in the vocational and training systems are often considered to be the underlying cause of an economy that lacks dynamism, which in turn can trigger countries to massively invest in skill building. However, a number of rigorous impact and evaluation studies have shown mixed results for vocational and technical training and, rather, point to the core importance of foundational cognitive and social skills for ensuring productive employment. Similarly, the relationship between skills and jobs can also work the other way: i.e. when the availability of jobs and demand for specific competencies encourages the take-up of skill building and education. The literature also highlights circumstances under which jobs themselves directly build skills, technical as well as, importantly, social ones. Thus, depending on the causal relationship between skills and jobs, public policies to foster productive employment would differ. Can the relationship between skills and jobs be disentangled?
Discussion of pros and cons
Limitations and gaps
Multi-dimensional skill measurement, i.e. capturing both cognitive as well as social skills, in both OECD countries and the developing world, has started only recently, and the evidence base about social skill formation in particular is still thin. Similarly, more empirical case studies are required to better understand how social, cognitive, and technical skills are formed and interact, and how, both individually and jointly, they influence job success—productive, gainful employment as well as income progression. Further, with the documented success of the "dual learning" system, i.e. combining work experience with job-relevant skill acquisition in vocational schools, a deeper understanding of how the significant institutional requirements can be adopted to lower capacity environments in developing countries would be important. Finally, knowledge spillovers between jobs have been measured at a macro and industry level, but little is known about the firm and business environment that is conducive to this virtuous productivity effect.
Summary and policy advice
A number of key messages arise for policymakers with respect to skills and jobs. First, basic skills—both cognitive and social—are a prerequisite of productive employment and cannot be acquired solely by workers on the job. Without such skills, the prospects of improving employment opportunities and earnings are thin. Moreover, if countries are to move up the value-added ladder, the workforce must have foundational cognitive and social skills in order to set innovation in motion, promote mutual learning, and thus create jobs.
Second, with the increasingly rapid changes in the nature of jobs, social skills become more and more important and need to be built into the educational, training, and apprenticeship frameworks of countries in a rigorous way. Returns, in terms of employment trajectories, to developing social skills, such as flexibility, ability to work in teams, reliability, the ability to assume responsibilities, and also perseverance, are high and likely to rise.
Third, policies and programs that combine on-the-job learning and training during the crucial years of the school-to-work transition hold the potential to have high economic and social returns. Institutional demands for such dual learning are high and require a broad coalition of employers, unions, young people, and the government alike.
Fourth, the first job experience of young people transitioning from school into work is formative—both because skills are acquired on the job and because this first experience influences self-esteem and is a signal for future employers.
Finally, technical and vocational training programs need to be designed with care so as to avoid high costs, mediocre quality, and limited reach. They also cannot be looked at as a silver bullet to solve productivity and unemployment challenges since the underlying causes of unsatisfactory employment outcomes can arise outside of the skill-building system.
Acknowledgments
The author would like to thank two anonymous referees and the IZA World of Labor editors for many helpful suggestions on earlier drafts. Major parts of this article are based on previous work of the author conducted for the World Development Report 2013: Jobs, which was undertaken together with colleagues from the World Bank, including Martin Rama and Junko Sekine [1]. That study includes a large number of background references for the material presented here and has been used intensively in all parts of this article.
Competing interests
The IZA World of Labor project is committed to the IZA Guiding Principles of Research Integrity. The author declares to have observed these principles.
© Jesko Hentschel