Emmanuel Macron wins a second presidential term; More than 11 million Ukrainians believed displaced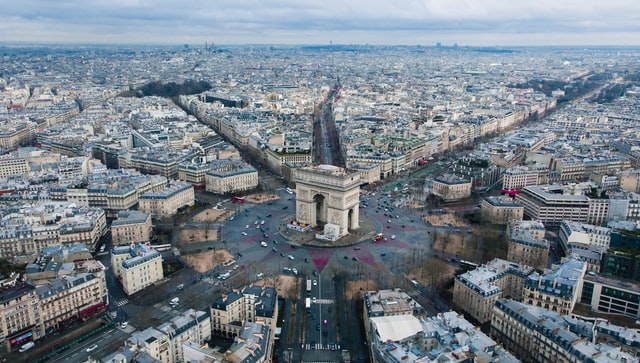 Today's global news summary brings news affecting France, Ukraine, and Saudi Arabia, and discusses issues as diverse as the French election, refugee flows, and LGBTQ rights.
Emmanuel Macron won a second presidential term in France
Labor markets and institutions
As reported by the BBC, this is the first time that a governing president of France has been re-elected. The results—with Macron projected to have taken 58% of the vote, compared to Marine Le Pen's 42%—suggest that the public see Macron's handling of Covid as competent, accept reforms that have seen unemployment falling, and understand that raising the retirement age is inevitable. However, there are concerns that his centrism has resulted in opposition parties being forced to become more extreme, whether that be to the Left or the Right of the political spectrum. The effects of his re-election are expected to reveal themselves in the upcoming parliamentary elections in June.
In his recently updated article on the French labor market, IZA World of Labor author Philippe Askenazy says: "Looking ahead, policymakers must decide how to tackle persistent inequality, long-term unemployment, structural changes in low-income work, and the risk of a less employable generation in the wake of the education failures during the Covid-19 crisis."
Related content
IZA World of Labor articles
The transformations of the French labor market, 2000–2021
How do candidates' looks affect their election chances?
The effect of the internet on voting behaviour
Labor market performance and the rise of populism
Key topics
National responses to Covid-19
Opinions
Elections and the Covid-19 pandemic
How candidates' looks affect their election chances
Labor market issues in the 2017 French presidential election
IZA Discussion Papers
Anti-Elite Politics and Emotional Reactions to Socio-Economic Problems. Experimental Evidence on 'Pocketbook Anger' from France, Germany, and the United States
More than 11 million Ukrainians are believed to have been displaced
Migration and ethnicity
According to the UN and reported by BBC News, as well as the 5.2 million Ukrainians forced to escape to neighboring countries as a result of Russia's invasion of the country, a further 6.5 million people are likely internally displaced within Ukraine. The UN's figures are based on research carried out by the International Organisation for Migration (IOM) between 9 and 16 March and as such are likely now higher. The IOM estimates that more than half of those displaced within Ukraine are women, and many are deemed particularly vulnerable because they are pregnant, have a disability, or are a victim of violence. About 12 million people are also thought to be stranded in or unable to leave areas affected by the fighting. The majority of those able to leave have escaped via the border with Poland. The EU has granted Ukrainians who flee the war a blanket right to stay and work throughout its 27 member nations for up to three years. Other countries, like the UK, have set up visa schemes.
"Given the current and future increasing inflow of refugees into developed welfare states and to diminish individual and societal costs, more in-depth knowledge about the integration of refugees into a host country's labor market, including policy evaluation, should be prioritized," says Pieter Bevelander in his IZA World of Labor article.
Related content
IZA World of Labor articles
Can market mechanisms solve the refugee crisis?
Integrating refugees into labor markets
European asylum policy before and after the migration crisis
Key topics
How does migration policy affect the labor market?
Opinions
Self-inflicted wounds of closed borders
Videos
Integrating refugees into labor markets
IZA Discussion Papers
Limbo or Leverage? Asylum Waiting and Refugee Integration
The Long-Run Effects of Immigration: Evidence across a Barrier to Refugee Settlement
Saudi Arabia asked Disney to cut "LGBTQ references" from new Doctor Strange film
Labor markets and institutions
A Saudi Arabian official says the kingdom has asked Disney to cut "LGBTQ references" from Doctor Strange in the Multiverse of Madness before it can be screened in the kingdom, reports the Guardian. Earlier reports that the film was banned were however denied. According to Nawaf Alsabhan, Saudi Arabia's general supervisor of cinema classification, Disney has been asked to cut a scene in which a lesbian character talks about her "two mums." Disney has so far declined. Homosexuality is still a capital offence in Saudi Arabia. In November Gulf countries requested edits to another Marvel film, The Eternals, which features a gay couple, and again Disney refused. The film was not screened.
IZA World of Labor author Nick Drydakis tells us in his article that "Currently, being gay or lesbian is illegal in almost 80 countries, meaning that 2.7 billion people live in countries where having a minority sexual orientation is a crime." In countries where it is not illegal, gay and lesbian employees encounter serious job market barriers, despite anti-discrimination laws. He calls for same-sex unions to be decriminalized everywhere.
Related content
IZA World of Labor articles
Sexual orientation and labor market outcomes
Trans people, well-being, and labor market outcomes
Superdiversity, social cohesion, and economic benefits
Do anti-discrimination policies work?
Key topics
Workplace discrimination
Opinions
Sexuality and the workplace: Coming out and losing out?
IZA Discussion Papers
Gay Glass Ceilings: Sexual Orientation and Workplace Authority in the UK
Early Health and School Outcomes for Children with Lesbian Parents: Evidence from Sweden