Elevator pitch
Ever since the major inflow of refugees (the "refugee crisis") in 2015 and 2016, there has been heated debate about the appropriate distribution of refugees in the EU. Current policies revolve around mandatory quotas, which disregard the preferences of EU members and refugees alike. This problem can be addressed with two market mechanisms. First, tradable quotas minimize the cost of asylum provision for host countries. Second, a matching system gives refugees more discretion over where they are sheltered. While this proposal is theoretically appealing, it has yet to be tested in practice.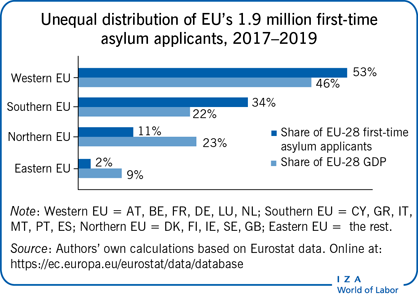 Key findings
Pros
Initially, quotas are assigned to countries according to fairness or other criteria.
The market reallocates the quotas to the countries with the lowest costs of hosting refugees.
By reducing their costs, countries have more incentives to participate.
The matching system respects both refugees' and countries' preferences as much as possible.
The introduction of trade and matching makes mandatory quotas more flexible.
Cons
The proposed system is theoretical and has not yet been implemented in practice.
Some countries may still prefer the status quo and thus refuse to participate.
The quota market may raise ethical concerns about the commodification of refugees.
Allowing refugees to choose their destination is a tough sell to some EU member states.
The mechanism is static and thus better suited for emergency situations than for permanent responsibility sharing.
Author's main message
Although the EU's asylum system needs reform, there has not yet been much progress. Most proposals involve mandatory quotas, which distribute refugees according to GDP, population size, and other measures of reception capacity. More flexibility can be achieved through two market elements: tradable quotas and matching. The opportunity to trade quotas minimizes countries' overall costs of providing asylum. The matching system improves refugees' integration outcomes by respecting their preferences over host countries, and vice versa. Beyond the EU, the proposal can be applied to other international efforts, such as refugee resettlement via the UNHCR.
Motivation
In 2015 and 2016, the EU received more than two million asylum seekers from Syria and other conflict-torn countries. Since then, EU leaders have been quarreling about the adequate distribution of refugees. Part of the EU's ad-hoc response to the "refugee crisis" was to assign each member state a quota of refugees, based on measures of reception capacity. The adoption and implementation of this mechanism was fiercely opposed by several EU members, which felt that their preferences were being ignored. While the idea of mandatory quotas was partially abandoned in 2020, viable alternatives have yet to be identified.
This article describes a novel approach to distribute refugees in the EU and other international organizations. The proposal combines two market mechanisms—tradable quotas and matching—and applies them to asylum policy.
Discussion of pros and cons
Limitations and gaps
Refugee allocation via tradable quotas and matching so far only exists in theory. The proposal should be tested on the ground to fine-tune the mechanism and answer theoretically elusive questions. Does the matching procedure make countries more willing to offer protection? Do refugees have the information necessary to identify the countries that suit them best? However, there does not yet appear to be enough political support for a pilot project. Giving refugees a say over their destination is a taboo for some EU leaders because they fear that more migrants would then be encouraged to set off for Europe.
There also remain important theoretical questions to be answered. For example, the proposal has only been studied in a static model. In principle, quota trading and matching could be performed repeatedly over time (as an alternative to the Dublin Regulation). This system would not reap all possible efficiency gains, however, because countries' attitudes toward asylum provision evolve and likely depend on their past refugee intake. Which mechanism optimally exploits these dynamic effects to minimize the cost of refugee protection is not yet understood.
Summary and policy advice
How to share the responsibility of refugee protection is one of the main debates in the EU. Existing policies and proposals revolve around mandatory quotas, which assign each state its "fair share." But since they disregard countries' preferences toward immigration, mandatory quotas have been rejected by several EU members. This article has described an alternative mechanism that incorporates two market elements: tradable quotas and matching. Put together, they have clear theoretical advantages over mandatory quotas: the market reduces countries' costs of asylum provision, while the matching procedure gives refugees some discretion over where they receive shelter.
The discussion here has focused on the EU. Its institutional structure and partially harmonized asylum system make the EU particularly suited to implement reforms. But market mechanisms can also be useful in other international settings, such as refugee resettlement under the UNHCR's mandate. A natural first step is to test the proposal in a pilot project and, if successful, scale up.
Acknowledgments
The authors thank the anonymous referees and the IZA World of Labor editors for many helpful suggestions on earlier drafts. Previous work of the first author, joint with Hillel Rapoport, contains a larger number of background references for the material presented here and has been used intensively in all major parts of this article [3], [4], and [9]. Support from the Ministerio de Ciencia e Innovación (Spain), grant PID2019-111095RB-I00 and Comunidad de Madrid (Spain), grant EPUC3M11 (V PRICIT), is gratefully acknowledged. Version 2 of the article completely revises the text, figures, and references.
Competing interests
The IZA World of Labor project is committed to the IZA Code of Conduct. The authors declare to have observed the principles outlined in the code.
© Jesús Fernández-Huertas Moraga and Martin Hagen