Elevator pitch
Ever since the major inflow of refugees (the "refugee crisis") in 2015 and 2016, there has been heated debate about the appropriate distribution of refugees in the EU. Current policies revolve around mandatory quotas, which disregard the preferences of EU members and refugees alike. This problem can be addressed with two market mechanisms. First, tradable quotas minimize the cost of asylum provision for host countries. Second, a matching system gives refugees more discretion over where they are sheltered. While this proposal is theoretically appealing, it has yet to be tested in practice.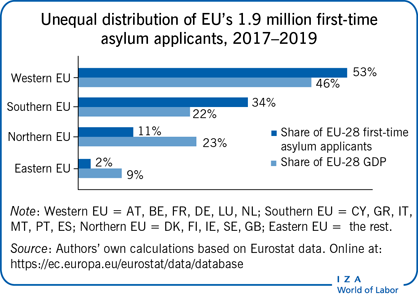 Key findings
Pros
Initially, quotas are assigned to countries according to fairness or other criteria.
The market reallocates the quotas to the countries with the lowest costs of hosting refugees.
By reducing their costs, countries have more incentives to participate.
The matching system respects both refugees' and countries' preferences as much as possible.
The introduction of trade and matching makes mandatory quotas more flexible.
Cons
The proposed system is theoretical and has not yet been implemented in practice.
Some countries may still prefer the status quo and thus refuse to participate.
The quota market may raise ethical concerns about the commodification of refugees.
Allowing refugees to choose their destination is a tough sell to some EU member states.
The mechanism is static and thus better suited for emergency situations than for permanent responsibility sharing.