Elevator pitch
The recent rise of populism in advanced economies reveals major voter discontent. To effectively respond to voters' grievances, researchers and policymakers need to understand their drivers. Recent empirical research shows that these drivers include both long-term trends (job polarization due to automation and globalization) and the rise in unemployment due to the recent global financial crisis. These factors have undermined public trust in the political establishment and have contributed to increased governmental representation for anti-establishment parties.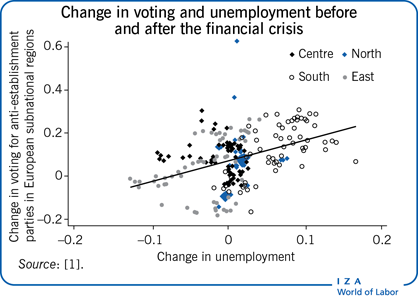 Key findings
Pros
Technological change and globalization create labor market effects that feed populist discourse.
Voting for populist parties is strongly related to the increase in unemployment due to the global financial crisis.
Rising regional unemployment is likely to increase populist appeal not only among those who have lost jobs but also among those who see diminished future opportunities.
Cons
The recent rise of populism may also be driven by other factors such as cultural backlash, identity, and the spread of social media.
There is only limited evidence on recent populists' performance once in power.
So far, there is no evidence that populists deliver on their electoral promises to restore fairness and bring back inclusive economic growth.
Author's main message
The recent rise of populism has many potential causes, both cultural and economic. Growing evidence suggests that labor market disruptions due to globalization and technological progress as well as the crisis-driven spikes in unemployment have played a major role in the rise of populism in advanced economies. However, there is no evidence showing that populist policy agendas have a realistic shot at addressing such problems. Instead, standard progressive proposals such as stronger counter-cyclical fiscal policies to stabilize employment during recessions, fighting tax avoidance, strengthening social safety nets, and active labor market policies should be enacted.
Motivation
The recent rise of populism in advanced economies—particularly after the 2016 Brexit referendum and the 2016 US presidential election—has become a major challenge for liberal democracies. The populist tide has been explained by both economic and non-economic factors, including: cultural backlash against globalization, liberalism, and immigration; increased unemployment due to the recent financial crisis; and vulnerability of jobs to automation, outsourcing, and import competition. This article argues that the economic factors—the loss of jobs due to globalization and automation and the unemployment spike during the recent crisis—have played a major role. The inability of mainstream political parties to deliver shared prosperity has undermined public trust and provided ample opportunities for populist discourse. The rise of populism may therefore be justified by some as a corrective measure against the recent failures of traditional parties' socio-economic policies. However, there is no evidence that populists have been able to improve economic performance once in power.
Discussion of pros and cons
Definition and measurement of populism
The analysis of the relationship between labor market performance and rising populism requires a rigorous approach to quantifying the latter. In within-country research, populism is measured as a vote share of the respective populist candidate at the level of subnational units (e.g. the relationship between local labor market performance and US counties' vote for Donald Trump). Cross-country research mostly focuses on Europe where a cross-national comparable measure can be employed; namely, the vote shares of populist parties at the national or subnational levels. Different electoral rules across countries necessitate that researchers control for country fixed effects. This is why most cross-national research on populism is limited to advanced economies. While some emerging markets also observe populist tides, the lack of disaggregated data reduces opportunities for carrying out rigorous analysis.
To measure populism, it first needs to be defined. In economics, the conventional definition of populism dates back to a 1991 study in which the authors describe it as an "approach to economics that emphasizes growth and income redistribution and deemphasizes the risks of inflation and deficit finance, external constraints and the reaction of economic agents to aggressive non-market policies" [2], p. 9.
The authors were writing about the left-wing Latin American populism of the 1970s and 1980s. While this type of populism still exists today, the recent rise of populism comes primarily from the right side of the political spectrum; moreover, the typical modern populist agenda is not focused on economic redistribution. It is thus useful to use another definition, first introduced in 2017 and by now conventional in political science, the one of an anti-elitist and anti-pluralist "thin-centered ideology." According to this definition, populism considers society to be ultimately separated into two homogeneous and antagonistic groups: the "pure people" and the "corrupt elite" [3]. The people's "purity" by definition justifies the "popular will" as the only moral source of political power. The homogeneity of the people implies anti-pluralism—and no need for checks and balances.
Some political scientists argue that the definition of populism should also include an "authoritarian angle." On the one hand, it is a natural concept, as the leader of the "pure people" can rule directly without checks and balances; many populist parties are indeed leaning toward a "strong leader" model. On the other hand, there are many anti-elitist and anti-pluralist parties that accept democratic norms, so most classifications of populist parties and politicians do not include an "authoritarian angle."
The third definition was introduced in a study from 2018. The authors of this study argue that modern populist parties are the ones that satisfy three criteria: (i) they are against elites; (ii) they offer immediate protection against shocks; and (iii) they hide the long-term social costs of these protection measures [4].
How are these definitions related? For political scientists, the common thread is the anti-elite sentiment. For economists, it is the issue of unrealistic promises. Modern non-Latin-American populists mostly do not suggest irresponsible macro policies but their promises are still not sustainable. It has been argued that populism does not have to result in irresponsible macroeconomic policies; furthermore, populist pressure can be useful as a check on unaccountable technocrats and elite interest groups [5]. However, even without unsustainable fiscal and monetary policies, populists can undermine economic growth by removing political checks and balances. Investors value predictability around the so-called "rules of the game." Removal of constraints on the executive can thus reduce incentives for long-term investment and undermine populist leaders' chances to deliver on their promises of economic prosperity.
Economic drivers of populism
Alternative explanations
While the studies above point to automation, competition from imports, and crisis-driven unemployment shocks as important drivers of the recent rise of populism, there are also alternative explanations, including growth of immigration, the cultural backlash against liberalism, and the spread of social media [10]. The evidence for the first two factors, however, is not straightforward. For example, in the case of immigration, the studies cited above argue that concerns about immigration are endogenous to the decline of employment opportunities—and therefore are economic in nature. Moreover, unemployment has been shown to increase ESS respondents' concerns about the economic effects of immigration and not the cultural ones [1]. In the UK, it is unemployment rather than immigration that had a significant impact on the Brexit vote [11]. It has even been shown that a negative relationship exists between the level of immigration and the Brexit vote at the NUTS-3 level [6].
In theory, even if the aggregate economic impact of immigration is positive, it still creates winners and losers—very much like trade and automation. Therefore, the secular increase in immigration as well as the recent refugee crisis may have contributed to the rise of populism. The European Bank for Reconstruction and Development's 2018 Transition Report "Work in Transition" provides a survey of ten studies on the impact of exposure to immigration on populist voting in Europe. The findings from these studies vary substantially not only in the magnitudes of the effects but also in their signs, depending on the intensity, composition, and nature of immigration flows. For example, if the influx of immigrants is large (as in the case of Syrian refugees landing on Greek islands), then it is likely to result in a higher populist vote. However, a small increase in immigration (e.g. about one immigrant or refugee per 100 natives) actually decreases the populist vote, which is consistent with contact theory (which posits that under certain conditions contact with a minority group can reduce the prejudice toward the group).
Evidence on the cultural backlash and the importance of identity is mostly limited to correlational evidence; these factors change very slowly over time, so it is very hard to come up with a convincing strategy for identifying the causal relationship. It is also difficult to argue why identity and cultural factors—that are highly persistent—have given rise to such a surge in populism now. The most obvious explanation is that it is the economic hardship that activates the cultural backlash. This implies that cultural backlash is essentially a mechanism through which job polarization or crisis contributes to the populist vote. Overall, it is the interaction of economic and cultural factors that remains the most exciting avenue for future research on the drivers of modern populism.
As shown in a study from 2020, there is substantial evidence on the contribution of the spread of social media to the recent rise of populism [10]. It is not clear however which mechanisms drive this relationship. It is plausible that the simplistic populist message is better suited for online communication technologies. If this is the case, then job polarization and unemployment spikes still play a key role: the spread of online media only reinforces the populist narrative based on economic grievances rather than conjures it out of thin air.
Limitations and gaps
While recent research has provided ample evidence on the role of job polarization and crisis in the rise of populism, there still remain many questions related to magnitudes, non-linearities, and interactions. First, recent studies identify very different quantitative estimates of the impact of labor market disruption on populism. Further research is required to understand how these magnitudes depend on the initial conditions as well as the social, economic, and political context. Second, most studies analyze linear relationships while there are likely to be economies of scale and critical mass effects (e.g. due to electoral thresholds and cross-regional spillovers). Third, the effects of globalization, automation, and crisis-driven spikes in unemployment likely interact with each other and with other drivers of populisms (such as cultural factors and the new communication technologies). These questions will hopefully be addressed by future research.
Summary and policy advice
The recent rise of populism is to a substantial extent explained by labor market disruptions caused by globalization, technological progress, and the spike in unemployment during the recent financial crisis. There is, however, no evidence that populists manage to solve these problems once in power. To improve employment opportunities for workers displaced by globalization and technological change, governments should provide generous safety nets and active labor market policies and upgrade life-long learning systems. As technology- and trade-related shocks are often geographically concentrated, there is also a strong rationale for regional and place-based policies. To stabilize employment during recessions, countries need to implement stronger counter-cyclical fiscal policies.
To pay for the active labor market policies, regional policies, and counter-cyclical buffers, structural reforms should be enacted that enhance competitiveness, productivity, and economic growth. Additional revenue could also be gained by eliminating opportunities for tax evasion and tax avoidance by the rich. This is a difficult task that requires international cooperation. Despite the challenges involved, it is crucial—not just for fiscal reasons but also for restoring public trust in political elites. The populist narrative is much stronger if elites are not paying their fair share of taxes. In order to stand up to populists, the centrist parties should renew themselves and regain public trust through carrying out meaningful reforms and delivering inclusive growth.
Acknowledgments
The author thanks anonymous referees and the IZA World of Labor editors for many helpful suggestions on earlier drafts. Previous work of the author (co-authored with Yann Algan, Elias Papaioannou, and Evgenia Passari) contains a larger number of background references for the material presented here and has been used intensively in all major parts of this article [1].
Competing interests
The IZA World of Labor project is committed to the IZA Code of Conduct. The author declares to have observed the principles outlined in the code.
© Sergei Guriev