Elevator pitch
The migration crisis of 2015–2016 threw the European asylum system into disarray. The arrival of more than two million unauthorized migrants stretched the system to its breaking point and created a public opinion backlash. The existing system is one in which migrants risk life and limb to gain (often unauthorized) entry to the EU in order to lodge claims for asylum, more than half of which are rejected. Reforms introduced during the crisis only partially address the system's glaring weaknesses. In particular, they shift the balance only slightly away from a regime of spontaneous asylum-seeking to one of refugee resettlement.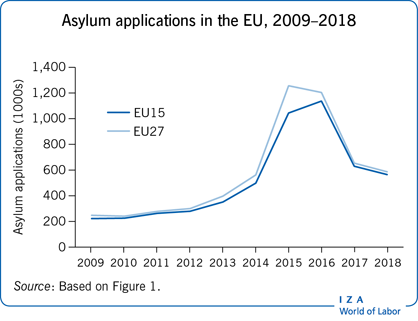 Key findings
Pros
The European migration crisis of 2015–2016 accelerated the reform of EU asylum policies.
Asylum reforms include increased harmonization of rules and procedures across member states.
The EU has agreed on relocating asylum seekers between countries.
A new agency has been established to strengthen control of the EU's external border.
The EU has expanded its commitment to resettling refugees directly from origin regions.
Cons
New policies do not fully address the weaknesses exposed in the 2015–2016 crisis.
Increased policy harmonization has not evened out the migrant "burden" between countries.
Relocation of asylum seekers has fallen short of modest targets.
Improved border controls have not succeeded in stemming the flow of irregular migrants.
Very modest progress has been made in shifting from a regime of spontaneous asylum-seeking to one of resettling refugees directly from origin regions.
Author's main message
The European asylum system suffers from weaknesses that were dramatically exposed during the migration crisis of 2015–2016. Border controls were unable to stem the flow of migrants and asylum applications fell very unevenly among EU member states. Reforms introduced in the wake of the crisis strengthen the existing system in some respects, but go only a small way toward creating a better system which would select those most in need of protection for direct resettlement without having to run the gauntlet of irregular migration and possible rejection.
Motivation
The European migration crisis of 2015–2016 was a major shock to the Common European Asylum System, which has been developed over the last two decades. It divided public opinion and prompted a stream of reforms to strengthen existing structures, to further unify the system across member states, and to introduce some new initiatives. This article outlines some of the key characteristics of the system as it existed before the crisis and then how it was put under extreme pressure during the crisis. It then considers how the crisis affected public support for the asylum system and how subsequent reforms responded to it. Conclusions drawn indicate that while the reforms go some way toward addressing the inherent weaknesses of the system they fall far short of replacing spontaneous asylum-seeking with a program of resettling refugees directly from countries of first asylum.
Discussion of pros and cons
Limitations and gaps
There are practical limitations on what the EU can do when it comes to migration and asylum reform. First, there is overwhelming evidence that the number of asylum applications is driven by civil war and human rights abuse in countries that are typically also poor [1], and so separating genuine refugees from economic migrants is inevitably somewhat arbitrary. The vagaries of these conditions also mean that major surges in asylum applications such as those observed in the early 1990s or in 2015–2016 are likely to recur.
Second, worldwide there are 26 million refugees and another 41 million internally displaced people. While it is sometimes argued that increased assistance to origin and transit countries could reduce the incentive to seek asylum in the West, even a vast increase in development aid could have only marginal effects on this sum of human misery. Instead the EU must find ways of targeting its asylum policy toward those in the most desperate need.
Summary and policy advice
Policy developments during the recent migrant crisis included a mixture of emergency measures and longer-term reforms [9]. Although some after-effects of the crisis persist, such as the concentration of migrants in Greek and Italian hotspots and some emergency border controls, in other respects the European asylum system has reverted to the previously existing state of affairs. For instance, the 2015 agreement on relocating asylum seekers in order to even out pressures on individual nations has stalled. On the other hand, the EU has proceeded with a third round of policy harmonization with the aim of strengthening protection for asylum seekers and imposing greater uniformity in rules and procedures in different member states. However, as with the previous iterations these policies are unlikely to promote a more equitable distribution between countries. And although the revised Dublin Regulation includes an element of relocation during times of crisis, it is doubtful that this mechanism would withstand pressures on par with those of 2015–2016, which led to its de facto suspension [10].
Medium-term priorities should be to strengthen border controls and measures for temporary protection. In 2016 the EU replaced Frontex, which was seen as ineffective in the crisis, with the European Border and Coastguard Agency, armed with executive power and a larger budget. This agency provides stronger border protection, especially for weak points on the EU's external border where national capacity was limited. This is one step in reducing unauthorized border crossings, but, given the non-refoulement obligation, it is most effective when operated in cooperation with transit countries. A second priority is providing temporary protection in times of crisis. The EU's Temporary Protection Directive of 2001, providing for emergency redistribution, was not even activated in the 2015–2016 crisis [11]. It should be strengthened and augmented with a better mechanism for activation. To gain support, it should also be underpinned by greater financial resources. The Asylum, Migration and Integration Fund was allocated a total €3,137 million from 2014–2020, but this only amounts to 0.29% of the EU budget.
A more fundamental long-term priority is to shift away from spontaneous asylum seeking to a comprehensive resettlement program. As part of the package of measures launched in 2016 the EU increased its commitment to an expanded resettlement program from around 5,000 per year in the pre-crisis years to 20,000. In this program, vulnerable refugees are transferred directly to the EU, without having to resort to smuggling networks and taking risky routes to gain unauthorized entry. To some degree these policies build on the landmark agreement between the EU and Turkey, which combines tighter border control with an element of resettlement. But it is only a small step toward shifting away from a system of spontaneous asylum seeking, which provides incentives for migrants to take risky passages only for the majority to have their claims ultimately rejected.
The EU should shift more radically toward resettlement along the lines of the Australian/Canadian/US programs, which would have several advantages over the existing system. First, it would target those most in need of protection from persecution rather than selecting those with the initiative and wherewithal to migrate. Second, it would reduce the challenge posed by rejected asylum applicants. And third, it would be more consistent with public opinion, which is positive about genuine refugees, skeptical about economic migrants, and strongly opposed to unauthorized immigration [1]. While such a policy shift would mitigate the type of backlash observed during the recent migrant crisis, it is hard to imagine that significant progress can be made while spontaneous asylum applications are still running at half a million per year.
Acknowledgments
The author thanks anonymous referees and the IZA World of Labor editors for many helpful suggestions on earlier drafts. Previous work of the author contains a larger number of background references for the material presented here and has been used extensively in all major parts of this article [1].
Competing interests
The IZA World of Labor project is committed to the IZA Code of Conduct. The author declares to have observed the principles outlined in the code.
© Tim Hatton