Afghan girls protest delayed school reopening; the "great resignation" is investigated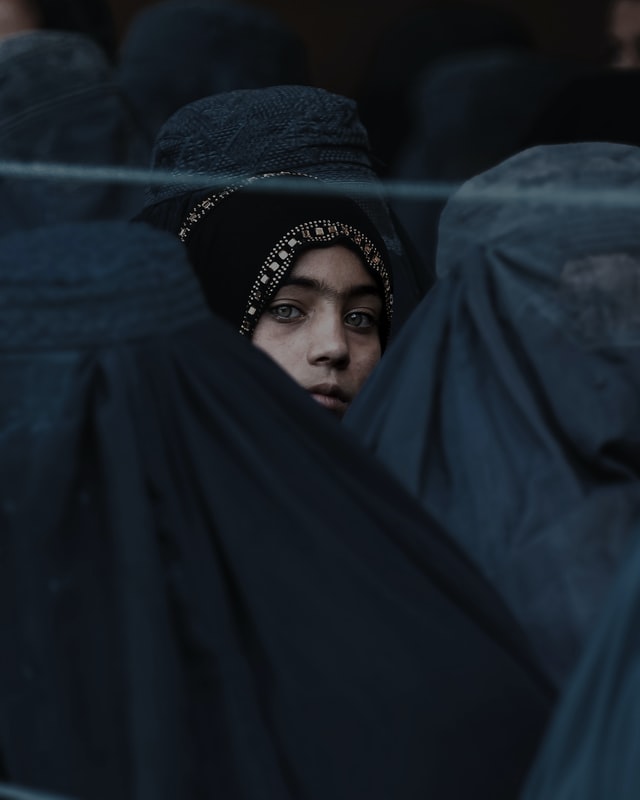 Today's global news summary brings news affecting Afghanistan, the UK, and India, and discusses issues as diverse as girls' access to education, the great resignation, and general strikes.
Secondary school girls are protesting the Taliban's delayed school reopening in Afghanistan
Education and human capital
Over two dozen girls staged a protest outside Kabul's Ministry of Education after the Taliban backtracked on allowing access to higher education for girls, reports Aljazeera. Afghanistan's girls were due to return to their studies last Wednesday, but the ministry reversed its decision mere hours into the day, sending all girls over sixth grade home. The protests saw girls marching with banners, but dispersing when Taliban fighters later arrived at the scene. The Taliban promised to protect women's rights and press freedom in its first news conference after it took over the country again in August 2021. The group's spokesman, Zabihullah Mujahid, declared at that time "We are going to allow women to work and study. We have got frameworks, of course. Women are going to be very active in the society but within the framework of Islam." However, since returning to power women instead have been removed from government appointments, barred from traveling alone, and have faced conservative diktats about their clothing.
IZA World of Labor author Sher Verick tells us "Particular emphasis is needed on keeping young girls in school and ensuring that they receive a good quality education, beyond secondary level, and are able to take advantage of training opportunities. That, in turn, will increase their chances of overcoming other barriers to finding decent employment."
Related content
IZA World of Labor articles
Female labor force participation and development
Policies to support women's paid work
Does education strengthen the life skills of adolescents?
Human capital effects of marriage payments
Key topics
Female labor force participation
The role of education in developing countries
Higher education and human capital
Opinions
What works for women's work in low- and middle-income countries?
Should policymakers worry about a declining female labor force participation rate?
IZA Discussion Papers
The Effect of Village-Based Schools: Evidence from a Randomized Controlled Trial in Afghanistan
What's the truth about the great resignation?
Labor markets and institutions | Behavioral and personnel economics
The phrase the "great resignation" was coined to address an unprecedented rise in the number of workers resigning from their jobs during the coronavirus pandemic, reports the Conversation. UK researchers have been investigating the phenomenon using data from the UK's Labour Force Survey. They find that resignations in the UK did indeed rise sharply at the end of 2020 and significantly exceeded their pre-pandemic levels in the final quarter of 2021. However, many employees left their jobs to start similar roles at new employers, with higher wages, not to explore new industries. Rates of job vacancies, resignations, and wage growth have all since slowed in the fourth quarter of 2021, suggesting the rebound in labor demand has faded. The great resignation may already be over.
"Integral to worker well-being, job quality also affects the labor market through related decisions on whether to work, whether to quit, and how much effort to put into a job," says Andrew E. Clark in his IZA World of Labor article.
Related content
IZA World of Labor articles
What makes a good job? Job quality and job satisfaction
Bosses matter: The effects of managers on workers' performance
Multiple job-holding: Career pathway or dire straits?
Should firms allow workers to choose their own wage?
Key topics
Covid-19—Pandemics and the labor market
Opinions
Do employees profit from profit sharing?
Does performance-related pay improve productivity?
IZA Discussion Papers
What Is a Good Job?
Good Jobs, Bad Jobs, and the Great Recession: Lessons from Japan's Lost Decade
Two-day general strike set to disrupt India
Labor markets and institutions
As reported by The New York Times, a two-day strike has been called to protest the Indian government's economic policies, including a privatization plan. The shutdown began early on Monday and was called by dozens of labor unions representing workers from the public and private sectors. Union leaders said the protests were aimed at a variety of government policies they believe harm workers, farmers, and Indians in general. They are also demanding an immediate scrapping of a new labor law that allows contract work, gives employers greater leeway in setting wages, and increases working hours. The Modi government has called for the privatization of some state-owned assets that it characterizes as underperforming. The strikers' 12 demands include freezing all privatization plans and providing universal social security for workers in the informal sector of the nation's labor force, like rag pickers, street sweepers, and rickshaw drivers. The informal sector is estimated to include 80% of India's 470 million workers.
"Without unions bargaining successfully to raise worker wages, income inequality would almost certainly be higher than it is," says Alex Bryson in his IZA World of Labor article.
Related content
IZA World of Labor articles
The consequences of trade union power erosion
Alternative dispute resolution
Does it pay to be a public-sector employee?
Union wage effects
Key topics
Trade unions and collective bargaining
The informal economy
Opinions
The union wage premium: Is it real?
IZA Discussion Papers
Strikes, Employee Workplace Representation, Unionism, and Trust: Evidence from Cross-Country Data