Elevator pitch
Direct wage comparisons show that public-sector 
employees earn around 15% more than private-sector employees. But should these differences be interpreted as a "public-sector premium"? Two points need to be considered. First, the public and private sectors differ in the jobs they offer and the type of workers they employ, which explains a large share of the wage gap. Second, public- and private-sector careers also differ in other important dimensions, such as job stability and income progression, which are relevant to individual career choices. So any comparison of the two sectors should take these points into account.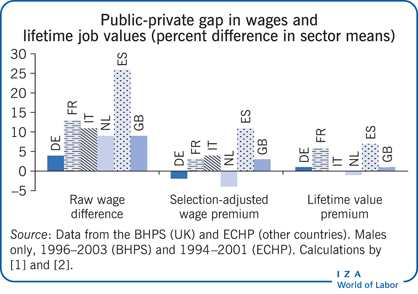 Key findings
Pros
Public- and private-sector careers differ in many dimensions other than wages (e.g. job security, return to experience, etc.)
Differences in wages and other aspects of a career can be aggregated into a lifetime career value.
Wage differences between sectors are largely smoothed out over the life cycle: the average public-private gap in lifetime career values is close to zero in several major European countries.
The public and private sectors employ workers with different observable characteristics, and those differences explain a large share of the private-public wage gap.
Cons
Direct wage comparisons show that public-sector employees earn, on average, around 15% more than private-sector employees.
The vast literature on the public-private wage gap focuses on point-in-time differences in wages.
France and Spain stand out as two countries where low-skilled workers enjoy a sizeable lifetime public-sector premium.
Even after accounting for differences in composition, systematic cross-sector wage differences persist, often in favor of public-sector workers.
Author's main message
Public-sector wages, particularly for low-skilled workers, tend to be slightly higher relative to the private sector. But they are also more stable over time and more tightly linked to experience and education than private-sector wages. Public-sector jobs are also typically more stable. Aggregation of all those differences into the lifetime value of a career in either sector provides a measure of the long-term public-private pay gap. This gap is close to zero in many major European countries; although in France and Spain, low-skilled workers enjoy a sizeable public-sector premium. Policymakers need to consider all aspects of the value of a career when setting the rules governing public-sector compensation.
Motivation
The public sector is a significant stakeholder in the labor market, accounting for about 20% of total employment. Its wage bill makes up about one-fifth of government spending across most European countries. It is also not insulated from the rest of the labor market: upon leaving full-time education, young workers have to choose in which sector to begin their careers. Even among more experienced workers, movements between the public and the private sector, particularly from the former to the latter, are not uncommon (Figure 1). Workers' decisions of where to seek employment will depend on relative career conditions between the two sectors. As such, private-sector pay, and therefore private-sector hiring, will respond to changes in the perceived "value" of a career in the public sector.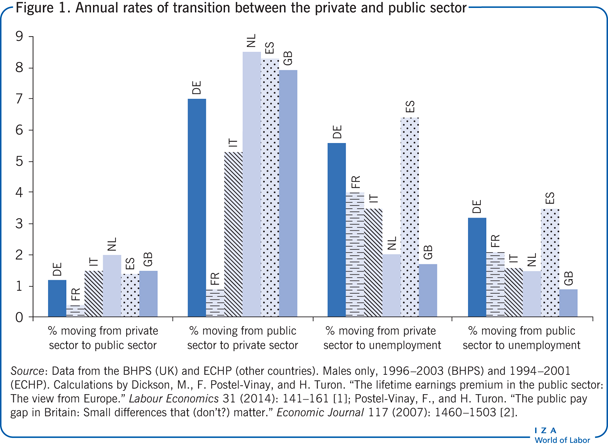 In a context of widespread concern about budget deficits and policies aiming to cut government spending, it is therefore important to assess the differences between public- and private-sector pay and career conditions.
Discussion of pros and cons
Limitations and gaps
Any assessment of the public-private pay gap faces the issue of non-random selection of workers into sectors. Some of the worker characteristics that affect both wages and sector choice (such as education or experience) are measured in the data. Others (e.g. motivation for the public service, work ethics, or "ability") are not. Quantification of the impact on wages of those unobserved characteristics inevitably relies on certain statistical assumptions, the choice of which may affect estimates of the public-sector premium.
Even more debatable assumptions are required for the construction of lifetime job values. The results discussed here are predicated upon such strong assumptions as risk indifference (or perfect insurance), and lack of between-sector mobility. The main consequence of allowing for job mobility is to obtain estimates of the lifetime public premium even closer to zero. The basic reason for this being that job mobility renders the cross-sector boundary permeable, thus making employment in the public and private sectors more "similar" to each other [2].
The consequences of allowing for risk aversion are a much more complex and largely unresolved question. One may speculate that risk-averse individuals will tend to find the smaller degree of income and employment risk in the public sector attractive.
Aside from those methodological issues, the results reported here are further limited by the specific population (men) and time period (the 1990s) covered by the data. Although no existing analysis of the public wage gap focuses on women, we know that women select themselves disproportionately into public-sector jobs, and that the age profiles of public-private wage gaps differ between men and women [8]. Lifetime public-sector premiums are therefore more than likely to differ between genders. It has also been documented that public-sector wage gaps have followed different patterns between countries since the 1990s. They went up in Italy, Spain, and the UK, down in France, and remained the same in Germany and the Netherlands [9], [10]. Caution should therefore be exercised when extrapolating the results presented here.
Summary and policy advice
Most existing analyses of the public-private pay gap focus on point-in-time differences in earnings. However, as the public and private sectors also differ in terms of earnings and job mobility, these factors also need to be taken into account in any assessment of the long-term public pay gap.
Average levels of pay are indeed found to be slightly higher in the public sector in some countries (and slightly lower in a few other countries). Public-sector wages are also consistently more stable over time, as are public-sector jobs. These "dynamic" differences across sectors compound over a lifetime and result in long-term public-private gaps that tell a different story from what can be inferred from spot income gaps.
Aggregating these differences into a measure of the "lifetime value" of employment in either sector shows that the average public-sector premium is close to zero in most countries. However, France and Spain are two important exceptions to this, where medium to low-paid workers enjoy sizeable public-sector premiums.
However, caution must be used when basing policy advice on what is essentially a descriptive analysis as presented in this contribution. Yet, sizeable differences in the values of a career in the public versus the private sector, as are observed in France and Spain, are hard to justify, be it on efficiency or redistribution grounds.
In any event, investigating a potential causal mechanism between institutions and the public-sector lifetime premium seems an important avenue for future research and policy choices. Policymakers need to consider all aspects of the value of a career when setting the rules governing public-sector compensation.
Acknowledgments
The author further thanks an anonymous referee and the IZA World of Labor editors for many helpful suggestions on earlier drafts. Much of this article is based on joint work with Matt Dickson and Hélène Turon [1], [2].
Competing interests
The IZA World of Labor project is committed to the IZA Guiding Principles of Research Integrity. The author declares to have observed these principles.
© Fabien Postel-Vinay