Elevator pitch
The decision to outsource public provision of services is multifaceted and context dependent. Doing so tends to lower labor intensity and increase its efficiency. Costs are usually lower, but quality problems can affect services like health care, though consumer choice has stimulated innovation and quality in both education and health care. Natural monopolies are less suitable for outsourcing, while network services (public transportation) may be outsourced through public tenders. Though some jobs may be lost in the short term, the long-term effects are generally positive for a wide variety of activities.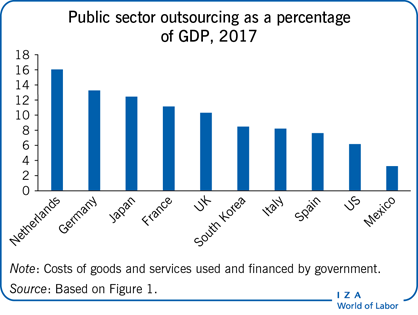 Key findings
Pros
Private service provision is, in general, less costly than public provision.
Outsourcing public services can increase quality and expand consumer choice.
Competition in service provision stimulates innovation, for example in education and health care.
Cons
Private sector cost minimization efforts risk worsening the quality of public services, depending on the type of service outsourced.
Some public sector employees may lose their jobs.
Natural monopolies (e.g. water supply, the electricity grid) cannot be privatized without risking a so-called hold-up problem or price hikes.