Elevator pitch
The decision to outsource public provision of services is multifaceted and context dependent. Doing so tends to lower labor intensity and increase its efficiency. Costs are usually lower, but quality problems can affect services like health care, though consumer choice has stimulated innovation and quality in both education and health care. Natural monopolies are less suitable for outsourcing, while network services (public transportation) may be outsourced through public tenders. Though some jobs may be lost in the short term, the long-term effects are generally positive for a wide variety of activities.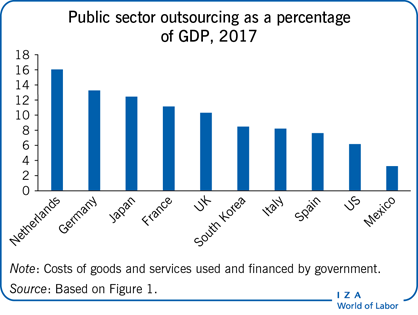 Key findings
Pros
Private service provision is, in general, less costly than public provision.
Outsourcing public services can increase quality and expand consumer choice.
Competition in service provision stimulates innovation, for example in education and health care.
Cons
Private sector cost minimization efforts risk worsening the quality of public services, depending on the type of service outsourced.
Some public sector employees may lose their jobs.
Natural monopolies (e.g. water supply, the electricity grid) cannot be privatized without risking a so-called hold-up problem or price hikes.
Author's main message
It is impossible to give uniform policy advice on outsourcing the provision of public services to the private sector. Whether that is desirable depends on the characteristics of the service and on market conditions. For instance, educational voucher systems can increase service quality and decrease costs, though some drawbacks also exist. Natural monopolies are less suitable for outsourcing, and doing so could result in higher prices and lower quality. The best course of action is for local governments to be allowed to make their own decisions based on their specific needs, circumstances, and political preferences.
Motivation
The use of public sector outsourcing varies substantially across OECD countries (Figure 1). In Japan, the Netherlands, Germany, and Australia, outsourced production accounts for more than 50% of the total costs of publicly provided goods and services. At the other end of the scale, Mexico, Greece, Norway, and Latvia outsource between 28% and 33%. In 2017, the average share of public sector outsourcing in OECD countries was 42% of the total costs of publicly provided goods and services, or 9% of GDP. As a share of GDP, public sector outsourcing increased by more than two percentage points between 2007 and 2017 in Finland, Japan, Germany, and Australia, whereas it decreased by more than 1.5 percentage points in Greece and Ireland.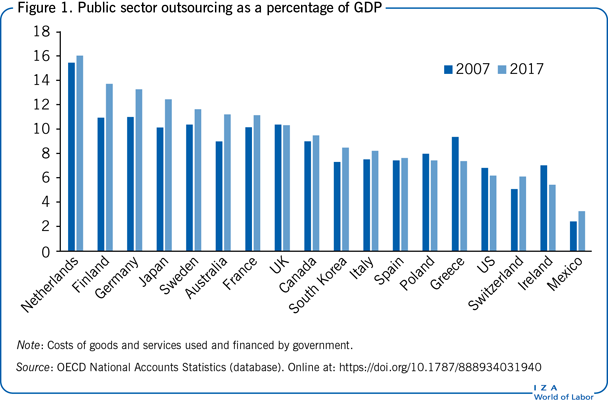 Discussion of pros and cons
The basic economic argument in favor of outsourcing is that it introduces competition and utilizes the strengths of the private sector. There is a concern, however, that outsourcing could lower service quality. The reason is that private for-profit providers have strong incentives to reduce costs but few incentives to improve non-contractible quality [1]. By this logic, outsourcing unambiguously leads to lower costs, while the effect on quality is ambiguous. Private provision is preferable to public provision when the cost reductions can be achieved with no or only small deteriorations of quality. If the negative impact of cost reductions on quality is comparatively large, public provision is preferable.
A survey of the literature concludes that the effects of public sector outsourcing on costs and quality depend on the type of service outsourced. Some services are characterized by severe contracting problems; they involve risks for contract failure that force the buyer to incur high transaction costs. Services without severe contracting problems, such as garbage collection and road maintenance, tend to have favorable outsourcing outcomes. For services with tougher contracting problems, such as prisons and employment placement, the picture is less clear, though the weight of the evidence is in favor of public provision. In line with theories of incomplete contracts, outsourcing reduces costs in most cases but has less favorable effects on quality for services with tougher contracting problems. The existing successful cases of outsourcing of services with high contracting difficulty suggest that outsourcing should not be discarded automatically, even when measuring service quality is difficult. For such complicated services, outsourcing should rather be evaluated on a case-by-case basis with considerable attention to detail.
The argument for outsourcing becomes more complex for tax-financed services supplied to private consumers. Broader political goals and information asymmetries require a more advanced framework than the simple cost–quality tradeoff. For services such as health care and education, there are additional advantages of outsourcing in terms of access, diversification, and user satisfaction. Where large transfers of power are involved, as with the army and police force, provision should remain in-house in order to preserve the sovereignty and flexibility of the state.
Limitations and gaps
Outsourcing typically has two distinct effects. The first is due to the difference between public and private providers. The second is due to choice and competition and operates at the market level. Many studies fail to fully discriminate between the two effects and their relative importance under different circumstances remains to be demonstrated.
With few exceptions, outsourcing is compared with public sector in-house production without considering the difference between for-profit and non-profit providers. The interplay and respective roles of different private providers—in particular, the less common non-profits—thus constitutes an important avenue for future research.
When it comes to employment effects, there has been more research on the privatization of public enterprises than on outsourcing, and more studies have focused on developing and transition economies than on developed countries.
Summary and policy advice
Due primarily to the extremely wide variety of contexts and stakeholders involved, it is not possible to give uniform policy advice on the outsourcing choice. Whether outsourcing an activity is optimal depends on whether it is a natural monopoly, how much scope there is for a hold-up problem to arise, whether cost reduction can be expected to result in a deterioration in service quality, and whether quality can be increased through competitive pressure. Political motivations and employment effects will also influence the decision to outsource.
Outsourcing may reduce employment in the short term, but it also frees resources that can be reallocated to other activities over the longer term.
Some public goods and services can be successfully subjected to competition that improves quality and lowers costs. For example, introducing a voucher system can improve education outcomes. Voucher systems, however, involve a tricky trade-off. Private providers need excess capacity to be able to attract users by delivering high quality. As this excess capacity is costly, a voucher system might lead to higher total costs. In the case of a natural monopoly, there is considerable risk that quality will deteriorate after outsourcing or privatization to a for-profit firm.
Networks like public transportation systems can be separated into components that are suitable for exposure to competition through auctions among private suppliers. The outcomes, however, depend on the design of the auction.
While most examinations of the decision on whether public or private provision of services is preferable have looked at the economic arguments, political economy considerations are also important. How much are politicians' decisions influenced by the effect on a politician's chances of being elected or re-elected?
Whenever discussing the potential outsourcing of public production, it is essential to keep in mind the differing effects of outsourcing on the quality and costs of public goods and services. Realizing the potential benefits of outsourcing requires careful analysis to understand which activities would benefit from outsourcing and to determine how outsourcing should be implemented to provide the proper incentives for cost saving while maintaining or improving quality. In some cases, public competition can serve as an effective alternative or complement to outsourcing.
Acknowledgments
The authors thank an anonymous referee and the IZA World of Labor editors for many helpful suggestions on the earlier versions of this article, and gratefully acknowledge excellent research assistance from Sebastian van Kann. Version 2 of the article updates the figures and fully revises the section on outsourcing in education, with significant revisions to the "Discussion of pros and cons," outsourcing water provision, the "Limitations and gaps," and the references.
Competing interests
The IZA World of Labor project is committed to the IZA Code of Conduct. The authors declare to have observed these principles.
© Panu Poutvaara and Henrik Jordahl