Elevator pitch
Many measures of job satisfaction have been trending downward. Because jobs are a key part of most people's lives, knowing what makes a good job (job quality) is vital to knowing how well society is doing. Integral to worker well-being, job quality also affects the labor market through related decisions on whether to work, whether to quit, and how much effort to put into a job. Empirical work on what constitutes a good job finds that workers value more than wages; they also value job security and interest in their work. Policy to affect job quality requires information on the cost of the different aspects of job quality and how much workers value them.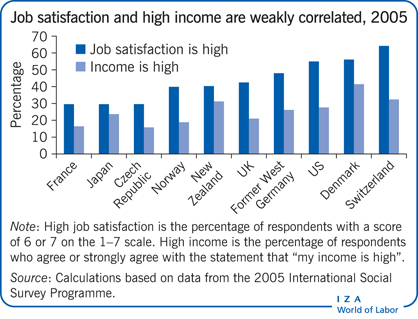 Key findings
Pros
Job quality is important to individual well-being.
Job quality can have positive returns for firms, as workers reciprocate through greater effort, retention, and engagement.
How workers value job domains seems to be stable over time, and workers appear to match to jobs that accord with their values.
Job satisfaction can reflect the distribution of job quality.
Lack of information, distortionary taxes, or an imbalance of bargaining power between workers and firms may prevent labor markets from providing the optimal level of job quality on their own.
Cons
Many measures of job satisfaction have been trending downward in OECD countries.
Most aspects of job quality are costly for firms.
Information on all the job outcomes that matter for workers, and how important they are, remains sketchy.
Job outcomes often change in different directions over time, which must be considered when assessing how overall job quality has changed.
Policy interventions require information on such job domains as hours, promotions, security, and work conditions (to show how job quality can be changed). Such information remains unclear.
Author's main message
Overall job satisfaction is stagnant or falling in many countries. But it is easier to describe the level of job satisfaction than to know how to change it. Many aspects of a job matter to workers, and policymakers need to know how much each matters and what it costs to produce job quality through these different aspects. Policymakers may not need to intervene to improve job quality if the labor market can produce the socially-desirable level of job quality. However, intervention may be needed if distortionary taxes, misinformation, or imbalances in bargaining power prevent the market from producing optimal levels of job quality.
Motivation
National debates on measures of societal well-being and progress have spotlighted satisfaction with various domains of quality of life. Because a key part of many people's lives is their job, the question of what makes a good job has become an integral part of the broader question of how well our societies are doing. While high-quality jobs are costly for firms to provide, good jobs also bring them benefits. Workers in higher-quality jobs have been shown to be more productive, to stay longer with their employer, and to be absent from work less often. The interplay between firms' and workers' interests will determine the quality of jobs in the labor market. There is also scope for government policy intervention if the job quality provided by the market is distorted by taxation, imperfect information, or an imbalance of bargaining power between employers and workers. Any policy to improve job quality requires information on how much the different aspects of jobs matter to workers, from wages and job security to the intrinsic interest of the work.
Discussion of pros and cons
Limitations and gaps
Job quality is a weighted sum of outcomes in various job dimensions. As such, it requires a great deal of information on both values and outcomes, which is not always regularly available in a harmonized way across countries. In addition, there does not yet seem to be consensus regarding which dimensions make up a good job. Some of the dimensions that appear in current lists are difficult to quantify (job interest and relationships with colleagues, for example), and it is not clear whether the existing indicators are the best ones.
Perhaps the greatest challenge remains that of designing a job-quality policy. While it is relatively easy to imagine how job quality can be improved, it is far more difficult to know whether policymakers should attempt to do so. Research has focused on the benefits of job quality for workers, with much less attention to the costs. Rarer still is research on the conditions under which firms and workers will not interact on their own to produce the socially desirable level of job quality.
Summary and policy advice
Job quality matters for both workers and firms. It can be measured either by overall job satisfaction or by a weighted sum of the various job dimensions that matter to workers. Good information on both of these measures needs to underpin any policy aiming to produce better-quality jobs. Measures of overall job satisfaction tell us about the distribution of job quality across individuals and so which groups are doing worse in their employment than others. The weighted sum of job dimensions gives an insight into how worker job quality can be changed. In this light, job satisfaction scores and multidimensional indices of job quality are complementary.
Any successful policy to change job quality faces a number of challenges. The first is to establish which job dimensions matter the most (and for whom). Perhaps more fundamentally, neither measures of job satisfaction nor measures of job dimensions can inform us of whether anything should be done to change job quality. How can policymakers know whether there is anything wrong with the characteristics of the jobs that are currently offered by firms?
If the workers' valuation of one job aspect relative to another is greater than the firm's cost of supplying the first job aspect relative to the cost of supplying the second, the firm can simultaneously save money by changing its job aspects on offer and make workers better off. This is what economists call a Pareto improvement.
But this does not answer the question of why firms do not provide the types of jobs that workers want, if there are potential gains to everyone from doing so. It could be that firms do not know exactly what workers want. In addition, because it is easier to commit to wages and hours of work than to good relationships at work or an interesting job (which are hard to quantify), firms may offer too little of the latter two dimensions. An alternative reading is that there are not, in fact, gains available to be had by all and that job quality is too "low" because firms are too powerful (or too high because workers are too powerful).
This degree of uncertainty makes deriving definitive policy conclusions challenging. That job quality matters is beyond doubt. Many people will also agree that dialogue between firms and workers can only be a good thing. Beyond this, evaluating whether the balance of power between workers and firms is optimal or whether government taxes and subsidies that affect various aspects of jobs should change likely requires a more robust body of knowledge than we now have.
Acknowledgments
The author thanks an anonymous referee and the IZA World of Labor editors for many helpful suggestions on earlier drafts.
Competing interests
The IZA World of Labor project is committed to the IZA Guiding Principles of Research Integrity. The author declares to have observed these principles.
© Andrew E. Clark