50 million people trapped in "modern slavery"; Argentinian hydrogen project threatens indigenous rights and the environment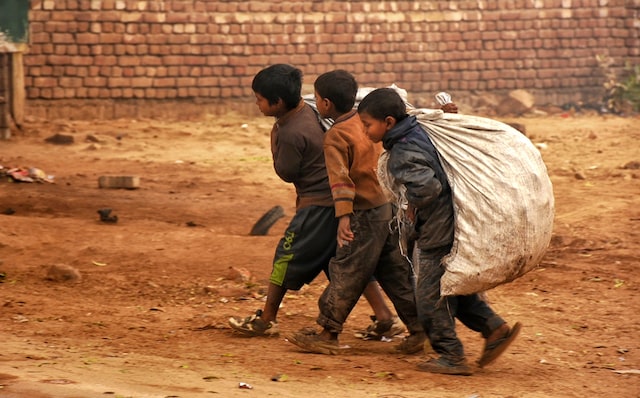 Today's global news summary brings news affecting the globe, Argentina, and Africa and discusses issues as diverse as modern slavery, green energy, and supporting women in business.
UN reports 50 million people worldwide are trapped in "modern slavery"
Labor markets and institutions
Latest estimates from the ILO, Walk Free, and the International Organisation for Migration reveal that forced labor and forced marriage have increased significantly in the last five years; ten million more people were in modern slavery in 2021 than in estimates for 2016. Of the 50 million people estimated to be in modern slavery, 28 million were in forced labor and 22 million in forced marriage. Every country in the world contains victims of modern slavery and the issue cuts across ethnic, cultural, and religious lines. Just over half of all forced labor and a quarter of all forced marriages occur in upper-middle-income or high-income countries. Almost one in eight of those in forced labor are children. The report recommends improving and enforcing related laws, strengthening legal protections, and providing greater support for women, girls, and the vulnerable.
In his article on whether minimum age of employment regulation reduces child labor, Eric V. Edmonds says that "[t]he global fight against child labor might be better served by focusing less on the laws that exist and more on their implementation and enforcement, as well as by addressing the root causes of child labor."
Related content
IZA World of Labor articles
Can cash transfers reduce child labor?
Does minimum age of employment regulation reduce child labor?
How does migration affect child labor in sending countries?
Key topics
Covid-19—Pandemics and the labor market
What can policymakers do to reduce poverty?
Opinions
How much do children cost?
IZA discussion papers
Income Shocks, Bride Price and Child Marriage in Turkey
The Short- And Longer-Term Effects of a Child Labor Ban
Family Social Norms and Child Labor
Multi-billion dollar hydrogen project threatens indigenous rights and the environment, say critics
Environment
As reported by Al Jazeera, a company aiming to build a new green hydrogen project in Argentina's Rio Negro province faces stiff criticism. Fortescue Future Industries says the project will create 15,000 jobs. Environmental activists say it could violate indigenous land rights and harm the natural environment, including endangering threatened Andean Condors. There is also the concern that although considered an important transition toward sustainable energy, that energy will actually be exported to the global north. The area is also home to dozens of indigenous communities, who campaigners say, as per the ILO's Indigenous and Tribal Peoples Convention, which Argentina has ratified, must be consulted and provide informed consent before the project can proceed.
Grant D. Jacobsen says "When local economies go through an energy boom, public policies may help smooth out the boom-and-bust cycle and offer an avenue for more sustained improvement in labor market conditions."
Related content
IZA World of Labor articles
Employment effects of green energy policies
The impact of energy booms on local workers
Impacts of regulation on eco-innovation and job creation
Using natural resource shocks to study economic behavior
Key topics
Environmental regulation and the labor market
Opinions
Green energy and jobs
IZA Discussion Papers
Energy Boom and Gloom? Local Effects of Oil and Natural Gas Drilling on Subjective Well-Being
Neo-Humanism and COVID-19: Opportunities for a Socially and Environmentally Sustainable World

African leaders question how female businesses are supported
Program evaluation
Quartz tells us that "Despite the fact that women run most small and medium scale businesses in Africa, they have a $42 billion gap in funding versus men." Liberia's vice president, Jewel Taylor, questioned this week the reliance on microcredit payments for Africa's female-owned businesses. "How does a woman grow and develop her business," Taylor said, if the big money pots available to men are out of reach? Taylor is joined by former Malawian president Joyce Banda, and Ethiopian president Sahle-Work Zewde, among others, in demanding action that will lead to more women learning science in school and choosing business as a career.
"[L]abor force participation rates paint only a partial picture of women's work. More important is understanding the quality of women's employment," says Sher Verick in his IZA World of Labor article.
Related content
IZA World of Labor articles
Female labor force participation and development
Self-employment and poverty in developing countries
Social protection programs for women in developing countries
Key topics
Female labor force participation
The role of education in developing countries
Opinions
Can we use trade policy to achieve gender equality?
How to support the self-employed in developing countries
Videos
Panel discussion on labor-force participation issues: Hie Joo Ahn, John Coglianese & Jason Faberman
IZA Discussion Papers
The Impact of Micro-Credit on Employment: Evidence from Bangladesh and Pakistan
Household Access to Microcredit and Children's Food Security in Rural Malawi: A Gender Perspective