Higher rates of migrants and asylum seekers are dying at sea than ever, reports UNHCR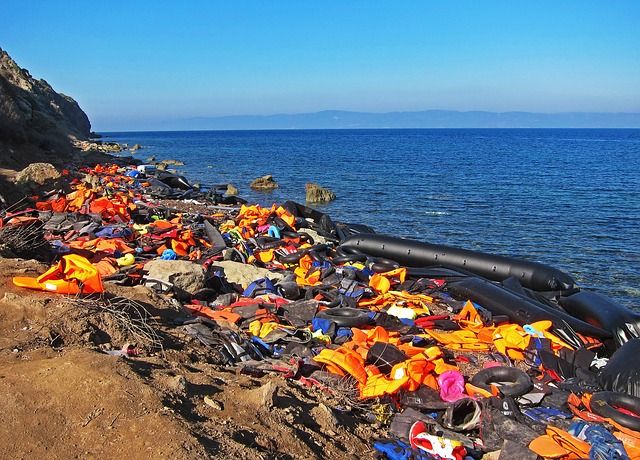 While the number of migrants and asylum seekers arriving in Europe has fallen significantly, the number of deaths has risen sharply, according to a new report from the UN Refugee Agency, UNHCR.
The number of refugees and migrants entering Europe via Greece, Italy, and Spain between January and July 2018 dropped by 41% compared to 2017, according to "Desperate Journeys," a new report from the United Nations High Commissioner for Refugees. However, although arrival numbers have fallen, the death rate has increased.
Nearly 1,600 people have died or gone missing in the Mediterranean Sea and along land routes since the beginning of the year. Over 1,500 are believed to have died at sea, most while attempting to cross from Libya; and at least 74 refugees and migrants have died while traveling to or crossing a land border, compared to 42 reported deaths in the same period in 2017.
The report stresses that although European authorities have made further efforts to reduce irregular migration they have done so without sufficiently increasing access to safe and legal pathways for those in need of international protection.
"Intensified border enforcement leads to reduced circular migration, higher demand for smugglers, riskier crossings, and more migrant deaths," warns Pia Orrenius in her IZA World of Labor article on border enforcement and illegal migration.
While UNHCR recognizes every country's right to protect its borders, it stresses that border control should be protection-sensitive and people in need of international protection should be able to seek asylum.
The report identifies a number of reasons why traffickers are taking more risks, leading to higher death rates, including additional support for the Libyan authorities in preventing sea crossings into Europe, further restrictions on NGOs involved in search and rescue operations, and limited access to Italian ports for those rescued at sea.
"Desperate Journeys" concludes by calling on European States to, among other points, ensure access to territory for people seeking international protection, implement protection-sensitive border practices that enable border officials to identify people with international protection needs; grant access to swift and efficient registration and asylum procedures, including the use of accelerated procedures; and develop a regional and collaborative approach throughout the Mediterranean Basin, to make disembarkation of people rescued at sea more predictable and manageable and save lives.
Pia Orrenius believes that "[c]omprehensive immigration reform that combines efforts to create legal pathways for migration with improvements in enforcement methods can ease pressure at the border and in the interior, while increasing the net economic benefits of immigration to the destination country." She calls on governments to aid research in this area by gathering and publicly providing consistent, comprehensive, and timely data on migration and enforcement.