Poor air quality is affecting tennis players at the Australian Open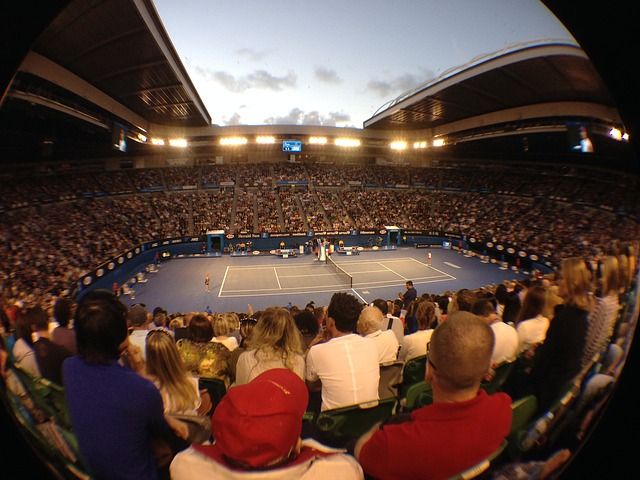 Slovenian tennis player Dalila Jakupovic was forced to retire from her Australian Open qualifying match against Switzerland's Stefanie Vogele on Tuesday after suffering a coughing fit as a result of poor air quality caused by the ongoing bushfires in the country.
The fires have so far killed at least 28 people and burned an estimated 10 million hectares of land.
Melbourne's residents were advised to stay indoors and keep their pets inside on Tuesday, while qualifying matches at the Australian Open were delayed by an hour and practice only temporarily suspended because of the poor air quality.
The tournament's organizers said the conditions were expected to improve and would be "monitored constantly."
"Further decisions will be made based on onsite data, and in close consultation with our medical team, the Bureau of Meteorology and scientists from EPA Victoria," the organizers said prior to Jakupovic's match.
Canadian professional Eugenie Bouchard also had to leave the court during her qualifying match against You Xiaodi, complaining of a sore chest. She returned after a medical timeout to win 4-6 7-6 6-1.
An exhibition match between Maria Sharapova and Laura Siegemund of Germany was also called off in the east of the city after both players complained about the air quality.
The World Health Organization stresses that small particulate matter (PM2.5), which derives from natural sources, such as volcanoes and wildfires, and man-made sources resulting from fossil-fuel combustion, has health impacts even at very low concentrations—the WHO guideline for PM2.5 is 25 micrograms/m3 24-hour mean. On Tuesday, Melbourne CBD measured a level of 96 micrograms/m3 24-hour mean.
IZA World of Labor author, Matthew Neidell has written about the growing body of evidence that indicates that not only does poor air quality have many negative health effects, particularly for children, the elderly, and those with pre-existing health conditions, it also "has more subtle effects on workers" by reducing their productivity. "Such productivity losses occur at pollution levels that comply with air quality standards and guidelines," he says.
"PM2.5 has been shown to affect blood pressure; cause irritation in the ear, nose, throat, and lungs; and induce mild headaches. PM2.5 has also been linked with cognitive effects, such as reductions in test scores. These symptoms … can arise as quickly as one hour following exposure, with effects being exacerbated by exercise and continued duration of exposure."
Neidell warns that "[t]hese effects arise in both indoor and outdoor environments and at varying levels of worker skill … Although the damage per individual is small when compared to more extreme events, such as mortality and hospitalizations, the effects are more widespread and may thus represent an important cost to society."
Read more IZA World of Labor articles on the environment.