New research reveals the scale of London's "sickening" pollution crisis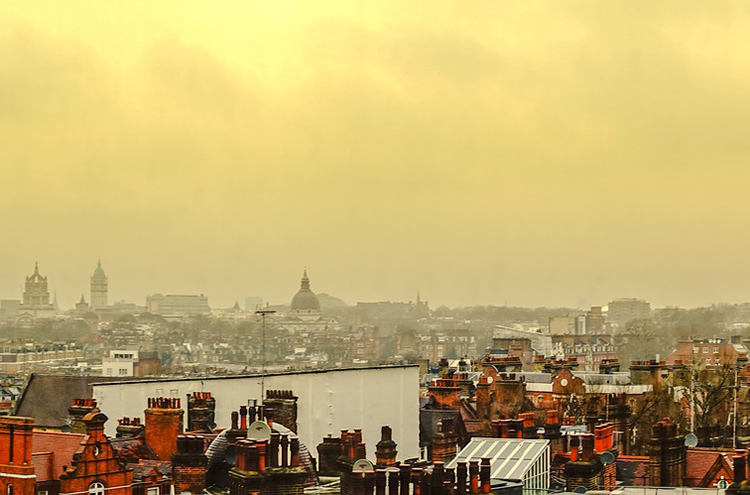 New figures released last week have revealed that all of London's 8.5 million inhabitants are breathing air that exceeds global guidelines for one of the most dangerous toxic particles.
The findings are based on the updated London Atmospheric Emissions Inventory and reveal that air across all areas of the city exceeds the World Health Organisation's (WHO) limits for PM2.5—a type of pollutant made up of fine airborne particles associated with serious health problems.
Worryingly, some 95% of the capital's population live in areas exceeding the limit by at least 50%, with the levels rising to more than double the WHO limit in the centre of the city.
Breathing in the particles is associated with an increased risk of respiratory and cardiovascular diseases. The implications are especially pronounced for children—young people exposed to such pollutants are more likely to grow up with reduced lung function and develop asthma.
London's Mayor, Sadiq Khan, branded the findings as "sickening," adding that: "We should be ashamed that our young people—the next generation of Londoners—are being exposed to these tiny particles of toxic dust that are seriously damaging their lungs and shortening their life expectancy."
"I understand this is really difficult for Londoners, but that's why I felt it was so important that I made this information public so people really understand the scale of the challenge we face in London."
The research was published as it emerged that the UK's government had failed to bring down the number of regions across the country with illegal levels of air pollution, despite being ordered to do so by the courts. According to figures submitted by ministers to the European Commission, 37 out of 43 zones across the UK are still in breach of pollution limits—the same number as in 2015.

Sefi Roth, writing in IZA World of Labor, suggests that the negative impacts of exposure to pollution are not limited to negative health effects, and that "an increasing body of research has shown that air pollution—even in relatively low doses—also affects educational outcomes across several distinct age groups and varying lengths of exposure."
He continues that "improving air quality may also improve social mobility, as evidence suggests that air pollution affects educational outcomes unevenly across the income distribution. Hence, policymakers should acknowledge these additional effects when formulating new environmental regulations and should revisit existing policies, which are based on the impacts of pollution on human health alone."

Read related articles on our Health and well-being key topics page.

For specific questions, contact one of our topic spokespeople.