Elevator pitch
The fiscal sustainability of state pensions is a central concern of policymakers in nearly every advanced economy. Policymakers have attempted to ensure the sustainability of these programs in recent decades by raising retirement ages. However, there are concerns that keeping older workers in the workforce for longer might have negative consequences for younger workers. Since youth unemployment is a pressing problem throughout advanced and developing countries, it is important to consider the impact of these policies on the employment prospects of the young.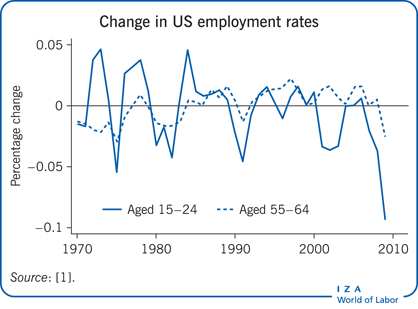 Key findings
Pros
There is no trade-off in the employment of young and old workers: Higher employment for older workers coincides with higher employment for younger workers.
Increasing the retirement age increases younger workers' wages.
Younger and older workers are complements for each other rather than substitutes.
Cons
Reducing the employment of older persons does not provide more job opportunities for younger persons.
Increasing the employment of older persons neither reduces the employment, nor does it lead to more unemployment, of younger persons.
Lowering the retirement age decreases the incentives to train and to invest in additional skills, and therefore leads to lower economic growth.