Elevator pitch
Immigrants are widely perceived to be highly entrepreneurial, contributing to economic growth and innovation, and self-employment is often viewed as a means of enhancing labor market integration and success among immigrants. Accordingly, many countries have established special visas and entry requirements to attract immigrant entrepreneurs. Research supports some of these stances, but expectations may be too high. There is no strong evidence that self-employment is an effective tool of upward economic mobility among low-skilled immigrants. More broadly prioritizing high-skilled immigrants may prove to be more successful than focusing on entrepreneurship.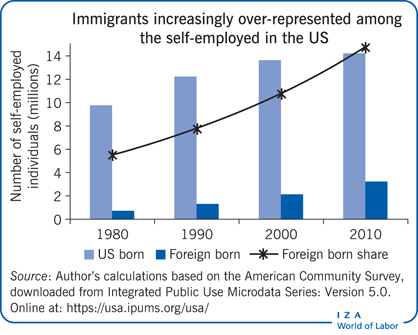 Key findings
Pros
Business ownership is higher among foreign born than native born workers.
Entrepreneurship positively affects labor market integration.
High-skilled immigrants contribute to innovation.
Cons
Many immigrant business owners are low-skilled, with low income.
Business ownership is not an effective tool for significantly improving the economic outcomes of low-skilled immigrants.
The effectiveness of immigrant entrepreneurship visa programs is unknown.
Author's main message
Research finds that immigrants are entrepreneurial, as measured by business ownership. There is little credible research showing much of a downside to such entrepreneurship and much research pointing to significant positive contributions. However, promoting self-employment has not been shown to lead to widespread improvements in economic outcomes for less-skilled immigrants. Until strong evidence emerges that special visa programs lead to the greatest economic gains from immigration, policymakers may want to focus on education and skills as entry criteria, consistently strong predictors of immigrant success.
Motivation
Immigrants are widely perceived as being highly entrepreneurial and important for economic growth and innovation, a sentiment commonly shared by policymakers and reflected in immigration policies. Many developed countries have created special visas and entry programs to attract immigrant entrepreneurs. Because immigrant workers tend to have lower employment rates and earnings than native born workers, self-employment is often viewed as a tool to enhance immigrants' labor market integration and economic success. However, does the research based on the experience of developed countries support this encouraging image of immigrant entrepreneurs? This paper reviews the literature to answer that question.
Discussion of pros and cons
Promoting entrepreneurship is a national priority in most developed countries. This strategy is motivated primarily by views that small businesses:
create a disproportionate share of new jobs in the economy;

represent an important source of innovation;

boost national productivity; and

alleviate poverty [1].
Immigrants are often viewed as playing a large role in the important small business sector of the economy. This perception is supported by a growing body of literature.
Limitations and gaps
Overall, much of the research points to positive net contributions by immigrant entrepreneurs, with the emerging literature on contributions to innovation representing the most convincing evidence so far. However, some fundamental issues have not yet been credibly addressed [1], and finding the data to fill these research gaps poses substantial challenges.
First, there is little reliable research evidence on how much immigrant-owned businesses contribute to job growth. Although there are data on employment in immigrant-owned businesses, no data are available on the dynamics of employment among these firms.
More research is clearly needed on the contribution of immigrant firms to international trade. Immigrant business owners are more likely to export, but little is known about how much they export, the total value of their exports, and how many jobs are created by these expanded markets for goods and services.
Another area of needed research is the contribution of immigrant businesses to diversity in merchandise and services. Although the contribution to diversity is apparent in a visit to any major city, there is little information on the contribution of immigrant businesses to diversity in manufacturing and innovative product design.
Especially important is the lack of evaluation of visa programs implemented by some countries to encourage more immigration by entrepreneurs.
Summary and policy advice
Immigrant entrepreneurs make a significant positive contribution to their host country economy. Immigrants are more likely to own businesses than their native counterparts, and this business ownership contributes to economic integration. High-skilled immigrants have contributed to the high-tech sector and to innovation, as measured by growth in patenting and in science and engineering. However, there is no strong evidence that self-employment is a very effective tool of upward economic mobility among those in greatest need of such assistance: low-skilled immigrants.
Until there is strong and reliable evidence of the success of visa programs designed to attract high-skilled entrepreneurs, and of the criteria that work best to achieve this goal, policymakers may want to pursue other strategies to realize the greatest economic gains from immigration. Since education is consistently found to be a strong predictor of immigrant success, among both business owners and wage earners, polices targeting high-skilled immigrants more broadly might prove more successful than policies with a narrow focus on entrepreneurship.
So what can policymakers do to attract high-skilled migrants? This is not an easy task as migration choices are partly determined by factors difficult to affect through immigration policy (factors such as income distribution, language, native sentiments toward immigrants, location characteristics, and choices of previous migrants, to name a few). Nonetheless, policies that could increase the number and share of high-skilled immigrants include efforts to streamline pathways from non-immigrant status (such as student visas and employment-based temporary work visas, such as the H-1B program in the US) to permanent status.
Furthermore, since migration decisions often involve a family, making the move more attractive to spouses is another strategy that might entice high-skilled migrants. Since the spouses of many highly educated workers are also highly educated, extending the right to work to their spouses is also likely to encourage additional high-skilled migration.
More specifically, providing work permits with a pathway to citizenship to graduates with specific degrees and experience deemed particularly valuable to the host countries' economies is one possible policy strategy. In many developed countries, the opportunities to stay and work are quite limited for students who have just completed college degrees in the country. These graduates are not only, essentially by definition, high-skilled, but have also gained fluency in the local language and quite possibly generated valuable cultural and labor market insights. These are all factors associated with greater odds for successful integration and quite possibly for high-skilled business start-ups.
Successfully implementing such a strategy in the US, however, would necessitate addressing the numerical limits on employment-based green cards for each sending country, which currently prevents many immigrants from large source countries of students and H-1B workers such as China, India, Korea, and the Philippines from obtaining green cards. The uncertainty of obtaining permanent status may not only make the receiving country less attractive to some very productive would-be immigrants, it may also deter long-term investments, such as for business start-ups.
Acknowledgments
The author thanks an anonymous referee and the IZA World of Labor editors for many helpful suggestions on earlier drafts.
Competing interests
The IZA World of Labor project is committed to the IZA Guiding Principles of Research Integrity. The author declares to have observed these principles.
© Magnus Lofstrom