Elevator pitch
Government schemes that compensate workers for the loss of income while they are on short hours (known as short-time work compensation schemes) make it easier for employers to temporarily reduce hours worked so that labor is better matched to output requirements. Because the employers do not lay off these staff, the schemes help to maintain permanent employment levels during recessions. However, they can create inefficiency in the labor market, and might limit labor market access for freelancers and those looking to work part-time.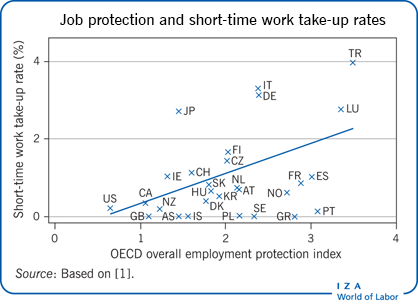 Key findings
Pros
Short-time work compensations reduce layoffs and make it easier for employers to adjust their workers' hours to meet work requirements.
Because fewer people lose their jobs, both the employer and the state pay less in unemployment benefits.
Used in downturn periods, compensation schemes are particularly beneficial for permanent workers, who can continue in steady employment.
Short-time work compensation schemes benefit companies, because they allow them to retain valuable staff during downturns.
Cons
Compensation schemes are not beneficial to temporary workers, who do not qualify for payments and may be excluded from the labor market.
By distorting the labor market, short-time work compensation schemes can lead to inefficiency. The reductions in working hours negotiated may not match the demand for labor.
Because jobs are retained when there is no demand, the schemes inefficiently reduce the reallocation of labor to more productive jobs.
Compensation schemes are not necessarily the most effective way of adjusting hours and labor costs during a recession. Company-level bargaining over hours, wages, and employment may provide a better-tailored outcome than a state-sponsored scheme.
Author's main message
Short-time work compensation schemes can help employers to adjust labor to match demand during temporary periods of low demand such as recessions. They work well when unemployment benefits are generous, because they reduce their take-up. They are also effective when there are strong labor regulations and market institutions which make it difficult to adjust hours and wages at the plant level. However, they need to be designed and used with care, because they can lead to inefficiency. Workers might be retained when they should instead be made redundant, and the schemes hinder the reallocation of workers to more productive jobs.
Motivation
In Germany, Japan, and Italy, more than 4% of the labor force were on a short-time work compensation scheme in 2009, in the trough of the recession (see Figure 1). When such schemes are offered, there is a strong take-up. But do the schemes have a positive economic effect? Do they help to reduce unemployment levels? Or do the distortions they cause in the labor market have a negative effect that outweighs their advantages? To discover that, we need to look at their theoretical and practical implications.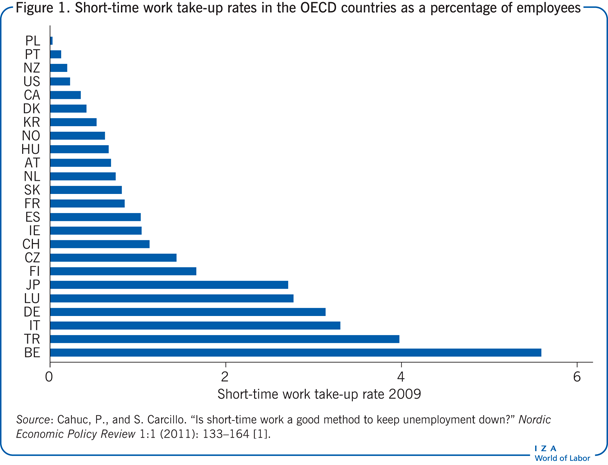 Discussion of pros and cons
Limitations and gaps
Much remains unknown about the impact of short-time work compensation on employment. While macroeconomic evaluations have identified a net global impact, their conclusions are drawn from a relatively small set of observations. This limits the ability to finely identify the impact of programs, which are very different across countries. Larger sets of observations collected at the company level, combined with relevant empirical strategies, are needed to confirm and fine-tune these conclusions. Moreover, empirical evidence indicates that short-time work compensations have beneficial effects in downturns, but their impact in recovery periods is not yet documented [1].
Very little is also known from a theoretical point of view. Although it is clear that it can be optimal to include short-time work compensation in unemployment insurance systems [1], much remains to be done not only on when short-time work compensation should be used but also on the eligibility criteria, the cost to employers, and the replacement income provided to workers.
Summary and policy advice
All in all, it seems that short-time work compensation programs used in downturns have had significant beneficial effects on permanent employment (avoiding job losses and limiting unemployment). However, special attention should be devoted to the design of these programs. They can lead to inefficiency, both over working hours and in the reallocation of workers to more productive jobs. In order to limit these negative effects, two features should be built into their design.
First, it is worth introducing experience rating, so that employers who use such schemes, and those who use them for longer, pay more toward them. Second, it is important to commit to stable rules, which are best designed under normal economic conditions—and not during recessions—to avoid pressure to set up excessively generous schemes during turbulent periods, since they can be difficult to turn off later. Indeed, persistently high take-up rates can be costly for society as a whole and detrimental to non-eligible workers.
The demand for short-time work compensation is very much affected by employment protection legislation and the centralization of wage bargaining. Factors such as these mean it is more suitable in some countries than in others.
Acknowledgments
The author thanks an anonymous referee and the IZA World of Labor Editors for many helpful suggestions on earlier drafts.
Competing interests
The IZA World of Labor project is committed to the IZA Guiding Principles of Research Integrity. The author declares to have observed these principles.
© Pierre Cahuc