Elevator pitch
Immigrants contribute to the economic development of the host country, but they earn less at entry and it takes many years for them to achieve parity of income. For some immigrant groups, the wage gap never closes. There is a wide variation across countries in the entry wage gap and the speed of wage assimilation over time. Wage assimilation is affected by year of entry, immigrant skill, ethnicity, and gender. Policies that facilitate assimilation of immigrant workers provide support for education, language, and employment. Such policies can also reduce barriers to entry, encourage naturalization, and target selection of immigrants.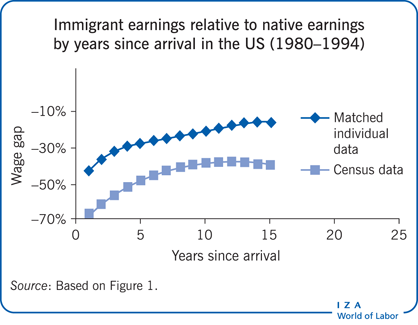 Key findings
Pros
Immigrants earn less than natives at entry to the host labor market, but their relative wages increase over time in the host country.
Wage assimilation among highly-educated immigrants is usually faster than among lower-educated immigrants.
Policies to increase skills, such as language and local training and work experience, can promote assimilation.
Wage subsidy policies promote employment assimilation.
Cons
Origin country education and training are less valued in the host country than native skills.
Migrants from ethnic groups that are the most dissimilar to native workers receive lower wages than other migrants.
Most active labor market policies have little impact on the assimilation of immigrants into employment.
Policies that segment labor markets reduce wage assimilation.
Immigrant selection policies benefit higher-skilled immigrants.