Elevator pitch
Formal schooling increases earnings and provides other individual benefits. However, societal benefits of education may exceed individual benefits. Research finds that increased average education levels in an area are correlated with higher earnings, even for locals with relatively little education. Science, technology, engineering, and mathematics (STEM) graduates appear to have especially strong external effects, due to their role in stimulating innovation and economic growth. Several strategies to test for causality find human capital externalities do exist.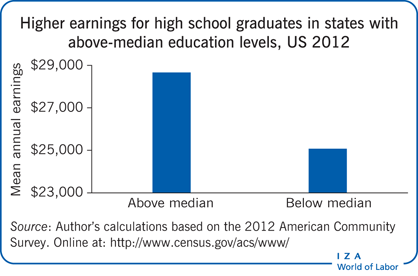 Key findings
Pros
Economic theory suggests that there are external benefits of education in an area, such as learning from peers and synergies in problem-solving.
Empirical studies find a positive correlation between higher local education levels and higher earnings.
Human capital externalities are strongly linked to increases in the stock of college graduates in an area.
Externalities associated with higher local education levels benefit all workers, especially less educated workers.
Externalities appear to be particuarly strong for STEM graduates.
Cons
Positive correlation between high local education levels and earnings of other workers may result from highly educated workers moving to areas that already pay high wages.
There may be unobservable characteristics that increase both local education levels and wages.
Policies to raise education levels by encouraging highly educated immigrants could adversely affect some native workers.
Human capital may increase the local price of non-tradable goods and services such as housing, to the detriment of the less educated.
Human capital may increase inequality if more educated workers benefit more.
Author's main message
Studies generally find a positive causal impact of higher education and skill levels in an area on earnings, even for less educated workers. These external effects likely differ by type of human capital. STEM graduates appear to have especially strong external effects, by stimulating innovation and economic growth. Policies that increase the stock of college graduates, especially STEM graduates, by increasing domestic production and immigration, are likely to yield benefits now and in the future. This may include improving primary and secondary mathematics and science education and relaxing employment restrictions for foreign workers.
Motivation
Average incomes differ widely across countries and even within countries, and researchers and policymakers are interested in knowing why. Differences in worker knowledge and skills, often referred to as human capital, are widely believed to be a major reason for income differences across areas. Why might human capital be so important for productivity and economic growth? Both direct and indirect effects are likely the reason.
An individual with greater knowledge and skills will be more productive than one with less human capital because greater knowledge and skills enable people to produce more output value per unit of time. In competitive labor markets, skilled workers will reap the rewards of their higher productivity in the form of higher wages and salaries. Higher education levels in an area will directly increase average incomes in the area because having more highly educated workers with high wages raises the local average. However, this effect alone does not necessarily mean that an individual worker is better off by living in an area with more educated people.
If there are spillover effects from greater human capital, these externalities suggest that living in an area with more educated people may boost well-being for workers at all education levels. A high human capital worker might increase the productivity of coworkers, friends, and neighbors because of knowledge spillovers and the generation of new ideas. Additionally, imperfect substitutability in production between different types of workers will cause increases in the local proportion of high-skilled workers to affect the wages of both high-skilled and low-skilled workers in the area.
Discussion of pros and cons
Limitations and gaps
Much is still unknown about human capital externalities. The research relying on natural experiments comes largely from the US. There is much less evidence for other countries. Almost nothing is known about how localized human capital externalities may be. Do they spill across cities and regions within countries? Do they spill across highly connected countries, as in the EU? How important are the various theoretical mechanisms such as knowledge spillovers, innovation, and imperfect substitutability in production? How mobile are educated workers, and how much of the benefits of human capital externalities accrues to the origin areas that helped create the human capital? How have the various effects changed over time?
There are also further issues regarding the externalities created by different types of human capital. STEM graduates appear especially beneficial for generating externalities, but there may also be differential benefits among non-STEM graduates (for example, business fields might create larger externalities than humanities) and within STEM fields (for example, computer science and engineering might have greater benefits than zoology and astronomy). Identifying the separate effects of many different areas of learning poses considerable challenges for researchers but has the potential to be very useful for policymakers.
Summary and policy advice
There is still some debate in the research community about the existence and size of human capital externalities, but the bulk of the literature supports the importance of human capital externalities. Working in a locality where a greater share of the population has a college degree is correlated with higher wages and better employment outcomes even controlling for individuals' own education and other characteristics. Studies based on various natural experiments suggest that this positive relationship is causal.
STEM graduates appear to create especially large human capital externalities, perhaps because of their role in innovation, which contributes to the creation of more and better jobs. Public policies that increase the numbers of college graduates, particularly STEM graduates, through both higher domestic production of graduates and increased inflows of highly educated foreigners are likely to strongly benefit other workers in the same local labor markets. For many countries and regions, increasing the production of native STEM graduates likely requires improving primary and secondary math and science education, perhaps by devoting more instructional time and more resources to these areas [11]. Increasing the inflow of skilled foreigners can be achieved in many countries by relaxing or eliminating employment restrictions for these workers and streamlining the administrative process for both foreign workers and firms wishing to hire them.
Acknowledgments
The author thanks anonymous referees and the IZA World of Labor editors for many helpful suggestions on earlier drafts. Previous work by the author contains a larger number of background references for the material presented here and has been used intensively in all major parts of this article [7], [11], [12].
Competing interests
The IZA World of Labor project is committed to the IZA Guiding Principles of Research Integrity. The author declares to have observed these principles.
© John V. Winters