Elevator pitch
Finland's population is aging rapidly by international comparison. The shrinking working-age population means that the burden of increasing pension and health care expenditures is placed on a smaller group of employed workers, while the scope for economic growth through increased labor input diminishes. Fiscal sustainability of the welfare state calls for a high employment rate among people of working age. Recent increases in employment among older groups contribute favorably to public finances, but high overall unemployment and a large share of the long-term unemployed are serious concerns.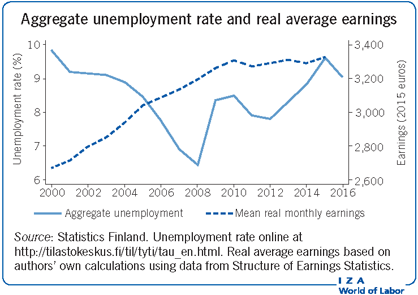 Key findings
Pros
Labor force participation and employment rates of older groups have increased considerably.
Although unemployment is at a relatively high level in the aftermath of the financial crisis and subsequent recession, it could be much higher, particularly considering the larger effect of the recession in the 1990s.
The gender wage gap has declined, although this is partly due to job losses among men in the recession years.
Wage inequality has remained stable and it is still low compared to most other advanced countries.
Cons
The employment rate among the working-age population is low compared to other Nordic countries.
Long-term unemployment, underemployment, and disguised unemployment have increased over the past few years.
GDP is still below its 2008 level and real earnings have not increased since 2010.
Some indicators point to a growing gap between the skills needed in new jobs and the skills possessed by unemployed job-seekers.
Author's main message
In 2016, the Finnish economy finally returned to a strong growth path after an almost decade-long stagnation. However, the employment rate remains well below the government's target of 72% for 2019. The recent economic downturn has left a difficult legacy: unemployment is 9% and a large share of job-seekers has been without a job for over a year. Moreover, a significant part of unemployment may be structural. Several labor market reforms to increase employment have already been implemented, but new ones, such as promoting longer working careers and flexible work arrangements, increasing flexibility in wage setting, or encouraging immigration, may be needed.
Motivation
The share of the population aged 65 and over is increasing in all EU countries. In Finland, this share rose by 4.5 percentage points over the past ten years, which is the second highest increase in the EU after Malta, and more than twice the EU28 average. To cope with the financial pressures associated with an aging population, several labor market reforms have been implemented since 2000. The aim of the reforms has been to increase employment by lowering unemployment, encouraging labor market entry, and postponing retirement. These reforms have influenced how the labor market responded to a severe and lengthy recession that hit the economy in 2008 and lasted nearly a decade.
Discussion of pros and cons
Limitations and gaps
One limitation in describing labor market conditions over time is the lack of comprehensive data on labor demand conditions. This analysis used data on open vacancies at the public employment service, published by the MEAE. An advantage of this approach is that the underlying microdata are readily available. However, the data only cover a portion of open vacancies in the labor market, and the vacancies included are somewhat selective, with high-skill jobs probably underrepresented. An alternative source of data would be the Job Vacancy Survey, conducted by Statistics Finland, which is based on EU-wide guidelines. The problem with this survey is that it only goes back to 2002; also, its design changed in 2013, so that the most recent data are not comparable to pre-2013 data.
Summary and policy advice
The most obvious problem in the Finnish labor market today is high unemployment, which would be less worrisome without signs of its structural nature. Given demographic change, the major challenge is to reach a sufficiently high employment rate. There is no single solution; various measures to increase labor supply and employment among labor market participants are needed.
Policies to increase labor supply could include the promotion of longer working careers, such as providing economic incentives to postpone retirement, along with flexible work arrangements for those who are not able to work full time due to health issues. Given the relatively poor labor market situation of young workers, ensuring a smooth transition between different stages of the education system and facilitating entry into the labor market can have a substantial impact in the long term. An additional way to increase labor supply is to encourage immigration, along with programs that help immigrants (and refugees) to integrate in the Finnish labor market and society. As to policies that would increase employment among labor market participants, training programs for the unemployed with outdated skills, flexible work arrangements for parents of young children, and flexible benefit schemes for underemployed individuals should be promoted and developed for more efficient use.
Acknowledgments
The authors thank the IZA World of Labor editors, Roope Uusitalo, and Seppo Orjasniemi for their helpful suggestions on an earlier draft.
Competing interests
The IZA World of Labor project is committed to the IZA Guiding Principles of Research Integrity. The author declares to have observed these principles.
© Tomi Kyyrä and Hanna Pesola