Elevator pitch
Raising the minimum wage in developing countries could increase or decrease poverty, depending on labor market characteristics. Minimum wages target formal sector workers—a minority in most developing countries—many of whom do not live in poor households. Whether raising minimum wages reduces poverty depends not only on whether formal sector workers lose jobs as a result, but also on whether low-wage workers live in poor households, how widely minimum wages are enforced, how minimum wages affect informal workers, and whether social safety nets are in place.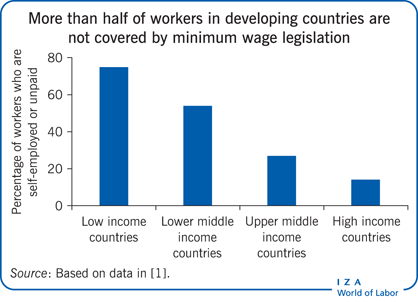 Key findings
Pros
If job losses in the formal sector are small, raising the minimum wage is likely to reduce poverty.
If informal sector wages rise when the minimum wage increases, higher minimum wages are likely to reduce poverty.
If the people earning the minimum wage are heads of low-income households, higher minimum wages are likely to reduce poverty.
If low-income workers lose jobs and cannot find jobs because of a higher minimum wage, social safety nets for low-income households can protect against poverty.
Cons
If higher minimum wages cause workers to lose formal sector jobs, they are not likely to reduce poverty.
If minimum wage legislation does not cover a large pool of informal workers, higher minimum wages are not likely to reduce poverty.
If the people on the minimum wage are secondary family workers, higher minimum wages will not reduce poverty.
If low-income workers lose jobs and cannot find jobs because of higher minimum wages and there are no social safety nets, higher minimum wages will increase poverty.
Author's main message
Raising the minimum wage reduces poverty in most developing countries. But the impact is modest because the legal minimum wage applies to only a minority of poor workers; in particular, it does not cover workers in the large informal sector. And raising the minimum wage creates losers as well as winners among poor households—depending on employment effects, wage distribution, and effects on the household head—pulling some out of poverty while pushing others in. Raising the minimum wage could be part of a comprehensive poverty-reduction package but should not be the only, or even the main, tool to reduce poverty.
Motivation
A popular and compelling argument in favor of raising legal minimum wages is that higher minimum wages will reduce poverty. Quite simply: putting more money into the pockets of low-income workers will allow them to purchase more of the basic goods and services needed to survive. In theory, if the wage increase is large enough, poor people's incomes will rise, lifting them out of poverty.
This sounds good in theory—but it does not always happen in practice. That is because the relationship between minimum wages, worker incomes, and employment levels, and the incidence and depth of poverty are complex.
First, the minimum wage does not affect all workers or affect them equally. That makes it important to know which workers are most likely to be affected—and how. Second, even if a minimum wage raises the incomes of some workers, it might not raise the incomes of poor households. The informal sector, where workers are not effectively covered by minimum wage legislation, is typically large in developing countries, and poverty tends to be more widespread in the informal sector. Even in the formal sector, minimum wage laws are often poorly enforced.
There are also employment effects to consider. An increase in the minimum wage may cause some employers to lay off workers. If these workers live in low-income households, poverty may increase, at least in the short term. Layoffs may also put downward pressure on wages in both the formal and informal sectors.
For all these reasons, increasing the minimum wage might have no positive impact on poverty—or worse, might backfire and deepen poverty, especially for the extremely poor.
Discussion of pros and cons
Limitations and gaps
The research on the wage and employment impacts of minimum wages in developing countries is voluminous, but most of it concerns Latin American countries; other regions have been studied much less. And, even in Latin America, there is little research on other factors that affect the relationship between minimum wages and poverty. Among the most important information gaps in most countries is how and why raising the minimum wage affects household members in different ways—and whether the impacts differ in poor and nonpoor households.
For most countries, it would be useful to determine whether workers who earn the minimum wage are likely to live in poor households and whether they are likely to be household heads or secondary family workers. More difficult, but also quite important, would be to estimate the positive wage effects and negative employment impacts of minimum wages separately for different household members, especially for household heads and secondary workers and for households in different parts of the income distribution.
Summary and policy advice
Most empirical studies of the impact of minimum wages on poverty in developing countries conclude that increases in minimum wages reduce poverty, on balance, though they find only a modest impact—for two reasons.
First, a large share of workers is not covered by minimum wage legislation.

And second, higher minimum wages do not affect all low-income households the same way: minimum wages pull some households out of poverty, but may push others into poverty.
Given the potential for negative impacts on the employment status and incomes of some of the poorest families, raising minimum wages is an inefficient tool for reducing poverty. More efficient policies would focus on
enhancing compliance with minimum wage laws,

improving incomes in the informal sector where minimum wages do not apply, and

increasing the long-term productivity of workers from low-income families.
This suggests that while minimum wages can be part of a package of poverty-reducing policies, they should not be the only mechanism or even the most important one.
For example, Brazil's conditional cash transfer program, Bolsa Familia, was more effective than higher minimum wages at reducing poverty and income inequality using an identical amount of resources [11]. Conditional cash transfers to low-income households have the additional benefit of providing part of a social safety net for households when workers lose their jobs because of higher minimum wages. Labor supply incentives, particularly the earned income tax credit, have also been shown to be effective in increasing both the employment and earnings of low-income workers in the US.
Acknowledgments
The author thanks an anonymous referee and the IZA World of Labor editors for many helpful suggestions on earlier drafts. The author would also like to thank Gary Fields and the other participants of the IZA World of Labor Minimum Wage Workshop, 2013.
Competing interests
The IZA World of Labor project is committed to the IZA Guiding Principles of Research Integrity. The author declares to have observed these principles.
© T. H. Gindling