Elevator pitch
Norway has a high labor force participation rate and a very low unemployment rate. Part of the reason for this fortunate situation is so-called "tripartism": a broad agreement among unions, employers, and government to maintain a high level of coordination in wage bargaining. This has led to downward real wage flexibility, which has lessened the effects of negative shocks to the economy. Reduced net immigration, especially from neighboring countries, has also mitigated the negative effects of the recent drop in oil prices. A potential drawback of this tripartism is, however, the difficulty of reducing employee absences and disability.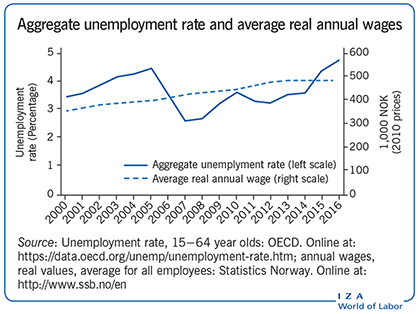 Key findings
Pros
Both men and women enjoy high employment rates.
Real wage flexibility has helped combat unemployment, especially after the drop in oil prices in 2014.
Unemployment is quite low, including among young individuals.
There is a downward-sloping trend of part-time work among women.
Wages are compressed, and wage inequality is rather small and relatively stable.
Cons
Worker absences due to sickness as well as disability rates are high, putting pressure on the welfare state.
The overall employment rate is trending downwards possibly related to an aging population.
The labor market is highly gender-segregated with respect to sector and occupation.
The school drop-out rate has started to increase among young men.
Author's main message
Overall, the Norwegian labor market is performing very well. The severe drop in oil prices in 2014 led to fewer jobs in the oil sector. However, the downward flexibility of real wages and increased demand in other export-oriented industries dampened any potential negative employment effects. The employment rate among women is very high, but there are challenges due to a gender-segregated job market and a persistent raw gender wage gap of 15%. Norway's substantial welfare system helps parents remain in the labor market, but an aging workforce and high worker absenteeism due to illness and disability are concerning.
Motivation
One important factor behind the well-functioning Norwegian labor market, with low unemployment and high employment rates for both men and women, is so-called "tripartism." This involves cooperation amongst unions, employers, and government to generate competitiveness through modest wage increases, thereby ensuring high employment. However, this tripartism might come at a cost of high worker absence and high disability rates, which are not directly related to health conditions. This raises concerns about the sustainability of the welfare state.
Discussion of pros and cons
Limitations and gaps
There is currently a discussion ongoing in Norway about unemployment rates and the extent to which individuals on temporary training and rehabilitation programs should be counted in official unemployment statistics. The same is true with respect to individuals not eligible for unemployment benefits, typically students with no recent work experience. Some argue that the true Norwegian unemployment rate is higher than that which the current official numbers indicate. One alternative would be to have measures of unemployment or underutilization, similar to those published by the US Bureau of Labor Statistics.
The generosity of the welfare state has contributed to the high participation rate of women and made it possible to combine family and work. However, it is still an open question whether this generosity comes with a cost. Research has pointed out that mothers are less likely to be promoted than women without children, and that they tend to enter at lower-level jobs [5]. Despite this finding, a large part of the family gap (the differences between mothers and non-mothers) remains unexplained.
Summary and policy advice
The Norwegian economy has responded quite well to the drop in oil prices and associated slump in oil-related investments. Part of this is due to downward real wage flexibility and increased demand for labor in other industries. This latter increase has been stimulated by a depreciation of the Norwegian kroner. Moreover, politicians have ignored the temptation to increase public-sector employment. This is a reasonable position given the need for structural changes in the Norwegian labor market—moving away from the petroleum industry and toward a greater focus on other industries.
A significant concern looking ahead though is related to the size of the workforce. Despite high fertility and immigration rates, an aging population coupled with high absenteeism and disability rates have reduced the workforce and increased pressure on public budgets. This threatens the sustainability of the welfare state. However, none of the political parties are willing to cut benefits in response to this situation, and even if they were, such cuts might put the beneficial tripartite system under pressure.
Acknowledgments
The author thanks an anonymous referee and the IZA World of Labor editors for many helpful suggestions on earlier drafts. The author also thanks Felix Kapfhammer for excellent research assistance and Astrid Kunze for valuable comments and suggestions.
Competing interests
The IZA World of Labor project is committed to the IZA Guiding Principles of Research Integrity. The author declares to have observed these principles.
© Øivind A. Nilsen