Elevator pitch
Immigration is one of the most important policy debates in Western countries. However, one aspect of the debate is often mischaracterized by accusations that higher levels of immigration lead to higher levels of crime. The evidence, based on empirical studies of many countries, indicates that there is no simple link between immigration and crime, but legalizing the status of immigrants has beneficial effects on crime rates. Crucially, the evidence points to substantial differences in the impact on property crime, depending on the labor market opportunities of immigrant groups.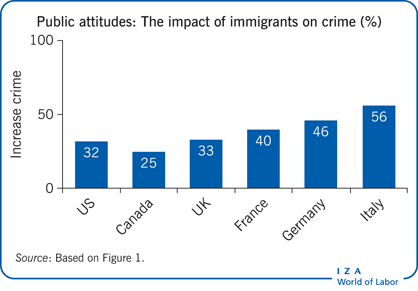 Key findings
Pros
There is no evidence that immigration has caused a crime problem across countries.
Immigrants with good labor market opportunities appear no more likely to commit crime than similar natives.
Making sure that immigrants are able to legally find work appears to significantly reduce their criminal activity.
Cons
Public concern over immigration includes a perception that immigrants increase the level of crime.
Immigrants facing poor labor market opportunities are more likely to commit property crimes.
Author's main message
There is no simple link between immigration and crime. Most studies find that larger immigrant concentrations in an area have no association with violent crime and, overall, fairly weak effects on property crime. However, immigrant groups that face poor labor market opportunities are more likely to commit property crime. But this is also true of disadvantaged native groups. The policy focus should therefore be on the crime-reducing benefits of improving the functioning of labor markets and workers' skills, rather than on crime and immigration per se. There is also a case for ensuring that immigrants can legally obtain work in the receiving country, since the evidence shows that such legalization programs tend to reduce criminal activity among the targeted group.
Motivation
Immigration is frequently mentioned as one of the most important issues facing politicians in advanced economies. Often this appears to be related to the commonly expressed concern that immigrants harm the labor market prospects of natives. This concern has received substantial, and sometimes controversial, attention in the academic labor economics literature. However, it also reflects a wider concern over the impact of large immigration flows on other aspects of society.
Issues of relevance here cover competition for education and health services, congestion, housing demand, cultural identity, and crime. For example, a large cross-country opinion poll conducted by the German Marshall Fund of the US found similar percentages of natives who thought that immigrants increased crime also thought immigrants took jobs away from natives (see Figure 1).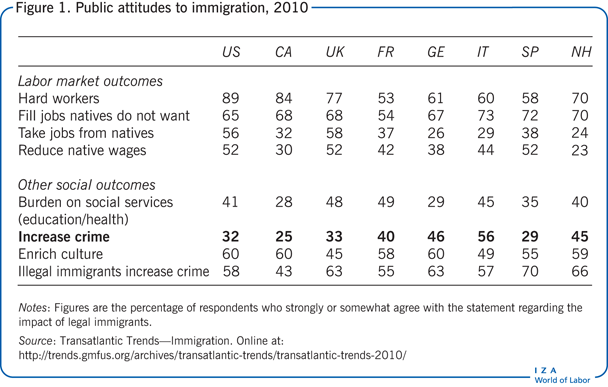 This negative view of the impact of immigrants on crime was particularly strong when the focus was on illegal immigrants. But what is the evidence of any link between crime and immigration? Data from England and Wales show that even though the number of foreign-born immigrants increased significantly between 1997 and 2009, the number of offences—violent crimes and property crimes—decreased noticeably after 2003 (see Figure 2).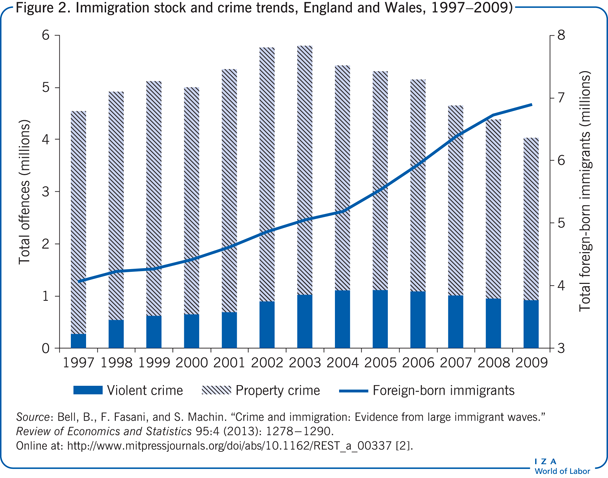 Discussion of pros and cons
Limitations and gaps
In spite of the set of empirical studies discussed above, there is still surprisingly little convincing evidence on the crime−immigration link. Part of the reason for this is the need to overcome the difficult identification issue. If we find a correlation between crime and immigration, is it because immigrants cause the rising crime or because immigrants move into areas that are experiencing rising crime levels (for example, because housing has become cheaper in those areas)? The studies this paper focuses on pay particular attention to this issue and, as a result, provide more credible evidence.
The small number of studies that have focused on different immigrant groups rather than estimating the average effect of immigration on crime have pointed to the importance of labor market opportunities. This is likely to be a continued focus of research across countries with very different immigrant groups. In addition, other aspects of the criminal justice system deserve attention. This will include a deeper understanding of the relative probabilities of immigrants and natives being arrested, charged, convicted, and sentenced for different crimes. However, it is likely that data issues will make many of these investigations hard and inconclusive.
Summary and policy advice
The evidence points to the labor market as a key determinant of the likelihood that immigrant groups will engage in criminal activity. In many ways, this is no different than for natives. There is extensive evidence that poorly educated, low-skilled natives will be more likely to commit crime than otherwise identical high-skilled, stably employed natives. Thus, policies that focus on improving the employability of workers—natives and immigrants alike—will have the added benefit of reducing crime.
However, policymakers have two additional tools at their disposal when focusing on immigrants and crime:
First, legalizing the status of immigrants appears to have beneficial effects on crime rates—a rarely discussed aspect of such programs.

Second, the increased use of point-based immigration systems allows countries to select the characteristics of immigrants that are offered residence.
Thus, for example, Canada and Australia both operate point-based systems for certain immigrants that award points to potential migrants on the basis of characteristics such as education, work experience, age, and employment plans. There is then a threshold of points that must be reached before legal immigration is possible (see [10]). Such systems allow countries to change the profile of immigrants by altering either the points awarded for particular characteristics or the threshold required to gain entry.
Thus, the evidence above suggests that to the extent that countries worry about the crime effects of immigration, they can tilt the offer they make in the international immigration market by awarding more points to those with high skills, a job offer, and a high wage. Such a policy is in any case being pursued by many countries for a range of other reasons.
Acknowledgments
The author thanks three anonymous referees and the IZA World of Labor editors for many helpful suggestions on earlier drafts. Support from the Max Planck Institute of Religious and Ethnic Diversity and Massey University is gratefully acknowledged.
Competing interests
The IZA World of Labor project is committed to the IZA Guiding Principles of Research Integrity. The author declares to have observed these principles.
© Brian Bell