Elevator pitch
Globalization and automation have brought about a tremendous increase in productivity, with enormous benefits, but also a dramatic reallocation of jobs, skills, and incomes, which might jeopardize the full realization of those benefits. Current social policies may not be adequate to successfully redistribute the gains from automation and globalization or to advance the reallocation of jobs and skills. Under certain circumstances, an unconditional basic income might be a better alternative for achieving these goals. It is simple, transparent, and has low administrative costs, though it may require higher taxes or a cut/reallocation of other public expenditures.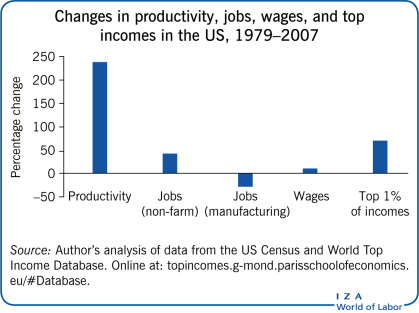 Key findings
Pros
Unconditional basic income might be an efficient way to redistribute the benefits from automation and globalization.
Since it is not conditional on income, unconditional basic income does not create "welfare traps."
Unconditional basic income is simple and transparent, with low administrative costs.
Unconditional basic income serves as an efficient buffer against shocks and systemic risks from automation and globalization.
Some evidence from experimental studies suggests that unconditional basic income might have positive effects on labor supply, responsibility, and investment in human capital.
Cons
Unconditional basic income might require higher taxes, or cuts to other public expenditures.
Microsimulation studies suggest that unconditional basic income might reduce labor supply.
Unconditional basic income might lead to a reduction in effort, motivation, and autonomy.
Unconditional basic income also benefits the "undeserving."
Author's main message
Economic reasoning and empirical evidence suggest that, under certain conditions, unconditional basic income might be an important policy innovation for redistributing gains from automation and globalization, building a buffer against shocks and systemic risks, and generating positive labor supply incentives among the poor. While such a policy is simple and transparent, financing it might require higher taxes or cuts of other transfers, with efficiency and equality losses. Therefore, careful redesign of taxes and transfers is needed to obtain a net benefit from unconditional basic income.
Motivation
Many OECD countries have been suffering from high unemployment and job insecurity since the Great Recession in the late 2000s. More fundamentally, however, these maladies are a byproduct of automation and globalization. Along with large potential gains (brought about by more efficient production and exchange methods), these processes imply massive re-allocations, including job losses, shocks, and systemic risks. Worldwide income distribution has become less unequal, but has produced new losers, especially among the middle class in developed countries (Figure 1). At the same time, income inequality and polarization within advanced economies have increased (evident through the difference between decile 8 and decile 10 in Figure 1). There is evidence that the gains from automation and globalization might be going to the few, and may be smaller than necessary due to the lack of efficient redistribution channels. Hence, failing to design efficient means of redistributing the benefits may prevent some of the potential benefits from materializing. Designing income support policies that work well as both buffers against the volatility inherent in the global economy and as redistribution mechanisms for the gains from automation and globalization requires first considering how well current social assistance policies meet those goals.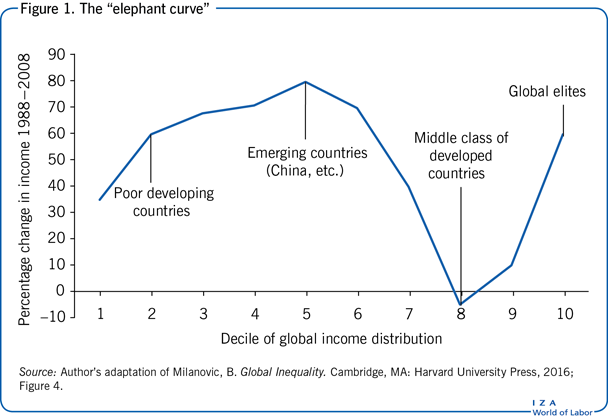 Discussion of pros and cons
Limitations and gaps
Economists have given much less attention to analyzing UBI than to policies such as tax credits or conditional cash transfers. Some experiments are being done in developing countries, though not in developed countries (at least recently). Experiments are important because they permit the direct identification of causal effects. The analysis of long-term dimensions of labor supply, such as education and occupation choices, would also benefit from experiments or the use of long-term panel data.
Still missing, except for a few individual estimates, is a systematic comparison of administrative costs (monitoring, delivery, litigation) of UBI compared with conditional or means-tested policies.
There is abundant—although not univocal—evidence of the substitution effects of income-related taxes and benefits on labor supply. The evidence on income effects, however, is more controversial and less robust. Yet, such evidence is crucial for comparing UBI with alternative policies, and further studies on these topics would thus be welcomed.
Finally, relatively little is known about the labor supply effects of taxing wealth rather than income.
Summary and policy advice
The theoretical and empirical evidence is sufficient to suggest that UBI might be a viable alternative, or a complement, to selective and conditional social assistance policies. UBI appears to be an especially sound approach for redistributing the gains from automation and globalization, by building an efficient and transparent buffer against global volatility and systemic risks, generating positive incentives, and avoiding recurrent risks of falling into poverty.
Compared with means-tested and conditional policies, UBI is likely to be a winner under most criteria used for comparison. A possible exception is the cost of a UBI policy (relative to the cost of means-tested and conditional policies) and the distortions that might be introduced by raising taxes to cover the cost of the program. Alternatives to progressive income taxation should be investigated, such as a flat tax, wealth tax, consumption taxes, or environmental taxes. There may also be room to combine unconditional and conditional benefits, to some degree. Along the same lines, cash transfers conditional on recipients taking certain education or health steps might represent an interesting and less extreme version of UBI.
The UBI approach enjoys some support from many different ideological and methodological schools. As a consequence, the recipes proposed by the various sides can vary dramatically. One overarching crucial point is the relationship of UBI with existing welfare policies, and determining what eventually would be replaced by the UBI. Supporters of UBI should provide more detailed and transparent proposals on this issue.
A cautious strategy might consist of initially introducing UBI as a partial substitute for current means-tested and other conditional transfers, possibly limiting it to segments of the population identified on the basis of external characteristics, such as age and gender.
Acknowledgments
The author thanks an anonymous referee and the IZA World of Labor editors for many helpful suggestions on earlier drafts. Version 2 of the article provides a more detailed description of UBI compared to traditional income support policies and introduces UBI as a special case of NIT. It also updates the motivations, research results, empirical evidence, and references.
Competing interests
The IZA World of Labor project is committed to the IZA Code of Conduct. The author declares to have observed the principles outlined in the code.
© Ugo Colombino