Elevator pitch
People who are unable to maintain the same standard of living as others around them experience a sense of relative deprivation that has been shown to reduce feelings of well-being. Relative deprivation reflects conditions of worsening relative poverty despite striking reductions in absolute poverty. The effects of relative deprivation explain why average happiness has been stagnant over time despite sharp rises in income. Consumption taxes on status-seeking spending, along with official and traditional sanctions on excess consumption and redistributive policies may lessen the negative impact of relative deprivation on well-being.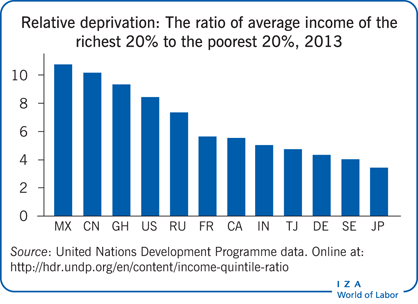 Key findings
Pros
Strong evidence finds a negative impact of relative deprivation on both objective and subjective dimensions of well-being.
Relative deprivation offers a plausible explanation for the paradox that average happiness has remained constant or even fallen despite sharp rises in income.
Psychological services and redistributive policies tailored to people experiencing relative deprivation may improve well-being.
Visibility-based consumption taxes and community sanctions may promote well-being by curbing status-seeking spending driven by relative deprivation.
Relative deprivation reflects relative poverty and complements measures of inequality.
Cons
Psychological services, community-based activities, and redistributive policies may draw attention to a person's low status and increase relative deprivation.
Studies of relative deprivation assume either external comparisons with richer counterparts or internal comparisons with a person's past or future self without formally testing the importance of those reference groups.
The true reference group is rarely known, which likely biases measures of relative deprivation.
Few results of relative deprivation studies are directly comparable across studies, and the results are not generalizable to a larger population.
Author's main message
A large body of empirical evidence finds that low socio-economic status and resulting feelings of relative deprivation diminish people's well-being, indicated by lower happiness and health. When people respond to this condition by competing for higher status, they often divert resources from meeting basic needs to inefficient spending on status-seeking goods. The negative impact of relative deprivation on well-being can be reduced by curbing such spending among the poor. Possible methods include consumption taxes on status-marking goods, community sanctions, and redistributive policies that may reduce such spending.
Motivation
The quest for social status has been widely documented over time and across cultures. Competing for higher status often diverts resources to inefficiently high status-motivated spending. Lower status and induced feelings of relative deprivation, especially in countries with high inequality and a rigid social hierarchy, may worsen the condition of poor people by motivating them to spend lavishly on goods that signal a higher status in society. Relative deprivation has been shown to diminish both subjective and objective well-being. Subjective well-being is based on achieving momentary well-being, happiness or general life satisfaction, while objective well-being is based on achieving basic needs and rights such as health status. These measures complement money as a measure of individual well-being, such as income per capita.
The number of studies that incorporate status into the theoretical framework to rationalize individual choices has been rising in recent decades. Relative deprivation measures have been used within an empirical framework to examine theories related to concern with status. Relative deprivation studies quantify the discontent people feel when they compare their socio-economic status, measured by income, consumption, or other indicators of perceived economic welfare, with that of their richer counterparts and realize that those others possess something that they do not have. For example, studies measure relative deprivation as the differences between the income of a lower status individual and the incomes of richer counterparts. Relative deprivation rises with the income of any higher income earner or with the number of higher income earners [1], [2].
These studies of relative deprivation help explain the puzzle that average happiness in much of the world has remained constant in recent decades despite sharp rises in income. They show that measured overall progress against poverty may be based solely on declining absolute poverty, while relative poverty is rising. Studying relative deprivation also enriches our understanding of inequality at the individual level.
In the past, evidence on relative deprivation has come mainly from developed countries. More recent research has extended the findings to developing countries.
Discussion of pros and cons
Limitations and gaps
There are still knowledge gaps about the relationship between relative deprivation and individual well-being. Few results are directly comparable across studies because of differences in model specification, choice of relative deprivation indicator, reference group definition, estimator chosen, type of data, etc. Individuals often choose to interact with people who are similar to themselves, which affects observable relative deprivation and individual well-being and potentially makes study findings less generalizable [8]. Related to this, social norms may differentially influence how relative deprivation affects individual well-being; more research is needed to understand this relationship. For example, informal arrangements for sharing economic gains with friends and neighbors in need may lessen relative deprivation; such personal transfers might be consistent with evidence from some poor countries that relative deprivation is not negatively correlated with happiness or life satisfaction.
In addition, adaptation and changing aspirations may mediate the impact of relative deprivation on individual well-being. For example, people with higher relative deprivation may adapt better to low status and form higher expectations about future status based on higher reference incomes. Ignoring such psychological factors may underestimate the negative effect of relative deprivation.
Most studies simply impose reference groups rather than asking individuals who their reference group is. These constructed reference groups may pick up effects other than social comparison. For example, average income by geographic area might also measure local public goods provision, which confounds the negative impact of relative deprivation on well-being [3], [4]. More fundamentally, if relative deprivation originates from gaps in social ranks along many attributes, such as income, wealth, title, and appearance, it might be difficult or even impossible to effectively address relative deprivation except by replacing one individual attribute with another as a key factor of relative deprivation. This deserves in-depth investigation.
Summary and policy advice
A large empirical evidence base for most countries suggests that low socio-economic status and resulting feelings of relative deprivation lower both objective and subjective well-being, as measured by indicators such as health and happiness. And while absolute poverty has been declining in most countries, relative deprivation and relative poverty have been rising.
Several policy instruments have the potential to reduce relative deprivation and thus to relieve its wide range of negative impacts. While psychological services, community-based activities, and redistributive policies may help reduce relative deprivation, they risk drawing embarrassing attention to recipients' low status and thereby aggravating relative deprivation. Better options may be a visibility-based consumption tax, which operates similar to a luxury tax, and traditional community sanctions, which are less likely to draw undue attention to the people they are designed to help. Studies for China and the US recommend tailoring psychological services and community-based activities to reduce relative deprivation and promote social integration for disadvantaged individuals [5], [8].
Policies that redistribute resources, such as income tax, universal basic education, and universal basic health services, may lessen relative deprivation. However, initiatives aimed at cutting relative deprivation within an area or a group may worsen relative deprivation in nearby areas or groups with which there are close interactions. To minimize this risk, policymakers should be aware of the boundaries of intensive social interactions that matter for relative deprivation. Redistributive policies benefiting one area or a group should not be at the cost of others.
Impoverished countries may consider implementing a visibility-based consumption tax to cut positional spending among the poor. Using telephone surveys to identify relevant visibility measures has proved reliable and inexpensive in the US and should be readily applicable to many other countries. Grass-roots groups in China and Tajikistan have reacted positively to regulations mandating cuts in positional spending among local officials. However, policymakers in developed countries, where freedom of choice is highly valued, may find such measures less feasible, especially as clear evidence is lacking that positional spending threatens basic well-being in rich contexts.
Finally, relative deprivation provides an important policy target for poverty alleviation and an indicator for predicting the risk of social unrest. Officials may want to monitor the impacts of anti-poverty efforts using a relative poverty line that rises with per capita income or consumption. Relative poverty lines for 100 countries released by the World Bank provide such a reference [13]. In addition, an intriguing body of empirical studies suggests that relative deprivation, as individuals compare themselves to others or experience unfulfilled expectations, is a potential source of social unrest that can lead to political violence. Monitoring relative deprivation may help governments identify such risk at an early stage and take effective measures to reduce tensions. Governments could define a threshold level of relative deprivation that triggers automatic emergency measures.
Acknowledgments
The author thanks an anonymous referee and the IZA World of Labor editors for many helpful suggestions on earlier drafts. The author also wishes to thank Bob Frank, Ravi Kanbur, and Xiaobo Zhang for guidance, joint research, and comments on the topic. Financial support from the NIH/NIA (Grant Number 1 R03 AG048920-01) and the National Science Fund of China (Approval numbers 70525003 and 70828002) are gratefully acknowledged.
Competing interests
The IZA World of Labor project is committed to the IZA Guiding Principles of Research Integrity. The author declares to have observed these principles.
© Xi Chen