Elevator pitch
Policymakers rely on entrepreneurs to create jobs, provide incomes, innovate, pay taxes to support public revenues, create competition in industries, and much more. Due to its highly heterogeneous nature, the choice of entrepreneurship measures is critically important, impacting the diagnosis, analysis, projection, and understanding of potential and existing policy. Some key aspects to measure include the how (self-employment, new firm formation), why (necessity, opportunity), and what (growth). As such, gaining better insight into the challenges of measuring entrepreneurship is a necessary and productive investment for policymakers.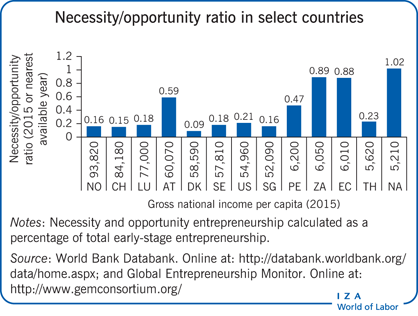 Key findings
Pros
Various measures can help policymakers capture different dimensions related to entrepreneurship.
More precise measurement options can help target specific types of entrepreneurship or outcomes, such as high growth entrepreneurship.
Comparing multiple measures of entrepreneurship, such as necessity and opportunity entrepreneurship, can be useful.
Different measures, like employment-based or accounting-based measures, can be used to evaluate growth entrepreneurship.
Cons
Measures for new firm formation likely underestimate the entrepreneurial activity in certain places, especially in low-income countries.
There are large gaps in data availability for many countries, especially low-income countries.
Different reporting and accounting standards limit the comparability of firm-level data across countries.
While it is possible to assess entrepreneurs' intentions, it is harder to measure growth.
A lack of comparable measures hinders research on growth entrepreneurship.
Author's main message
Policymakers can select measures of entrepreneurship that are appropriate to a specific problem or goal; this can improve the contextual relevance of policy design. Several measures, related to different dynamics of entrepreneurship, should be considered. These measures represent how entrepreneurship occurs, why it is undertaken, and what activity or outcome it can yield. Findings based on these measures help identify gains and trade-offs when considering potential policy options, enabling policymakers to design more appropriate policies to target specific entrepreneurship types and outcomes.
Motivation
Entrepreneurship is seen both as a goal on its own and as a tool that can yield employment, income, and innovation gains. Like many other economic trends, the study of entrepreneurship is muddled by challenges related to definition, measurement, data collection, comparability, applicability, and interpretation. Selecting the appropriate measure that matches policymakers' concerns is critically important to gaining an accurate understanding of relevant issues and for designing appropriate policies. Making use of appropriate measures can save time and money by allowing more precise identification of policy targets and goals, narrowing down the list of potential interventions, and improving the design of suitable measurement and evaluation systems.
Discussion of pros and cons
Limitations and gaps
Policymakers can learn a great deal from data-driven research on entrepreneurship; however, a significant challenge is that coverage, availability, and comparability of data are all limited. The major constraint, not surprisingly, is the difficulty in data collection due to technical requirements, coordination and harmonizing, and cost. Data collection is an expensive endeavor, particularly when undertaken across a large number of independent administrative agencies, for example, company registrars across more than 150 countries. Data collection efforts that aim to compile and integrate existing data face the challenge of unstandardized definitions, which limits comparability [6]. Efforts aimed at creating completely new information using standardized protocols may maximize data comparability, but these are expensive and could end up limiting coverage as not all countries or industries will be able or willing to adopt the new protocols.
Data challenges are especially problematic in low-income countries, which face greater funding and capacity challenges in data collection and reporting. This is evidenced by the prevalence of missing data among the low-income countries in Figure 1. These issues are further exacerbated in conflict countries, where access, security, and funds for data collection are a challenge. These problems disproportionately affect countries that would stand to gain significantly from increased entrepreneurship, particularly those in the Middle East and sub-Saharan Africa.
There is also a disconnect between firm-level and country-level data. Country-level data is helpful to understand the overall trend and to track major changes over time. Firm-level data provide the richness and granularity necessary to identify the drivers, nature, trend, and outcomes of entrepreneurship. This information is useful when targeting specific types of entrepreneurship, such as female or growth entrepreneurship, or for targeting particular outcomes like job creation or export growth. Subnational research on regional economic development and entrepreneurship can also benefit from more firm-level data, which can be compared across regions. For example, regional policymakers need firm-level data to understand which characteristics encourage growth entrepreneurship in cities; regional or country aggregates are useful towards this end.
Summary and policy advice
Scholars and policymakers are well served by moving towards a more nuanced, explicit, and clear picture of the many dimensions of entrepreneurship. Recommended steps include:
Where possible, conduct analyses using several different measures for entrepreneurship. This is especially relevant for comparative empirical studies that assess the determinants of entrepreneurship across regions or countries with wide variance in economic development conditions.

Policymakers should invest in the creation of standardized, comparable data sets at the firm level that are specifically aimed at capturing growth entrepreneurship.

Policymakers can benefit from multilevel research on how different contextual levels can affect entrepreneurship outcomes; in other words, how the country level, region level, and firm level can influence a key policy goal.

Policymakers should invest in understanding why an individual selects self-employment instead of new firm formation, and vice versa. This would improve their understanding of how an individual can be channeled into the form of entrepreneurship most desired by policymakers.
In addition, policymakers should consider pursuing strategies to unlock and improve the gains from entrepreneurial activity in their country. Measurement is also a key consideration here, because effective measurement of policies and pilot programs can increase efficiency and lower costs. Some strategies include:
Lowering the necessity/opportunity entrepreneurship ratio, along with measurement of the determinants of (especially) opportunity entrepreneurship.

Boosting formal registrations of new businesses, along with rigorous measurement of which policies and programs can influence whether an entrepreneur registers a business or operates informally.

Targeted support for growth entrepreneurship, along with measurement of effective policies.
Acknowledgments
The author thanks two anonymous referees and the IZA World of Labor editors for many helpful suggestions on earlier drafts. Previous work of the author contains a larger number of background references for the material presented here and has been used intensively in all major parts of this article [1], [2], [4], [6].
Competing interests
The IZA World of Labor project is committed to the IZA Guiding Principles of Research Integrity. The author declares to have observed these principles.
© Sameeksha Desai