Elevator pitch
An extensive program of economic liberalization reforms, even when it generates positive outcomes, does not automatically generate support for further reforms. Societies respond with strong support only after experiencing the effects of reversing these reforms (i.e. corruption, inequality of opportunity). This point is illustrated through the example of the post-communist transformation in Eastern Europe and Central Asia—arguably a context where the end point of reforms was never clearly defined, and even successful reforms are now associated with a degree of reform suspicion.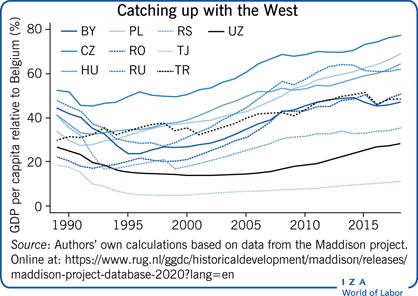 Key findings
Pros
The majority of transition countries have grown economically, and they have all become functioning markets.
Transition countries have become institutionally more similar to countries at their level of GDP per capita, and many, but not all, have become more democratic.
Inequality, as measured by Gini, is today fairly low by world standards in transition economies.
Support for economic liberalization reforms only increased in societies that experienced the effects of reversing these reforms (corruption, inequality of opportunity).
Cons
Transition paths in the region overall have been very diverse and outcomes unequal.
Reforms have often been associated with perceived unfairness, and the perception of corruption has increased in some countries.
Corruption contributes to inequality of opportunity, which is higher in transition countries than elsewhere.
Even when reform outcomes have been positive, support for reforms has fallen.
Author's main message
It is entirely justifiable to ask whether the post-communist transition, which began in 1989 in Central and Eastern Europe and Central Asia, can be considered to be over. Perhaps equally important is to understand the impact and perception of reforms implemented since then. Interestingly, reform success seems to weaken societal support for future reform. In contrast, experiencing the consequences of reform reversals (corruption, inequality of opportunity) appears to strengthen support for reforms. A key takeaway is that new waves of economic reforms should aim not only at high GDP growth but also at eradicating corruption and cronyism, strengthening the rule of law, and strengthening social mobility.
Motivation
The year 1989 started with round table talks between the, at that time, underground Polish trade union Solidarity's leaders and the Polish Communist Party Politburo in February, and finished with the destruction of the Berlin Wall in November. That year symbolically marks the beginning of "transition," which has both political and economic aspects. First, it relates to the process of intense political transformation in Eastern Europe and Central Asia away from Communist Party dictatorships. Second, it relates to a process of change in economic institutions, away from the centralized command and control system known as "central planning."
But what was the end point? When would the transition be over? The lack of clarity or consensus over what the end of transition would look like continues to be an issue for academics, policymakers, and societies today. It is thus a worthwhile endeavor to critically discuss different possible "end points," how they compare to where societies are today, and why it matters. Is the transition over?
Discussion of pros and cons
Limitations and gaps
There are some major limitations both to the discussion in this article and in some aspects of the transition literature at large. First, are institutional measures provided by inter-governmental organizations like EBRD and the World Bank unbiased? To what extent are they subject to political pressure from the countries these institutions are supposed to evaluate? Do they measure what they intend to measure?
Second, these are highly complex issues. There is a circle of mutual dependence that is difficult to disentangle. Both regulatory reforms and more fundamental change of higher-order institutions affect societal attitudes and satisfaction, but how exactly, and in which direction? In turn, how and under which conditions do satisfaction and attitudes translate into political decisions, thereby modifying the course of reforms? And finally, do reform reversals and reform persistence generate equally strong responses?
Third, 30 years after the transition started, different issues may matter more for the youngest generation. Climate change and protection of the natural environment are an obvious suggestion here. Are researchers therefore still asking questions that are seen as the most critical to the regions' populace?
All this indicates that there is still plenty of work to do in the fascinating line of research on transition, and more broadly on institutional change.
Summary and policy advice
To conclude, the devil is in the details. Transition countries have experienced significant progress with respect to regulatory environments, and the structural features of their economies have become similar to economies at their level of development elsewhere. However, it is the lived experience of citizens that critically matters, with unfairness, inequality of opportunity, and low institutional quality and corruption all being associated with lower life satisfaction [11]. Indeed, outcomes of institutional change and policies should not only be assessed by GDP per capita. Institutional "improvements" could be achieved, but still be associated with social disappointment. In particular, outcomes perceived as unfair are problematic, as oligarchic structures (especially around natural resources), cronyism, favoritism, or corruption can lead to societal cynicism and dissatisfaction.
Many early economic reforms were successfully implemented by economic technicians, who—often out of necessity—focused on regulatory frameworks. The agenda today is thus to tackle the remaining regulatory issues, but mostly to address higher-order institutional quality. Indeed, corruption stands as a barrier to further growth and serves to exacerbate inequality of opportunity. Better institutional quality would thus mean more growth and greater satisfaction with the outcomes of reforms.
Acknowledgments
The authors wish to thank two anonymous reviewers and the IZA World of Labor editors for many helpful suggestions on earlier drafts. The authors also wish to thank the participants in the special panel on transition performances held on Friday September 17, 2021, as part of the 16th EACES conference, for an insightful discussion. This article updates Chapter 12 of "Economics of Institutional Change" (2017), Springer Palgrave Macmillan, with substantial changes.
Competing interests
The IZA World of Labor project is committed to the IZA Code of Conduct. The author declares to have observed the principles outlined in the code.
© Elodie Douarin and Tomasz Mickiewicz