Elevator pitch
Around nine countries currently use a national income contingent loan (ICL) scheme for higher education tuition using the income tax system. Increased international interest in ICL validates an examination of its costs and benefits relative to the traditional financing system, government-guaranteed bank loans (GGBLs). Bank-type loans exhibit poor economic characteristics: namely, repayment hardships for the disadvantaged, and default. This damages credit reputations and can be associated with high taxpayer subsidies. ICLs avoid these problems, but effective collection of debt requires a sophisticated mechanism.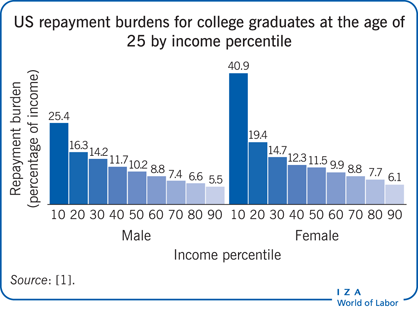 Key findings
Pros
ICLs deliver consumption smoothing by reducing the burden on disposable income from student debt, particularly for those at the lower end of the earnings spectrum.
By coupling loan repayment amounts to a debtor's actual income, ICLs provide insurance against default.
ICL debt can be efficiently collected if functional tax and personal identification systems are in place.
GGBLs provide debt default insurance for lenders but not borrowers.
Cons
GGBLs can lead to credit reputation loss for the borrower due to default.
Systems based on GGBLs create inequality in educational access due to an increased fear of future debt default by low-income prospective students.
ICLs have sophisticated administration requirements that may be unachievable for some countries.
Author's main message
ICLs possess considerable benefits when compared to GGBLs. ICLs provide insurance to borrowers against both future loan repayment hardships and default. In contradistinction, GGBLs can be very costly to some borrowers who experience periods of low future income. In general, the public-sector administration costs of an ICL scheme are very small for countries that have a comprehensive income tax payment administration in place. This, in combination with the additional borrowers' insurance benefits, strongly suggests that ICL policies are preferable to the standard GGBL model.
Motivation
In 1989, a higher education policy initiative took place in Australia that can be seen as a first step towards international reforms regarding higher education student loans. The scheme, then known as the Higher Education Contribution Scheme (HECS), involved domestic students being charged tuition, but with the obligation to pay being deferred until debtors' income rose above a given threshold, with repayments set at a maximum of between 4% and 8% of annual personal income. A critical aspect of this reform was that the debt would be collected by employers and remitted to Australia's internal revenue service (IRS), the Australian Tax Office, in much the same way that personal income taxes are.
Twenty-six years later, HECS (now known as HECS-HELP), which can be accurately categorized as an income contingent loan (ICL), exists in different forms in more than a handful of countries, although scheme design, eligibility, interest rates, and debt forgiveness regimes differ widely between systems, and have changed over time. Critically, however, the essential characteristics of the loans, income contingency and collection through auspices equivalent to each country's IRS, are shared.
Evidence suggests that the economic, administrative and equity case for ICLs is very strong, although there are caveats with respect to both design and administration. Relevant in this context are the need for government intervention in higher education financing in the form of loans; the limitations regarding repayment burdens that are associated with government-guaranteed bank loans (GGBLs), which have been the most common form of intervention; and the advantages of, and difficulties associated with, ICLs.
The potential benefits of ICLs for both the student debtor and for governments that guarantee student debt are significant. An examination of these benefits, as well as a look at the most common current form of student loan debt, GGBLs, is therefore important.
Discussion of pros and cons
Limitations and gaps
Several important key issues remain from this comparative analysis of ICL and GGBLs. For starters, there has been an insufficient examination of the default costs associated with GGBLs for individuals. A critical point here is that people defaulting on student loans also end up damaging their overall credit reputations, which results in them having difficulty and higher costs when attempting to secure non-student loans. There is similarly a lack of information related to the public sector costs associated with GGBLs. These costs are incurred by governments that must compensate banks when student debtors fail to repay loans. Insufficient empirical documentation has been collected regarding the value of consumption smoothing for debtors with ICLs. Finally, the likely inability of public sector administrative structures to provide for the efficient collection of ICLs in many developing countries remains unresolved.
Summary and policy advice
Over the last 20 years there has been a strong move towards the adoption of ICLs to finance higher education. Around eight countries have now followed Australia's lead in using the income tax system to collect contingent debt, and there is little doubt that this type of reform will continue. Essential reasons for the continuing transformation of student loans include the lack of insurance with GGBLs against both consumption hardship and default. While ICLs provide the type of insurance mechanism to allow equitable and transactionally efficient loan collections, there is a need in many developing countries' institutional environments to focus on improvements in administrative capacities. When this occurs, there should be little doubt that ICL reforms are apposite worldwide.
Acknowledgments
The author thanks several anonymous referees and the IZA World of Labor editors for many helpful suggestions on earlier drafts. Previous work of the author contains a larger number of background references for the material presented here and has been used intensively in all major parts of this article [3], [4]. Additional support from Kiatanantha Lounkaew, Timothy Higgins, and Joseph E. Stiglitz for insights and joint work is gratefully acknowledged. The support of the Australian Research Council (ARC, LP110200496) is acknowledged with gratitude.
Competing interests
The IZA World of Labor project is committed to the IZA Guiding Principles of Research Integrity. The author declares to have observed these principles.
© Bruce Chapman