Elevator pitch
Early studies often found that offering economic incentives for undertaking prosocial and intrinsically motivated activities can crowd out motivation to perform these activities. More recent work highlights nuanced and important features related to whether crowding out (or substitution) is likely to occur. In many cases, incentives succeed in encouraging more prosocial behavior and are also cost-effective. However, although the substitution of external incentives for intrinsic motivation may not be a concern in many contexts, the substitution of one prosocial activity for another or shifts in activities over time or location may warrant further attention.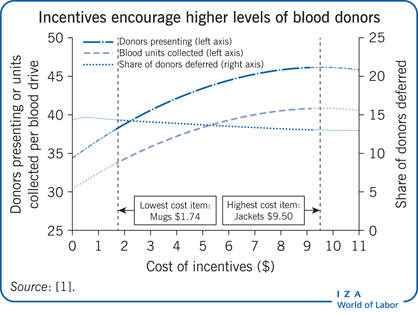 Key findings
Pros
Economic incentives provide additional motivation to perform prosocial and intrinsically motivated activities in many different contexts.
Non-profit organizations can apply standard economic principles to motivate their contributors.
Incentives can be managed to positively direct the supply of prosocial activities to periods, places, or activities with larger imbalances between demand and supply.
Most of the incentives that have been found to be effective are also relatively inexpensive.
Cons
If incentives lead to substitution effects over time or space or in the type of activity performed, their impact can be diminished.
Ethical and cultural values might limit the adoption of incentives in certain places or lead to different responses to the same incentive.
Institutional details, which are important in determining the success of incentive programs, can be costly to address.
When incentives are viewed as payments for services rather than as signs of gratitude, they may reduce prosocial behavior.
Author's main message
Because the supply of prosocial and intrinsically motivated activities often falls short of demand, organizations and policymakers sometimes use economic incentives to encourage additional supply. Properly designed incentives can increase prosocial activities without undue "crowding out" effects. However, the success of reward programs depends on how incentives are designed and framed, how rewards are characterized, and whether potential donors are familiar with the use of incentives. Potential substitution effects within a given activity or between activities also play a critical role.
Motivation
Many social and public goods are provided through the performance of volunteer activities; for example, donating blood, cleaning beaches, assisting the elderly, and working in soup kitchens. Such actions are known as "prosocial behavior." This behavior is not limited to individual initiatives or to non-profit organizations; it also occurs within profit-seeking companies, to the point of being part of the culture and mission of many corporations. As such, these activities represent an important aspect of how a society operates.
In many countries and for many activities, even though a large share of the population engages in giving and volunteering time and money, the supply of such activities still frequently falls short of demand. The availability of blood for transfusions, for example, is often below the minimum required inventory in many countries, especially at certain times of the year. Calls to engage people in volunteering and donating blood or money are common everywhere.
A simple economic explanation for this demand−supply imbalance is that the provision of these services entails costs that outweigh the individual benefits in many cases. This opens up the possibility of using additional incentives, including economic rewards, to encourage greater supply. However, using incentives for prosocial activities has been a topic of debate and controversy. Testing the effectiveness of incentives, moreover, presents several challenges; for example, in addition to the "direct" impact of incentives, it is important to consider the potential substitution effects of incentives—in time, location, and type of activities performed.
Discussion of pros and cons
Although this paper considers several activities conducted in multiple settings, it relies heavily on studies that use the case of blood donation to illustrate the main tradeoffs involved in providing incentives for prosocial activities. Donating blood is a socially relevant activity and, in fact, the debate about the effectiveness of offering incentives for prosocial behavior (and more generally, intrinsically motivated activities) originated in early research on how to motivate blood donations.
Limitations and gaps
The response to incentives is likely to depend on the specific institutional arrangements as well as on prevailing social norms and values in a given community, including the moral beliefs about receiving compensation for engaging in prosocial activities. The importance of institutional arrangements and norms means that generalizations cannot be drawn beyond the contexts that researchers have analyzed so far. Although studies have already investigated multiple contexts, activities, and rewards, additional evidence is needed from yet other settings in order to provide a more complete view of the impact of incentives on prosocial behavior. This broader context is particularly important for studies of substitution patterns, about which not enough is known.
We need more systematic analyses of substitution patterns across the range of prosocial activities and of how incentives for some activities affect cumulative outcomes. This gap in the investigation is due in part to the demanding data requirements for a study of substitution effects. For example, data would be required on multiple activities, with only some of them being incentivized, or on a given activity that is performed in different locations or over different time periods. This information is obviously more difficult to obtain than data on a single activity, location, or time period.
Moreover, because the gap between the demand for and supply of public goods is typically greater in developing countries, more evidence needs to be collected especially for developing countries. Investigating the impact of incentives in different parts of the world might also provide additional sources of variation to distinguish the sources of any positive or negative effect; for example, the responses to incentives in different places may tell us whether the effects derive from general psychological mechanisms (such as over-justification) or whether they depend more on prevailing local values and beliefs.
Finally, although most studies have examined the impact of providing incentives on a one-time basis, it would be interesting to investigate the impact (and cost effectiveness) of offering rewards repeatedly.
Summary and policy advice
Some of the earlier research on the impact of incentives on prosocial and intrinsically motivated behavior finds negative effects on willingness to donate, as well as increases in negative selection. Much of that research is based on surveys and laboratory experiments in which respondents reported on their preferences. More recent research showing positive impacts for incentives is based on actual observed behavior. Most of the current evidence shows that economic incentives, when properly designed, can enhance several types of prosocial behavior and intrinsically motivated activities. The studies showing positive impacts find little crowding out of other prosocial activities in favor of the incentivized activities and not much adverse selection, either in the short or the long term. Outcomes also appear to be influenced by differences in institutional details, such as the way rewards are presented (for example, as gratitude gifts or as a form of direct payment) and whether potential donors are already familiar with the use of incentives.
Organizations and policymakers interested in promoting prosocial activities may benefit from using incentives as a relatively straightforward tool to engage more people in donating money and time to socially relevant causes and activities. Movements in this direction are already being observed. For example, the US Ninth Circuit Court recently ruled that compensating individuals who donate bone marrow through a particular process known as apheresis is legal, despite a federal law banning payments for human organs. In addition, privately run, for-profit plasma centers that pay individuals for their blood plasma are becoming a rapidly growing industry in the US.
When implementing incentives to encourage prosocial activities, however, organizations and policymakers ought to pay attention to potential undesirable substitution effects (over time, space, or activities) that might be exacerbated by incentives. In some cases, however, the substitution effects generated by the provision of incentives may not be negative and, indeed, may even be desirable. For example, incentives may be used to guide individuals to perform certain activities in periods or locations where their engagement will have the highest return.
A final, broad message from the evidence presented here is that in order to thoroughly understand the impact of incentives on prosocial behavior, organizations and public agencies should be open to experimenting with different solutions involving different types of incentives. Evidence-based policies, with evidence generated using state-of-the-art research methodologies, are especially warranted when they concern the supply of socially relevant activities.
Acknowledgments
The author thanks the anonymous referees and the IZA World of Labor editors for many helpful suggestions on earlier drafts. The author is also grateful to Mario Macis for many conversations and for joint research on these topics. In fact, the author claims only partial ownership of (but full responsibility for) the considerations made above, given how large Mario's influence has been through their joint work. In addition to the work with Mario Macis, this paper has drawn on work conducted by the author in collaboration with Julio Elias, Victor Iajya, Robert Slonim, and Sarah Stith.
The author dedicates this article to the memory of his dear friend and fellow doctoral student Rafel Lucea, who first inspired him to pursue research with high social impact.
Competing interests
The IZA World of Labor project is committed to the IZA Guiding Principles of Research Integrity. The author declares to have observed these principles.
© Nicola Lacetera