Elevator pitch
Politicians typically focus on short-term economic issues; but, a nation's long-term economic well-being is directly linked to its rate of economic growth. In turn, its growth rate is directly linked to the economically relevant skills of its population. Until recently, however, economists have found it hard to confirm this through empirical analysis because of difficulties in measuring the skills of different societies. International tests of mathematics and science achievement now offer reliable measures of a population's relevant cognitive skills.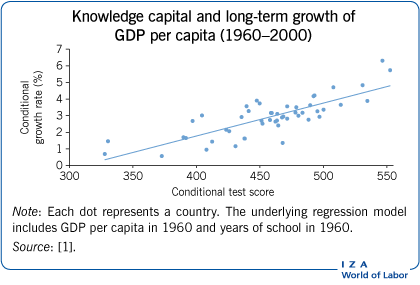 Key findings
Pros
Economic growth differences are readily explained by disparities in the knowledge capital of nations.
Correct measurement of skills is important and helps identify useful areas of policy improvement.
Economic growth generates GDP gains that allow countries to meet a variety of societal goals.
A trade-off between income growth and the equality of incomes is not inevitable.
Cons
Skill improvement is difficult because alternative schooling policies are controversial.
Economic results do not appear until far in the future.
Faster economic growth may mean greater inequality.
There are no analyses considering the lowest income countries.