Elevator pitch
Border enforcement of immigration laws attempts to raise the costs of illegal immigration, while interior enforcement also lowers the benefits. Border and interior enforcement therefore reduce the net benefits of illegal immigration and should lower the probability that an individual will decide to migrate. While some empirical studies find that border and interior enforcement serve as significant deterrents to illegal immigration, immigration enforcement is costly and carries significant unintended consequences, such as an increase in fraudulent and falsified documents and rising border death rates as migrants undertake more dangerous crossings.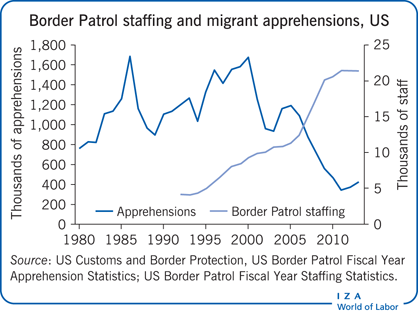 Key findings
Pros
Border enforcement works as intended: it drives up the cost and risks associated with border crossings and deters illegal immigration.
Border enforcement results in more positively selected migrant flows, possibly due to the higher costs of crossing.
Preliminary evidence suggests that interior enforcement lowers the net benefits of migration, which should act as a deterrent.
While the cost of enforcement is a burden on taxpayers, native workers may benefit when there is less competition from migrants entering.
The unintended consequences of border and interior enforcement are reduced when accompanied by other immigration reforms, such as a regularization program.
Cons
Intensified border enforcement leads to reduced circular migration, higher demand for smugglers, riskier crossings, and more migrant deaths.
Using border enforcement to keep migrants out causes wages to rise in the destination country and fall in the source country, changes which counteract the higher crossing costs and can increase the incentives to migrate.
Employer verification mandates correlate with lower employment and wages among unauthorized immigrants.
Additional interior enforcement can increase informal sector employment, where workers and employers evade taxation and regulation.
Immigration enforcement is costly and can divert resources from other federal and state law enforcement.
Author's main message
There are many political and economic motivations for limiting illegal immigration. However, enforcement measures should be designed and regularly evaluated to minimize costs, distortions, detrimental impacts on legal migration and commerce, and other unintended consequences. Enforcement can be more effective and increase the net economic benefits of immigration to the destination country if implemented together with comprehensive reform that addresses the underlying forces that drive migration.
Motivation
With illegal immigration on the rise, many governments are spending more on border and interior enforcement. But this is happening at a time of fiscal austerity, when other programs are being cut. Nowhere is this more apparent than in Europe, which is contending with surging immigration of asylum-seekers and with struggling domestic economies. The US, home to an estimated quarter of the world's unauthorized immigrants, spends close to US$15 billion dollars per year on immigration enforcement. Despite record spending on enforcement, which includes border fences, aerial drones, detention centers, 20,000-plus border patrol agents, and much more, polls suggest that most Americans still feel the border is not secure. Given limited budgets and unintended consequences, it may be neither possible nor desirable to secure all borders by relying solely on enforcement tools.
Discussion of pros and cons
Limitations and gaps
Quantifying the costs and benefits of immigration enforcement from a policy perspective requires reliable data on its application and outcomes. A recent National Research Council report in the US urged the Department of Homeland Security to gather and release more detailed and frequent data on staffing, apprehensions, and migrant characteristics. This would allow independent researchers to better model border crossing attempts and develop measures of enforcement effectiveness [8]. The report also urged the three immigration enforcement arms within the department to integrate their databases.
Integrating data on border and interior apprehensions would allow researchers to track individuals and enforcement initiatives over time and across space, which could provide valuable insights into migrant destinations and the relative effectiveness of border and interior enforcement. Administrative data could then be combined with survey data in the origin and destination countries to look at migrant populations before, during, and after migration.
Given the clandestine nature of illegal immigration, the National Research Council recommendations are relevant for all immigration destination countries. No one survey or set of administrative data can adequately describe this population and its interactions with law enforcement. Moreover, given the extent of adaptive behavior, as well as constant modifications to enforcement, any model of illegal immigration has to be dynamic and frequently tested against the data.
Summary and policy advice
Immigration enforcement is necessary—the political and economic motivations for limiting illegal immigration are numerous. However, considering the high costs of implementing enforcement and the considerable human costs of dispensing it, enforcement measures should be carefully designed and regularly evaluated. Immigration policy should also take into account conditions in origin countries. Work-based migration can be accommodated in a temporary visa or guest worker program, while humanitarian migration may require other measures.
Efficient enforcement minimizes distortions, costs, detrimental impacts on legal migration and commerce, and unintended consequences. In many countries, comprehensive immigration reform that combines efforts to create legal pathways for migration with improvements in enforcement methods can ease pressure at the border and in the interior, while increasing the net economic benefits of immigration to the destination country. Governments can aid research in this area by gathering and publicly providing consistent, comprehensive, and timely data on migration and enforcement.
Acknowledgments
The author thanks an anonymous referee, the IZA World of Labor editors, and Melissa LoPalo for helpful suggestions on earlier drafts. The views expressed here are solely those of the author and do not reflect those of the Federal Reserve Bank of Dallas or the Federal Reserve System.
Competing interests
The IZA World of Labor project is committed to the IZA Guiding Principles of Research Integrity. The author declares to have observed these principles.
© Pia Orrenius