Elevator pitch
Informal employment accounts for more than half of total employment in Latin America and the Caribbean, and an even higher percentage in Africa and South Asia. It is associated with lack of social insurance, low tax collection, and low productivity jobs. Lowering payroll taxes is a potential lever to increase formal employment and extend social insurance coverage among the labor force. However, the effects of tax cuts vary across countries, often resulting in large wage shifts but relatively small employment effects. Cutting payroll taxes requires levying other taxes to compensate for lost revenue, which may be difficult in developing economies.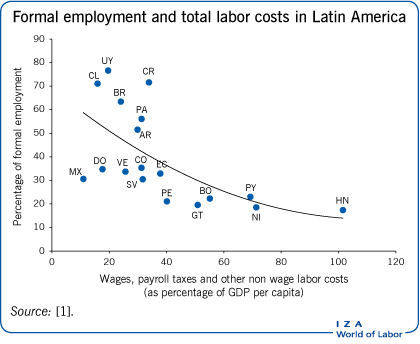 Key findings
Pros
Reducing payroll taxes can increase the share of formal jobs and reduce informal employment and/or unemployment, leading to positive impacts on social security coverage.
Part of the reduction in payroll taxes is shifted to higher wages.
Lower non-wage costs can increase employment of youth and low-wage/low-productivity workers.
A reduction in payroll taxes may have larger effects in developing countries with high minimum wages relative to income per capita.
Cons
In some countries, reducing payroll taxes has had no effects on formal employment.
Reducing payroll taxes can lead to lower tax collection if the positive effect of widening the tax base does not outweigh the loss of revenue.
When payroll taxes are lowered only for certain groups, regions, or industries, employment in the targeted groups may increase at the expense of non-targeted ones.
A reduction in payroll taxes will have less of an effect if skill gaps or geographical mismatches constrain the supply of workers to formal employment.
Author's main message
Payroll tax cuts can help increase formal employment in economies with high informality and/or unemployment. They have higher payoffs, in terms of formal employment creation, when minimum wages are binding and when labor demand and supply to the formal sector can be easily expanded. Finding alternative sources of revenue to pay for social insurance is often difficult in developing economies because they tend to be characterized by a small tax base. However, in economies with high informality, paying for social insurance, at least partly, with a consumption tax can be more efficient than funding it with payroll taxes.
Motivation
The share of informal employment—that is, the share of workers not contributing to social security—exceeds 50% in Latin America and the Caribbean, and is over 65% in at least one-third of the world's countries. Informal employment is associated with low tax collection, low productivity, and lack of access to social insurance. It is therefore not surprising that increasing formalization is an important target for many developing economies.
While informality may have many causes, a commonly stated one is the presence of high payroll taxes. Payroll taxes, often referred to as social contributions, are levied on workers' wages and/or on employers' payrolls to pay for health insurance, old age pensions, disability insurance, and other social insurance programs such as unemployment insurance and maternity and sick leave. In some countries, they also pay for childcare facilities or workers' training. Social contributions may increase the cost of hiring formal workers vis-à-vis hiring them informally, that is, without all the protections afforded by labor laws. The question thus arises: by how much can formal employment be raised if payroll taxes are cut?
Discussion of pros and cons
Limitations and gaps
There is still a very limited number of studies in developing economies that provide a reliable response to the question of how much formal employment can increase if payroll taxes are cut or eliminated. While studies on developed countries provide additional evidence, it is unclear whether this evidence provides a good proxy for such effects in developing economies.
In addition, while studies that exploit variation across time within a country, such as the ones reviewed here, are considered to be the best in terms of identifying the effects of payroll taxes on formal employment and wages, they still encounter a number of shortcomings. First, identification of treatment groups based on differences across geographical areas is problematic in that the treated regions tend to differ from the control regions in many respects (e.g. location, level of economic activity, types of activities). All the studies reviewed in this article attempt to control for such differences, selecting control regions that are as similar as possible to the treated areas; however, it is practically impossible to find perfect control matches given the vast array of characteristics to consider. Another important issue is that the measured effects are only representative of the treated areas and the generalizability of results is not clear. Finally, the estimated effects may overstate employment effects if firms and workers in control areas move to treated regions as a result of the policy change.
Summary and policy advice
Payroll taxes have been shown to have effects on formal employment, informality, and wages, but their measured effects vary substantially across countries and studies. As many developing countries attempt to reduce the size of their informal sectors and expand their social security systems' coverage, they are pondering whether to enact payroll tax cuts. With that in mind, the reviewed evidence suggests that such a strategy can have a higher payoff under the following circumstances: (i) Minimum wages present a binding constraint for employment creation in the country; (ii) due to low quality or lack of information, programs financed with payroll taxes are perceived to be of low value; (iii) there are few constraints to the expansion of labor demand because firms can easily access markets in which to sell or export additional goods; (iv) there are workers that are willing, and, quite importantly, have the skills to work in the industries that are expected to expand as a result of a payroll tax cut.
Conversely, if informal workers do not have the required skills, or are not willing to take formal employment, then the expected effects on formal employment will be low. As such, it is important to analyze the incentives for workers to remain in the informal sector as a consequence of well-intentioned, but poorly designed social policies [13].
Given the scarcity of high-quality evidence from developing economies, countries considering implementing such schemes could benefit from piloting reforms; moreover, they should design the pilots so that they can be rigorously evaluated.
It is also worth mentioning that any additional jobs created by way of payroll tax cuts may incur a high price in terms of public resources, particularly when tax cuts are given across the board, or when the employment effects are very low. Therefore, given developing economies' low fiscal base, it is necessary to carefully evaluate the benefits and costs of such initiatives and to consider alternative ways of securing financing for such benefits. In economies with high informality, VAT may be a more efficient way to finance social insurance than payroll taxes.
Acknowledgments
The author thanks an anonymous referee and the IZA World of Labor editors for many helpful suggestions on earlier drafts. The author also thanks Juan Miguel Villa for helpful support.
Competing interests
The IZA World of Labor project is committed to the IZA Guiding Principles of Research Integrity. The author declares to have observed these principles.
© Carmen Pagés