Elevator pitch
Allowing workers to control their work hours (working-time autonomy) is a controversial policy for worker empowerment, with concerns that range from increased shirking to excessive intensification of work. Empirical evidence, however, supports neither view. Recent studies find that working-time autonomy improves individual and firm performance without promoting overload or exhaustion from work. However, if working-time autonomy is incorporated into a system of family-friendly workplace practices, firms may benefit from the trade-off between (more) fringe benefits and (lower) wages but not from increased productivity.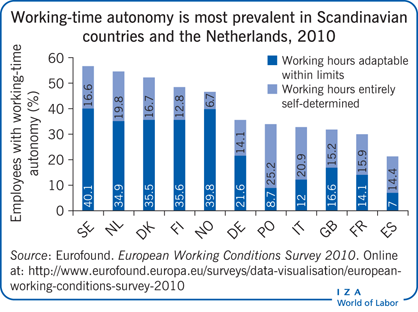 Key findings
Pros
Working-time autonomy promotes worker and firm performance.
Performance is particularly improved if autonomy is reserved for intrinsically motivated workers or if workers self-select into working time arrangements.
By lowering employee turnover, working-time autonomy enables firms to improve their attractiveness as an employer.
If working-time autonomy is incorporated into a system of family-friendly workplace practices, firms might benefit from reduced turnover and wage costs.
Despite its effort-increasing effect, working-time autonomy is unlikely to promote overload or exhaustion from work.
Cons
Some workers might abuse working-time autonomy by reducing their work effort, since an absence of direct monitoring reduces employees' shirking costs.
If it is part of a corporate strategy to reduce costs, working-time autonomy is detrimental to firm performance.
Working-time autonomy might not be suited to employees who execute routine tasks.
Working-time autonomy is inappropriate for certain occupational groups and hard to implement in teamwork environments.
Firm productivity might not increase if working-time autonomy is incorporated into a system of family-friendly workplace practices.
Author's main message
While managers often raise concerns that working-time autonomy might encourage workers to reduce effort, some worker representatives claim that it leads to harmful work strain. However, empirical evidence suggests that such policies do not induce harmful overwork but boost firm productivity, on average, unless incorporated into a system of family-friendly workplace practices. And even in that case, firms benefit from lower turnover and wage costs. In combining working-time autonomy with performance targets, managers should set realistic goals and avoid target ratcheting or stretch goals.
Motivation
In recent years, firms have been increasingly replacing the traditional nine-to-five, five-days-a-week fixed working time model with arrangements that provide workers with more discretion over individual working hours and place of work. The most common practices are flextime, self-managed working time, and working from home. Flextime allows employees to vary daily starting and finishing times, requiring compulsory attendance at work only within certain core times. Working more hours on some days can be balanced by working fewer hours on other days, and vice versa. Self-managed working time gives employees more time sovereignty by authorizing them to choose how to distribute their working hours over the workday and their workdays over the workweek. This can also include self-determination of vacation days and days off. Working from home is often similar to self-managed working time with a focus on enabling workers to accomplish their work tasks outside the workplace.
In management science and practice, working-time autonomy as a means of worker empowerment is controversial. While some researchers and managers believe that working-time autonomy improves firm performance, for example by increasing worker motivation or by reducing fluctuation, others fear that workers might abuse their discretion by reducing effort. Whether the benefits of working-time autonomy outweigh the associated costs is thus an empirical question.
Discussion of pros and cons
Limitations and gaps
While working-time autonomy can improve both individual and firm performance, there are certain work contexts that are not amenable to working-time autonomy [4]. First, self-managed working time and working from home are obviously inappropriate for jobs that require personal attendance at the workplace. For example, production workers or nursing staff naturally have to appear in person at the plant or at the hospital. Similarly, workers with routine jobs in the retail industry, wholesale, the building sector, the hotel and catering industries, and secretarial staff are not good candidates for working-time autonomy. In contrast, working-time autonomy is appropriate for sales representatives and other employees working in the field, specialists and executive staff, and employees with creative tasks such as researchers and artists.
Second, it might be difficult to implement self-managed working time or working from home in teamwork environments that require face-to-face cooperation. Under these conditions, interpersonal coordination of the division of work is sometimes too ambitious. Since teamwork is common in firms today, this obstacle applies to a substantial fraction of the working population. Third, self-managed working time and working from home often make effort monitoring (input control) more difficult, although in some cases input control can be replaced by output control, such as monitoring worker productivity.
This paper focusses on the impact of working-time autonomy on worker and firm performance, where the term performance is quite narrowly restricted to employee effort (including work intensification), firm productivity, wage costs, and employee turnover. Other interesting consequences of working-time autonomy have not been discussed, such as a wide array of outcomes at the firm level (including absenteeism, product and process innovation, and monitoring costs) and at the individual level (including job satisfaction and overall well-being). However, the literature on these outcomes suggests that working-time autonomy is likely to be beneficial for both employers and employees in all these dimensions.
Finally, a common feature of the empirical studies discussed in this paper is the noticeable effort devoted to identifying causal effects, whether through randomized field or laboratory experiments [4], [7], [8], [10], or through analyses of representative, large-scale survey data [2], [3], [6], [11]. Experimental studies are beneficial, because randomization excludes potential selection biases. However, the external validity of these studies is limited since the results are not usually generalizable. For example, the environment of the call center of the large Chinese travel agency examined in one study is quite specific to the firm, as worker performance could be closely monitored by recording login times to the firm's information management system [4]. Furthermore, the working-from-home regime in that study involved clear scope for productivity enhancements because employees working in large and noisy offices were easily distracted and the firm had a first-mover advantage by being one of the earliest to adopt working from home. In contrast, the results of studies based on large-scale survey data are often more representative and thus generalizable, but the identification of causal effects is usually more demanding than in controlled experiments.
Summary and policy advice
Working-time autonomy improves both employee and firm productivity. Furthermore, the positive productivity effect can be increased if employees are allowed to participate in the selection decision on assignment to a particular working-time arrangement. Working-time autonomy is also likely to increase an employer's attractiveness to employees, as indicated by sharply declining turnover rates. And, it might do less to improve productivity if it is part of a system of family-friendly workplace practices, some of which emphasize coordinating private and work life rather than providing discretion on how to accomplish work tasks effectively. In such cases, however, family-friendly personnel policy could still contribute to firm performance through reduced turnover and wage costs. Finally, the evidence does not support the claim that working-time autonomy is responsible for (unhealthy) work intensification. Indeed, the reverse appears to be true: low control over working hours increases the risk of work strain and subsequent health problems, while greater autonomy may even create a buffer against health problems [12].
Several management implications can be derived from the empirical findings presented here. First, if managers pay attention to the restrictions mentioned above when implementing working-time autonomy policies, these policies are promising tools at their disposal. Especially where workers handle non-routine tasks, managers should not pass up the chance to adopt practices such as self-managed working time or working from home. Second, managers should realize that implementation of working-time autonomy might be even more beneficial when workers are allowed to self-select into these arrangements. However, if managers decide to assign workers to arrangements of working-time autonomy without worker input in the decision, it is important that managers find a way to select intrinsically motivated workers. This holds especially for working-time autonomy practices with a high degree of time sovereignty.
A final recommendation concerns whether other changes in management practices should be implemented at the same time as working-time autonomy. Empirical evidence raises some doubts about the effectiveness of family-friendly workplace systems in increasing firm productivity, even if these systems include practices of working-time autonomy. This indicates that not all policies included in a family-friendly workplace system are complementary.
In addition, there is a risk of dysfunctional effects from combining some other management practices with working-time autonomy measures. For example, firms may decide to link working-time autonomy with performance targets. This combination of practices, sometimes referred to as a "results only work environment" [8], implies that workers are free to decide when and where to execute their work tasks as long as they meet their targets. Problems can arise, however, if the firm continuously raises targets over time or sets stretch goals rather than realistic goals. In that case, while working-time autonomy itself is unlikely to increase work strain or impair worker health, the combination of working-time autonomy with performance targets may lead to excessive work intensification and subsequent health-related problems. These problems are more likely to stem from target ratcheting or the use of stretch goals than from implementation of working-time autonomy. Emerging evidence shows that setting performance goals that are difficult to achieve or being exposed to target ratcheting is associated with increased levels of work overload and health problems, which may subsequently also harm firm performance.
The policy advice for managers in this context is twofold. First, when combining working-time autonomy with performance monitoring, target ratcheting or setting stretch goals needs to be avoided; instead, realistic performance goals should be used. Second, employees should participate in the goal-setting process to improve the likelihood of setting realistic goals.
Acknowledgments
The author thanks two anonymous referees and the IZA World of Labor editors for many helpful suggestions on earlier drafts. He also gratefully acknowledges useful comments from Thomas Cornelissen, Matthias Kräkel, and Bernd Schauenberg.
Competing interests
The IZA World of Labor project is committed to the IZA Guiding Principles of Research Integrity. The author declares to have observed these principles.
© Michael Beckmann