Elevator pitch
The Netherlands is an example of a highly institutionalized labor market that places considerable attention on equity concerns. The government and social partners (unions and industry associations) seek to adjust labor market arrangements to meet the challenges of increased international competition, stronger claims on labor market positions by women, and the growing population share of immigrants and their children. The most notable developments since 2001 are the significant rise in part-time and flexible work arrangements as well as rising inequalities.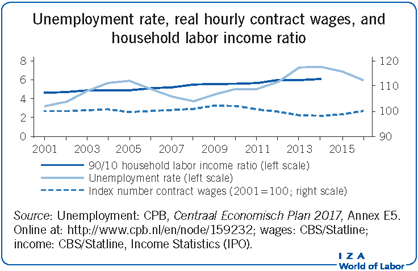 Key findings
Pros
The employment-to-population ratio has increased from 61.1% to 65.8%.
Unemployment started to fall in 2014 after a significant increase following a recession in the aftermath of the global financial crisis and the euro crisis.
The Dutch labor market is highly flexible, being characterized by a large share of part-time and flexible work arrangements and labor contracts.
Cons
Labor market inequalities are growing; in particular, hourly wage inequality increased, with the 90th-to-10th percentile ratio rising from 3.0 to 3.3.
Protection of vulnerable workers has deteriorated as employers shift an increasing amount of risk onto employees.
The labor force has aged considerably, leading to lower overall labor mobility and provoking tough discussions on the pension system and the retirement age.
The labor market has faced difficulties integrating immigrants, particularly those from non-Western countries, who lag behind natives in most metrics.
Author's main message
Increased competitive pressures and stronger volatility in output markets have motivated employers to shift a growing proportion of financial risk onto workers. With weakened labor unions and a government that is rolling back social policies, employers have been able to keep wages down and to hire from a more varied labor force. New contract arrangements have provided workers more opportunities to engage in flexible and part-time work, but have also raised job and career insecurity. Policymakers should endeavor to provide both specific and general training to workers who no longer receive sufficient training from their employers.
Motivation
The Dutch labor market stands out internationally, with an extremely high frequency of part-time work, a rapid increase in the share of flexible contracts, and a dominant household type consisting of 1.5 labor participants: typically, a full-time working husband and a part-time wife. This illustrates one way of dealing with increased globalization and international competition as well as with the competing pressures of work and family life.
Discussion of pros and cons
Limitations and gaps
The heterogeneity of labor demand in the Netherlands has increased along several dimensions. Job qualifications have become more specific as jobs have become more idiosyncratic. Labor demand has become less stable as product-market uncertainty and volatility have increased, and employers increasingly seek to pass risks on to workers. With this in mind, not all dimensions of risk allocation, such as job and employment instability and earnings variability, have been documented in this article, and some are not even found in standard statistical records.
The relationship between individual labor supply and the formation and composition of households has become increasingly complex. For instance, higher wage levels and government income support programs facilitate single-person and single-parent households; high-income household members facilitate partners to forgo earnings in favor of other job characteristics; preferences for household work and childcare increase the supply of flexible part-time work; and students combine school and work by taking small, often flexible jobs. These factors increase the importance of the household setting for individual labor supply, make individual earnings less dominant for the distribution of individual welfare and, conversely, make individual economic potential a more important determinant of household formation and break-up. Thus, conditioning economic outcomes on the increasingly complex household situation becomes more important, while, at the same time, the reverse relationship should not be ignored.
Summary and policy advice
It is easy to summarize the macro developments in the Netherlands over the past decade and a half: there were some cyclical swings in employment and unemployment; a strong recession in 2008−2009; a stagnant average wage for given work; an actual average wage lagging behind productivity growth; and a slightly diminished labor share in national income, continuing a longer-term trend.
However, below the surface of these aggregate developments there is much heterogeneity with many interacting features. Increased uncertainty, volatility, and product-market competition fuel employers' growing demand for flexible labor contracts. This puts strain on some categories of workers, such as low-wage workers with little opportunity for self-employment, while others enjoy the increased opportunity for autonomy and flexibility. Labor supply has become more fragmented in terms of contract types, hours worked, and its distribution within households. Both men's and women's labor market behavior have become more diverse. Students and women with a partner are increasingly seeking part-time, flexible work opportunities for the earnings and job satisfaction that these can provide, in combination with other non-work-related activities, such as care work or education. However, this may augment the labor supply pool, and negatively affect other workers seeking full-time opportunities. More than ever, labor supply is a household decision; but, conversely, the formation of households also responds to the opportunities in the labor market.
Looking ahead, a major policy challenge is to ensure investment in human capital for the growing share of part-time and flexible workers (including both job-specific and more general skills), for whom employers have fewer incentives to provide training. The social partners control investment funds based on collective labor agreements that are specifically designed for this purpose, but there is no evidence that they are being effectively used to enhance worker skills. Moreover, these funds are organized along industry lines, which is not conducive to provide general, non-industry-specific training that would be necessary to support cross-industry job mobility. To combat this challenge, policymakers should consider establishing an institution that stimulates and helps in the financing of training for individuals beyond the age of initial education.
Acknowledgments
The author thanks the IZA World of Labor editors for many helpful suggestions on earlier drafts. Previous work of the authors contains a larger number of background references for the material presented here and has been used intensively in all major parts of this article [4], [8], [10].
Competing interests
The IZA World of Labor project is committed to the IZA Guiding Principles of Research Integrity. The author declares to have observed these principles.
© Joop Hartog and Wiemer Salverda