Elevator pitch
China experienced significant economic progress over the past few decades with an annual average GDP growth of approximately 10%. Population expansion has certainly been a contributing factor, but that is now changing as China rapidly ages. Rural migrants are set to play a key role in compensating for future labor shortages, but inequality is a major issue. Evidence shows that rural migrants have low-paying and undesirable jobs in urban labor markets, which points to inefficient labor allocation and discrimination that may continue to impede rural–urban migration.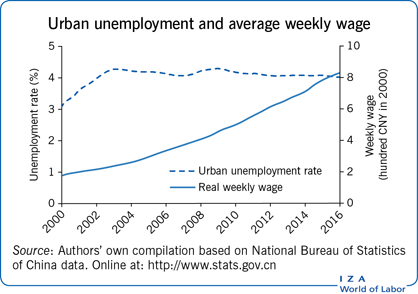 Key findings
Pros
Unemployment is at its lowest level in 20 years, implying that the Chinese economy is close to full employment.
The youth labor force is abundant in rural areas and should serve as an important factor in dealing with China's aging population.
Real earnings for both rural migrants and urban residents increased over the last 20 years.
Cons
China's population is aging rapidly, which will strain public finances.
Due to a low proportion of youth, the working-age population may decrease in the future.
Governmental policy divides rural and urban workers into two tiers in urban areas; rural migrants earn less, have higher unemployment rates, and are not eligible for many social benefits, which impedes rural–urban migration.
The labor force in China is more expensive than in many other developing countries, and numerous foreign firms have relocated their operations outside of China as a result.
Author's main message
China's remarkable economic growth during the last three decades enabled the country to surpass Japan as the world's second largest economy. One of the leading factors behind this growth has been its very large working-age population. However, as this population ages, a potentially insufficient labor force may threaten future economic growth. Rural youth may present the answer to this challenge, but the government must begin treating rural migrants equally by offering them full citizenship rights in urban areas. Further relaxation of fertility control will also be important to prevent future decreases in the youth labor force.
Motivation
China is now the world's second largest economy, and it continues to grow at a phenomenal rate. China has gradually increased its impact on the global economy via international trade, and its steady progress has advanced global economic development. China's rapid growth over the last three decades benefited from the so-called "demographic dividend," referring to its large proportion of working-age people during this time, but that situation is now changing. This makes understanding the evolving features of the Chinese labor market a crucial task for the design of future policy agendas.
Discussion of pros and cons
Limitations and gaps
A major limitation when examining the Chinese labor market is that official data on rural migrants are unavailable for recent years. This makes it extremely difficult to compare unemployment rates between rural migrants and urban residents across most years. This article employs CHNS data, but that survey ended in 2011, so its value is limited. As such, it is not possible to compare unemployment rates between the two types of workers after 2011.
Given the findings in this article, there are a number of topics deserving further research. For example, work should be undertaken to identify feasible solutions for dealing with China's significant demographic challenges. Specifically, the accelerated aging of the labor force and the slow increase in the number of young people are of critical importance.
Another topic that warrants further investigation is the trend of foreign firms moving their factories to other countries to avoid rising wages in China, and how this may impact future economic growth.
Summary and policy advice
China is set to face major challenges in the coming decades due to its rapidly aging population. The high dependency ratio of retirees and very low birth rates may significantly inhibit future economic growth, and are sure to strain public finances.
One of the key issues that may help to alleviate China's demographic challenge is the situation of rural migrants in urban labor markets. The prominent hukou policy still separates workers into two distinct tiers, with most rural migrants occupying the bottom of the social strata in cities. In line with this, the evidence shows that substantial inequalities exist between rural migrants and urban workers, with the latter group earning higher wages and having lower unemployment rates than their migrant counterparts.
The Chinese government must provide abundant funding to care for its elderly in the future. The budget should thus be reevaluated to improve spending efficiency. One option is to promote the reallocation of workers from SOEs to private firms and to further relax financial constraints on private companies. Turning to the issue of a declining labor supply, increasing the fertility rate would help address the decreasing proportion of youth in the population. This calls for a possible further relaxation of population control policies. Furthermore, while the urban labor force is aging rapidly, an abundant supply of youth labor exists in rural areas. Hence, rural migrants could play an important role in dealing with the aging urban population challenge. Policymakers should therefore devote substantial attention to reducing segregation in urban labor markets, and rural migrants should be able to enjoy the same benefits as their urban counterparts.
Acknowledgments
The authors thank an anonymous referee and the IZA World of Labor editors for many helpful suggestions on earlier drafts. The authors are grateful for the funding support provided by the Ministry of Education of China (No. 16YJC790109), Guangdong Planning Office of Philosophy and Social Science (No. 2017GZQN08), and the Natural Science Foundation of China (Nos 71173178 and 71703055).
Competing interests
The IZA World of Labor project is committed to the IZA Guiding Principles of Research Integrity. The author declares to have observed these principles.
© Junsen Zhang and Jia Wu