Elevator pitch
More than 100 million women and girls in the world have had their genitals cut for cultural, religious, or other non-medical reasons. Even though international organizations condemn female genital mutilation (FGM), or cutting, as a violation of human rights, and most nations have banned it, it remains prevalent in many African countries, and is slow to decline. This persistence raises questions about the effectiveness of international and national laws prohibiting the practice as well as the potential role of returning migrants in changing embedded cultural norms. Does migration change migrants' opinions and attitudes to this custom? If so, do they transfer the new norms to their origin countries?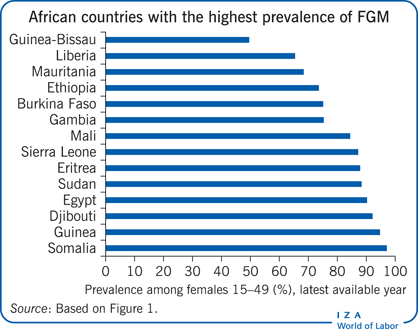 Key findings
Pros
Migration can generate different attitudes toward social norms and different political opinions and persuasions.
Migrants who return to their home country can be an especially powerful vehicle for engendering new social norms.
Return migrants could help eliminate FGM as they can reduce the degree of importance attached to the "social identity" role of FGM.
Return migrants can be more effective than top-down interventions and information campaigns conducted by people from outside the targeted community.
Cons
Not all migration experiences give migrants the opportunity to learn and adopt new social and political values and norms.
The influence of return migrants is strongest when they are present in large numbers in their community of origin or when they rank highly in the social hierarchy.
Empirical evidence is scarce in relation to the process of social change in developing countries.
Author's main message
FGM is perceived in many societies, particularly in Africa, as being an important social identity marker. Returning migrants, as a vehicle for new social norms, could help address the problem. However, the process of "social transfer" is complex. First, the migration experience has to provide a real opportunity for migrants to learn and want to adopt new values and social norms. This could be achieved through integration policies that favor social interaction, literacy, and language skills. Second, social transfer is effective only if the return migrants appear convincing to non-migrants. This could depend on both the number of "transmitters" of new norms in the population of origin and their social and economic standing. Policymakers should therefore consider ways of encouraging and assisting return migrants to resettle and find new employment.
Motivation
Female genital mutilation (FGM), also known as female genital cutting or female circumcision, refers to the partial or total removal of the female external genitalia or other injury to the female genital organs for cultural, religious, or other non-medical reasons. FGM is internationally recognized as violence against girls and women and a violation of human rights. The World Health Organization (WHO) reports that between 100 million and 130 million girls and women in Africa, Asia and the Middle East have been cut and 30 million girls are at risk of being cut in the next decade, mainly in the 28 African countries where the custom is currently widespread [1].
FGM is practiced by older women mainly on young girls aged from infancy to 15. The WHO states that procedures can cause serious short- and long-term health risks including, but not limited to, severe bleeding and urination problems, and chronic genital and urinary infections that later lead to cysts. FGM can also result in death through blood loss and infection, increased risk of HIV, and significant psychological damage, such as post-traumatic stress disorder.
The fact that FGM persists raises questions about the effectiveness of international and national laws that prohibit it and the actions taken by non-governmental organizations against the practice. Indeed, formal and top-down national laws banning FGM will continue to remain ineffective if they fail to take into consideration the embedded perception of the custom as being an individual and community identity marker [2].
Research has shown that return migration can be an important channel for stimulating political change and changes in fertility behavior in the country of origin [3], [4]. However, very little research has examined the extent to which migration and return migration can change cultural practices such as FGM. Yet it is an area that lends itself well to the study of a potential transfer of norms induced by migration, in that the practice is banned in many of the countries that receive migrants from places where the custom is still largely practiced. In addition, although FGM is deemed a violation of human rights and can have very severe health repercussions, international and national action against it seems powerless to roll back the practice in the world. Therefore, an important question is whether migration can help eliminate the practice.
Discussion of pros and cons
Limitations and gaps
In general, when considering migrant-driven social remittances, it is important to bear in mind the limitations that can bias study findings. For example, migrants may have specific unobservable attributes, such as an aversion to FGM or a preference for democracy, which may affect the probability they will leave their country and their opinions concerning FGM, or their political attitudes. The transfer of social norms is a complex phenomenon that occurs only if various mechanisms are effective.
An interesting question that has not yet received enough attention is how willing and able are migrants to adopt new norms. Much could be learned also from a better understanding of the role of return migrants in their origin communities and their position in non-migrants' social networks.
Improving the understanding of FGM practice and the role of migrants calls for an in-depth analysis of migrants' FGM behavior and opinions during their period of migration and when they return to their country of origin. Such an analysis requires large-scale surveys combined with qualitative interviews. More studies of community pressure on women and the dynamics of changes to social norms are also needed. Lastly, given that many public actions against FGM are implemented in different situations, methodologically rigorous intervention evaluations need to be developed. Randomized controlled trials should be implemented, with the aim of identifying which kinds of actions against FGM are most effective.
Summary and policy advice
Migration can be a powerful vehicle for changing social norms. Social remittances, that is, the communication and transfer of new ideas and values, can have much greater long-term effects than financial remittances on social and economic development, by fostering cultural and political change. As has been shown in different settings, migratory flows can be influential in processes of transition toward greater democracy and political transparency. FGM is another area where migration can be a positive means of helping change culturally embedded practices.
When FGM is considered to be a social identity marker, legal norms can do little to deter the practice if they run counter to social norms. In contrast, return migrants, as a vehicle for new social norms, can help eradicate FGM. Their social and economic status can give them the capacity to change communities' social norms. Moreover, by supporting opposition to the practice within communities, return migrants could help drive information campaigns on the negative health effects of FGM and its violation of human rights and help enforce laws banning female circumcision. Return migrants should therefore be more involved in action to counter FGM.
However, not all migration experiences generate the process of social remittances. Host countries have to provide immigrants with an environment in which they can become aware of new ideas and opinions. This requires integration policies that encourage social and educational interactions with the host society. For example, through support programs for migrants to learn the host country language, literacy classes for women, or housing policies that foster more social mixing. The circulation of migrants could be better facilitated between the host and origin countries and the costs of interacting and transacting with the home country could be decreased, for example, by simplifying visa application procedures. Finally, origin countries should actively encourage return migration, as this is crucial for the transfer of new ideas and social norms. This could be achieved by helping return migrants to resettle and find new employment.
Acknowledgments
The author thanks two anonymous referees and the IZA World of Labor editors for many helpful suggestions on earlier drafts. Previous work of the author (together with Idrissa Diabate) contains a larger number of background references for the material presented here and has been used intensively in all major parts of this article [1].
Competing interests
The IZA World of Labor project is committed to the IZA Guiding Principles of Research Integrity. The author declares to have observed these principles.
© Sandrine Mesplé-Somps