Elevator pitch
Higher inequality reduces capital accumulation and increases the informal economy, which creates additional employment opportunities for low-skilled and deprived people. Despite this positive feedback, informality raises problems for public finances and biases official statistics, reducing the effectiveness of redistributive policies. Policymakers should consider the links between inequality and informality because badly designed informality-reducing policies may increase inequality. However, convincing empirical evidence is still lacking and is usually limited to correlations rather than causal effects.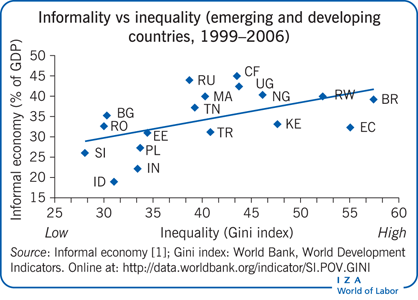 Key findings
Pros
The informal economy increases human capital accumulation due to the provision of employment opportunities to low-skilled workers, especially in developing countries.
Informal activities that provide employment to lower-income workers likely lead to beneficial effects on income distribution.
Informal activities can help to maintain economic activity when rent-seeking and excessive regulatory burdens raise the cost of formal production.
Cons
Higher inequality decreases human and physical capital accumulation, which may increase informality.
Widespread informality can lead to severe problems for public finances and reduce the resources available for redistributive policies, potentially leading to less effective redistribution.
Public policies aimed at reducing informality can increase inequality.
Informal workers can be locked into informal jobs, thus decreasing their social mobility.
Due to measurement errors in informality and inequality data, empirical analyses on this issue should be interpreted with caution.
Author's main message
Analyzing the relationship between inequality and informality is challenging due to an influential third factor: the official economy. Omitting the different causal mechanisms between these three variables may inhibit effective policy making. The informal economy can provide sources of income and opportunities to accumulate human capital for marginalized workers. For transition and emerging countries, this means that informality-reducing policies based only on tax reduction and enhanced enforcement of tax and regulatory rules may lead to disappointing economic outcomes, such as increased inequality, and higher rates of long-term unemployment.
Motivation
Over the past two decades, empirical research has largely supported the hypothesis that income inequality and informality are positively correlated. This evidence also shows that various causal mechanisms may operate in both directions. Inequality and informality, and the links between the two, are important to society because they affect economic growth and the quality of institutions. The composition of the informal economy (i.e. informal sector, illegal and underground production) affects the consequences of inequality on informality, and vice versa; in turn, this relationship influences the design and effects of public policy. For transition and emerging countries, where the informal sector is expected to be predominant compared to underground production, uncompromising policy measures intended to reduce informality by increasing enforcement may have largely detrimental effects (e.g. increase inequality and decrease overall economic growth).
Discussion of pros and cons
Limitations and gaps
Analyzing the sign (whether positive or negative) of the relationship between inequality and informality empirically is challenging, mainly due to measurement errors in informality data. This concern is particularly relevant in macroeconometric analyses, because aggregate measures of informal economy are hard to measure, and different methods and definitions yield different results. It is widely accepted by most scholars that all estimates of informal economy are "vulnerable" and no one can really claim to be confident in the full reliability of their estimates, regardless of which method is used.
Concerning the measure of inequality, there exists a further source of bias due to the possibility that tax evaders under-report their income in household surveys that are used to determine income inequality, likely reporting the same (lower) figures as they declare in their tax returns. Given that informal income is not uniformly distributed along the income spectrum, empirical investigations on the relationship between informality and inequality are twice as challenging due to the existence of two sources of correlated measurement biases. In other words, there is a measurement bias in the inequality index estimation—due to asymmetrical distribution of the informal income along the population—and a further source of measurement errors related to estimating the size of the informal economy. Moreover, these two variables' biases conflate potential errors in the other, because the measurement errors in inequality are also correlated to the size of the informal economy. All this means that empirical investigation on the relationship between the two phenomena is quite challenging.
Moreover, the occurrence of relevant feedback effects makes empirical outcomes not only tentative, but also merely correlational. Accordingly, more empirical analysis should be done to gather evidence on the relationship between inequality and informality, including causal relationships.
Summary and policy advice
The predominant view in the literature is that high inequality is harmful for economic growth and increases the informal economy. However, the effect of informality on many aspects of a country's economic and social life can be both negative and positive; therefore, it is hard to generalize the overall effect of inequality on informality, and vice versa.
What is clear is that the role and relative importance of informal, illegal, and underground production strongly affect the consequences of inequality on informality (and vice versa) and, in turn, influence the design and consequences of public policy. This emphasizes the need for further research, particularly for focused normative analyses on informality that assess groups of homogenous economies (e.g. OECD, transition, developing).
The primary practical takeaway is that policymakers should differentiate the design of informality- and/or inequality-reducing policies in accordance with the characteristics of the informal economy (i.e. the relative size of the informal sector versus underground production). If they fail to do this, even well designed policies aimed only at reducing inequality or only at combating informality may end up being detrimental to the overall economy.
Acknowledgments
The author would like to thank an anonymous reviewer and the IZA World of Labor editors for helpful suggestions on earlier drafts.
Competing interests
The IZA World of Labor project is committed to the IZA Guiding Principles of Research Integrity. The author declares to have observed these principles.
© Roberto Dell'Anno