Elevator pitch
Standardized testing has become the accepted means of measuring a school's quality. However, the associated rise in test-based accountability creates incentives for schools, teachers, and students to manipulate test scores. Illicit behavior may also occur in institutional settings where performance standards are weak. These issues are important because inaccurate measurement of student achievement leads to poor or ineffective policy conclusions. The consequences of mismeasured student achievement for policy conclusions have been documented in many institutional contexts in Europe and North America, and guidelines can be devised for the future.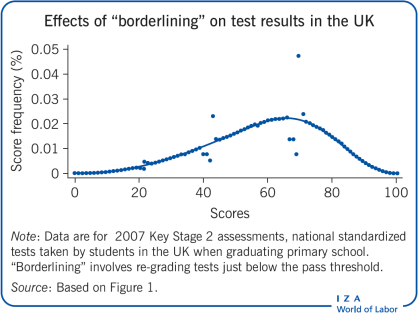 Key findings
Pros
Each investigation of test score manipulation must be done in context and requires qualitative indicators to assess the extent of the problem.
Simple indicators can often characterize the nature of the test score manipulation.
Controlled retesting of students, grading from independent markers, or random assignment of external monitors on the test day should be part of any testing protocol.
Cons
Testing manipulation is a pervasive problem that may follow from accountability pressures, ineffective implementation of testing protocols, or student cheating.
Manipulation of test results distorts student performance indicators leading to misleading evaluations of the effectiveness of teachers and school programs.
The manipulation of test results is intentional; as such, performance indicators obtained by dropping corrupted data are not reliable.
Author's main message
Manipulation distorts the accuracy of student achievement indicators, calling into question their validity as a tool for evaluating teacher performance and to enforce school accountability policies. Evidence of compromised scores can be obtained using simple indicators, but these rarely reveal (with certainty) who manipulated test scores or the reasons for this behavior. The most compelling evidence on manipulation comes from controlled retesting of students and from random assignment of monitors to classrooms. These procedures should be part of any testing protocol in contexts where manipulation is a serious threat to the fidelity of results.
Motivation
Cross-national comparisons on student achievement are often used to gauge the performance of a country's school system. Standardized tests collected in large-scale international surveys, such as the Trends in International Mathematics and Science Study, the Progress in International Reading Literacy Study, and the Programme for International Student Assessment, are often used as important inputs when designing educational policy. In addition, many countries have developed their own accountability systems to monitor performance on a continuous basis, and to set achievement standards. Performance-based accountability policies are often implemented to recognize school quality, allocate public funding, design pay incentives for teachers, and target the most problematic areas of a country's education system. High-stakes testing can increase the likelihood of score manipulation; this distortion may seriously alter key indicators upon which policy conclusions are based.
Discussion of pros and cons
Limitations and gaps
Even when the origin of manipulation is revealed by the institutional context, the problem remains that affected students are likely selected along dimensions that are unobservable to the analyst. This poses a selection problem. For instance, teacher cheating motivated by accountability concerns will likely inflate exams for the worst students. Arguing that cheating is therefore more likely at the lower end of the achievement distribution is, however, not enough to know what the true score distribution would have looked like had cheating not taken place. This is the main challenge for the computation of reliable indicators of student achievement if one has reasons to believe that manipulation is a serious threat. In these contexts, standardized testing conducted without rigorous monitoring can lead to results that offer little help for designing effective policy interventions.
Retesting, as shown in [4], is one way to retrieve counterfactuals, but this, of course, requires considerable time and additional data. Without retesting, there is not a golden rule to construct counterfactuals for manipulated scores. Assumptions must be motivated from knowledge of the institutional context, or from data availability. For example, counterfactual distributions in Figure 1 can be obtained by considering continuous lines in the two panels. As one would expect score distributions to be relatively "smooth" around performance thresholds, a simple yet convincing strategy is to extrapolate threshold patterns from data observed away from the points in question. The difference between counterfactual distributions (represented by the continuous lines) and observed distributions (represented by the dots) conveys the message that score inflation is more likely for exams falling close to critical thresholds.
Alternative strategies are possible, of course, but almost inevitably call for more technical assumptions that require discussions on a case-by-case basis and are beyond the scope of this article (see [1], [9], [11] for examples, as well as the growing literature on forensic economics).
Summary and policy advice
The proliferation of high-stakes testing as part of accountability policies (as with the No Child Left Behind Act) parallels the increased number of cheating allegations in various countries, most notably the US. However, it is not only increased accountability that creates incentives to manipulate; such incentives may also arise in school systems with weak employee performance standards. The tendency for school staff to adhere to test administration protocols and grading standards may be limited because of moral hazard in effort, rather than by accountability concerns. Overall, it is fair to conclude that score manipulation is an unintended consequence of standardized testing, and further, that it may go unrecognized or unaddressed in all institutional contexts.
Identifying classes or students with manipulated scores is a difficult task. Indicators can be constructed to detect outliers in the data along a multiplicity of dimensions. Still, misclassification (i.e. honest scores that are incorrectly identified as corrupted) is a real threat. Any indicator should be taken with a grain of salt, and subjective judgment is always needed to understand whether the incidence of manipulation is important for the context under investigation.
Pervasive manipulation distorts indicators of school and student performance, as well as their relationship with corresponding characteristics. In particular, the computation of the progress students make between different stages of education may be strongly affected. The promise of rewards or sanctions based on (contaminated) indicators of achievement may exacerbate inequalities in student achievement.
The most compelling evidence on score manipulation comes from controlled retesting of a random sample of students, and from random assignment of external monitors to schools and classes on the test day. This evidence demonstrates that cheating can be virtually eliminated through the implementation of proper safeguards. These solutions (controlled retesting and external monitors) should be included in testing protocols whenever manipulation is considered a serious threat to the validity of test results.
Acknowledgments
The author thanks an anonymous referee and the IZA World of Labor editors for many helpful suggestions on earlier drafts. Ongoing work of the author with Josh Angrist [1], Michele De Nadai [2], Lorenzo Neri [3], and Daniela Vuri [1], [2] contains a larger number of background references for the material presented here, and has been used intensively in all major parts of this article. The views expressed here are those of the author alone.
Competing interests
The IZA World of Labor project is committed to the IZA Guiding Principles of Research Integrity. The author declares to have observed these principles.
© Erich Battistin