Elevator pitch
By supporting aggregate demand, including by easing financial constraints that affect businesses and house­holds, accommodative monetary policy increased employment during the 2008 financial crisis and its aftermath. But, monetary policies that ease financial pressures also reduce necessary restructuring that normally contributes to productivity growth. One reason why productivity growth has been weaker in the aftermath of the crisis is that aggressive monetary policy actions have weakened underlying supply-side performance and labor productivity.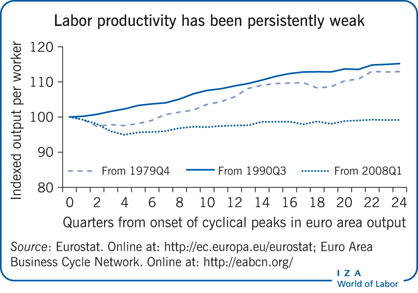 Key findings
Pros
Policy loosening by central banks initially raises demand for labor by reducing the effect of financial constraints on employment through lower interest expenses.
A severe fall in labor demand and reductions in employment can weaken an economy's supply-side performance through increased long-term unemployment and loss of potentially productive businesses; such effects reinforce the benefits of accommodative monetary policy during a downturn, at least initially.
Cons
Budget constraints necessitate the reallocation of resources to more productive uses; highly accommodative monetary policies that reduce financial pressures may mitigate this effect and thus weaken the underlying supply side of the economy.
Monetary policy easing may reduce the positive effects of resource allocation to a greater degree in economies whose financial systems are bank-based as opposed to market-based.
Author's main message
Monetary policy actions supported economic activity, labor demand, and employment during the 2008 global financial crisis, partly by avoiding the "hysteresis effects" (which raised the unemployment rate persistently) after past European recessions. However, if financial constraints continue to be reduced well into a recovery, this may impede productivity growth, job creation, and ultimately the strength of the recovery. While monetary policy loosening is an essential policy response to a downturn, timely removal of such policy, alongside other policies that raise productivity growth, is necessary for the medium-term strength of the recovery.
Motivation
A remarkable feature of the 2008 global financial crisis and its aftermath has been the scale of monetary policy response. Central banks in the US and Europe eased monetary policy through interest rate cuts to historic lows, large-scale asset purchase programs financed by the creation of central bank money (quantitative easing), and credit easing measures that subsidized credit expansion on favorable terms. Both the European Central Bank (ECB) and the Bank of England have recently turned to buying corporate bonds as a further means of policy action.
Monetary policy acts through a range of channels to affect nominal demand. One of these channels operates by affecting the incidence of liquidity constraints, which make business spending sensitive to current cash flows. Particularly at a time when credit supply is restricted, accommodative monetary policy (i.e. monetary loosening or easing) reduces the incidence of these financial constraints. In other words, it relieves financial pressures affecting businesses, primarily by reducing interest expenses and freeing up credit, and supports labor demand and employment.
Such actions may also have supply-side effects, including affecting available supplies of labor and capital, which operate through the incidence of financial constraints that makes business spending sensitive to current cash flows. In the short term, actions that support demand may avoid damaging supply-side effects via "hysteresis" or scarring effects, which means that subdued levels of output beget longer-lasting weakness [1]. Such hysteresis effects have been an important feature of Europe's past recessions, which are typically characterized by periods of high unemployment experience [2].
However, financial pressures are also part of the process that ensures that capital is reallocated from low to high productivity sectors and establishments. Such reallocation can be highly beneficial; it normally accounts for a significant fraction of labor productivity growth. While post-crisis unemployment rates have fallen—suggesting hysteresis effects have been avoided—labor productivity growth has remained persistently weak. The longer that exceptional policy easing from central banks persists, the greater the risk of adverse supply-side effects.
Discussion of pros and cons
Modern macroeconomics has identified financial frictions as a key source of amplification of the business cycle. These frictions, which prevent an immediate clearing of a market, are likely to rise in a downturn, and especially in a financial crisis. For example, businesses may find it more difficult or costly to access finance even for a given risk-adjusted return on their investment. Applied microeconomics has concluded that financial constraints affect firms' labor demand by adding to effective borrowing costs. Evidence from firm-level studies shows how accommodative monetary policy supported labor demand and employment throughout the 2008 financial crisis and its immediate aftermath. Unemployment would have increased by more without such central bank actions to cut interest rates and adopt other "non-standard" ways of easing monetary policy, e.g. through quantitative easing programs and offering cheap term funding to banks.
Limitations and gaps
It is important to remember that the evidence presented here does not emerge in a laboratory-style experiment. The circumstances in which central banks have been called upon to act in unprecedented ways have been unique. Micro-level data, which controls for unobserved characteristics, may go some way to help control for some of these unique features. But, identifying the counter-factual of what would have happened to employment and labor productivity had central banks not acted in the way they did is a highly uncertain exercise.
Moreover, other factors may have influenced the measures evaluated in this article, some of which may have preceded the crisis. For instance, it is likely that a range of structural and technological factors are likely to have influenced the weakness in labor productivity. These would need to be incorporated into a fuller assessment of the economic effects of the policy response to the crisis in order to more completely understand the mechanisms at play.
Summary and policy advice
Monetary policy has a difficult balance to strike between supporting the demand-side effects of alleviating financial pressures while minimizing the adverse effects of such actions on the economy's supply side. Monetary authorities are right to act aggressively to lower interest expenses for businesses in an economic and banking crisis. They are also right to avoid high levels of financial pressure, which would inevitably weaken the inflation outlook as well as employment. By doing so, they would also reduce the risk of so-called hysteresis or scarring effects of unemployment, which have operated in Europe in the past.
However, the longer that highly accommodative monetary policy persists, the more this may tip the balance toward adverse supply-side effects, especially via persistently weaker labor productivity. That might especially apply once unemployment rates have been lowered to pre-crisis levels. Striking this balance is likely to dominate discussions of setting the right monetary policy in Europe for years to come.
Acknowledgments
The author thanks two anonymous referees and the IZA World of Labor editors for helpful suggestions on earlier drafts. All views expressed are personal. Previous work of the author [5], [6], [7] contains a larger number of background references for the material presented here and has been used intensively in all major parts of this article.
Competing interests

The IZA World of Labor project is committed to the IZA Guiding Principles of Research Integrity. The author declares to have observed these principles.
© Andrew Benito