Elevator pitch
Remittances have risen spectacularly in recent decades, capturing the attention of researchers and policymakers and spurring debate on their pros and cons. Remittances can improve the well-being of family members left behind and boost the economies of receiving countries. They can also create a culture of dependency in the receiving country, lowering labor force participation, promoting conspicuous consumption, and slowing economic growth. A better understanding of their impacts is needed in order to formulate specific policy measures that will enable developing economies to get the greatest benefit from these monetary inflows.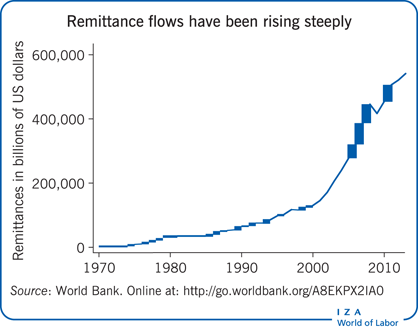 Key findings
Pros
Remittances can increase the well-being of receiving households by smoothing consumption and improving living conditions.
Remittances can facilitate the accumulation of human capital by making possible improved sanitary conditions, healthier life styles, proper healthcare, and greater educational attainment.
Remittances can ease the credit constraints of unbanked households in poor rural areas, facilitate asset accumulation and business investments, promote financial literacy, and reduce poverty.
Cons
Remittances can reduce labor supply and create a culture of dependency that inhibits economic growth.
Remittances can increase the consumption of nontradable goods, raise their prices, appreciate the real exchange rate, and decrease exports, thus damaging the receiving country's competitiveness in world markets.
Remittances can be curtailed, along with international migration, by escalating anti- immigrant sentiment and tougher enforcement practices in host countries, including the US and many in Europe and the Gulf region.
Author's main message
Remittance flows have the potential to greatly improve the livelihoods of receiving households by smoothing their consumption and enabling investments in human and other capital. At an aggregate level in the receiving country, they facilitate economic stability, improve creditworthiness, and can attract investments to promote economic growth and reduce poverty. The main challenges remain how best to assess the impacts of remittances and how to design policies that facilitate the transmission and productive use of remittance flows while taking into account the idiosyncrasies of each country. Possible policies range from easing capital controls to reforming immigration policy.
Motivation
Remittances, the repatriated earnings of emigrant workers, have grown remarkably in recent decades, while proving considerably less volatile and more reliable than other sources of foreign exchange, such as foreign direct investment and official development aid. The economic relevance of these monetary inflows is evident from the raw figures (Figure 1). In both India and China remittances exceeded $50 billion in 2013. Yet, these sources of foreign exchange are particularly important for small developing economies; they accounted for more than 50% of gross domestic product (GDP) in Tajikistan in 2012, for example (Figure 2).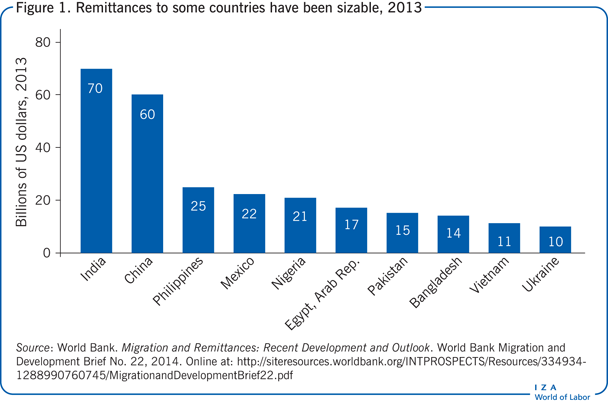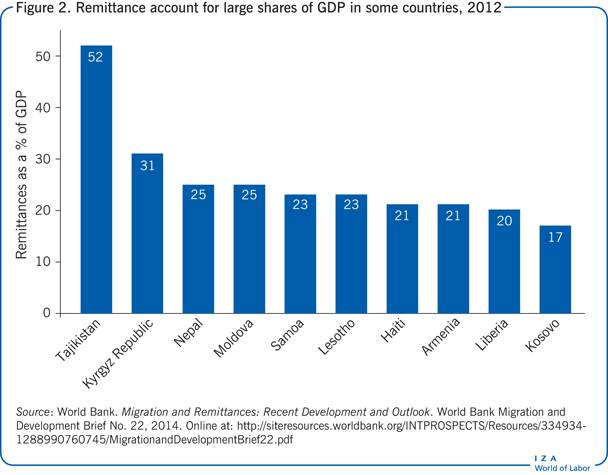 The growth in remittance flows has fed a long-standing debate on their positive and negative consequences. On the one hand, some studies have pointed out how remittances have hurt the receiving economy by cultivating a culture of dependency that reduces labor supply and promotes conspicuous consumption. At a macro-economic level, remittances have been found to hurt exchange rates and the export sector through the so-called Dutch disease. On the other hand, many studies have noted that these monetary flows can greatly improve the livelihoods of receiving households by promoting education, health and capital investments. At an aggregate level, positive effects include economic stability, improved creditworthiness, and greater access to foreign capital that can boost economic growth. The empirical evidence remains mixed.
Discussion of pros and cons
Limitations and gaps
Overall, when considering the impact of remittance flows on receiving economies, it is important to keep in mind research limitations that undoubtedly shape study findings. Most studies focus on a specific country or region at a particular point in time. Because of cultural differences and country idiosyncrasies, some of the empirical evidence based on a specific country might not generalize to other economies. For instance, even if remittances cause Dutch disease in some Latin American and Caribbean economies, they might not do so in a large economy like Mexico. Furthermore, remittance impacts might vary over time within a given country depending, among other things, on its policies and the characteristics of emigrants.
Further, studies have applied many different methodologies as they try to get at the causal impacts of remittance flows. These differences undoubtedly contribute to the diversity of findings. Some studies implement randomized trials, some exploit natural experiments, some rely on instrumental variable methods, and others do none of these. And getting at the causal impact of remittances remains a challenge given concerns about the endogeneity of remittances, the difficulty of separating the impacts of migration from those of remittances, and the selection of migrants into emigration and remitting, to mention a few.
Summary and policy advice
Remittance flows—estimated at $404 billion in 2013—are expected to continue to grow along with international migration flows. Because of the size and stability of these flows, remittances have the potential to help developing countries in a number of ways, from improving their economic stability and creditworthiness to attracting funds for asset accumulation and investments in human capital. The main challenge remains the design of policies that can promote these flows and their productive use while taking into account the idiosyncrasies of each country at a particular point in time.
In addition, while research has expanded the understanding of remittance flows and their impacts, there is more to learn about how the periodicity and predictability of the flows affect their impact. These aspects of remittance flows could prove crucial to the design of policies that can help developing economies attract the most remittance flows and use them most productively.
Finally, given the current political environment and escalating anti-immigrant sentiment, strict enforcement of immigration laws, and abusive treatment of immigrants in many remittance-sending countries, more research is needed on how immigration policies in host countries affect the flow of this vital source of foreign exchange for many developing economies.
Acknowledgments
The author thanks two anonymous referees and the IZA World of Labor editors for many helpful suggestions on earlier drafts.
Competing interests
The IZA World of Labor project is committed to the IZA Guiding Principles of Research Integrity. The author declares to have observed these principles.
© Catalina Amuedo-Dorantes