Elevator pitch
Arguments for increasing gender diversity on boards of directors by gender quotas range from ensuring equal opportunity to improving firm performance. The introduction of gender quotas in a number of countries has increased female representation on boards. Current research does not justify gender quotas on grounds of economic efficiency. In many countries the number of women in top executive positions is limited, and it is not clear from the evidence that quotas lead to a larger pool of female top executives, who are the main pipeline for boards of directors. Thus, other supplementary policies may be necessary if politicians want to increase the number of women in senior management positions.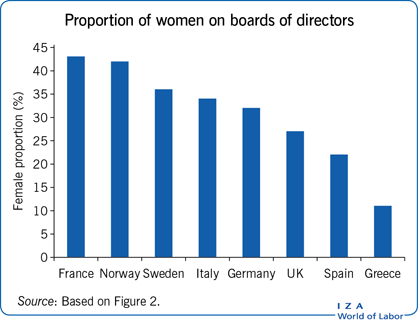 Key findings
Pros
Quotas increase the number of women on boards of directors.
The decision-making process improves with greater gender diversity on boards.
Having female board members seems to improve board attendance.
Having female top executives may have positive effects on the career development of women at lower levels of an organization.
Boards with more female members tend to be tougher monitors of company executives.
Cons
Boards with diverse members or members who differ from the company's senior management may experience communication problems internally and with management.
Quotas imply that less experienced women will join boards because the supply of qualified women in senior executive positions is thin.
Quotas seem to have little positive effect on increasing the pool of women with senior executive experience.
Despite some positive outcomes, the short-term performance effects of female board members are insignificant or negative, and it is too soon to establish the long-term effects.
Author's main message
From an economic efficiency perspective, ensuring that there are good female candidates for board positions requires widening the pipeline of women progressing to senior management and top executive positions. Policymakers may have to change their focus from requiring quotas for the top of an organization to the much broader task of getting a more balanced gender division of careers within the family, for instance by encouraging more fathers to take advantage of parental leave schemes.
Motivation
Many women have worked full-time for decades, and in 2015 close to 60% of all graduates of OECD universities were women. Nevertheless, women are still under-represented in executive suites and board rooms. In 2017, women made up 25% of board members of European publicly listed companies. There has been a sharp increase in this figure during the last ten years from only 11% in 2008 [1]. However, if women are as qualified for management as their male counterparts, the low female share of board members reflects a huge loss of talent and educational investment to both individual firms and the economy. Issues of fairness and equal opportunity also argue for political regulation and affirmative action policies.
Since 2005, several European countries have introduced radical gender quota regulations for their largest companies, and the European Commission has considered EU-level binding quotas for company boards. While the main political arguments for quotas are based on fairness and equality of opportunity, this article looks mainly at economic outcomes. It discusses the economic theory and empirical research on the potential effects of gender diversity at the board level and the relationship between gender diversity and firm performance. Norway, which was the first country to introduce binding quotas, receives special attention for its regulation, in force since 2008, requiring that the boards of publicly listed companies have at least 40% female representation. Norway's experience can be viewed as a full-scale social experiment to guide politicians who want to increase the proportion of women in powerful positions. Though the quota has now been binding for ten years, it is still too early to evaluate all of the long-term effects of this policy.
Discussion of pros and cons
Limitations and gaps
The empirical research is still young, and there is as yet no consensus on the best methods for analyzing the impact of gender diversity on firm performance. The conclusions outlined here are based on an evaluation of the most statistically robust studies and results. Most of the results are based on the Norwegian experience.
Furthermore, most of the results reflect only the short-term effects of female quotas. In the longer term, there may be more positive effects as the quota regulation brings about deeper-rooted changes. However, the limited existing experience from Norway is not that promising in this direction.
Summary and policy advice
Research offers no clear answer on whether gender diversity on boards of directors positively affects economic efficiency and firm performance. The empirical results are sensitive to statistical specification and need to be weighted by their statistical validity. When the results are weighted, positive economic efficiency effects of gender diversity on corporate boards generally cannot be documented. Only for badly performing companies does there seem to be a positive result from having more women on the board. One explanation may be that women tend to be tougher monitors of company executives and to improve board decision-making processes. The empirical evidence concerning the economic effects of gender quotas for boards of directors is likewise very mixed and inconclusive.
However, whether there is a business case for quotas may not be the most important question to pose. In a long-term policy perspective it may be much more important to ask the question: how can the gender gap and lack of women in management positions be alleviated? Women are equal or even superior to men in their level of formal education, but even countries with a long history of strong equal opportunity and female-friendly policies, as in the Nordic countries, have a large gender gap when it comes to top management positions. The lesson from these countries seems to be that family-friendly policies do not help women move into top management positions or onto boards of directors unless they are gender-neutral in operation.
If the main policy objective is to get more women into powerful positions in private companies, politicians might have to change the focus from quotas at the top of the organization to the much broader task of getting a more equal gender division of careers within the family. This might be achieved through gender-neutral family policies and quotas for fathers in parental leave schemes.
Acknowledgments
The author thanks two anonymous referees and the IZA World of Labor editors for many helpful suggestions on earlier drafts. Version 2 of the article takes a look at the Norwegian gender quota ten years since it was first introduced, updates the figures, and completely revises the reference lists.
Competing interests
The IZA World of Labor project is committed to the IZA Guiding Principles of Research Integrity. The author declares to have observed these principles.
© Nina Smith