Elevator pitch
While many firms have recognized the importance of recruiting and hiring diverse job applicants, they should also pay attention to the challenges newly hired diverse candidates may face after entering the company. It is possible that they are being assessed by unequal or unequitable standards compared to their colleagues, and they may not have sufficient access to opportunities and resources that would benefit them. These disparities could affect the career trajectory, performance, satisfaction, and retention of minority employees. Potential solutions include randomizing task assignments and creating inclusive networking and support opportunities.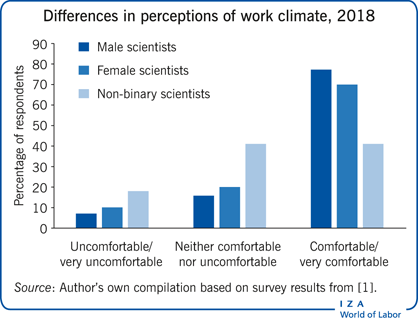 Key findings
Pros
When employers have more information about each worker's past performance, they are more likely to give women proper credit for their contributions to group tasks.
Well-specified rubrics can reduce the bias that arises from subjective evaluations.
Employers can randomly assign mundane tasks to employees so that no one is favored.
Employers can pay attention to how inclusive their networking events are and create affinity groups to make minority workers feel included.
Cons
Women may be given less credit for group work than men when it is unclear what each person contributed, which could affect their chances of being promoted.
When subjective ratings are used, biased employers may not weigh objective measures of performance the same for black and white employees.
Women are more likely to be asked to complete mundane tasks than men.
Minority workers may not have the same networking opportunities that nonminority workers do, which could affect their earnings and career trajectories.
Author's main message
Employers risk the possibility of negating any benefits from policies introduced to hire diverse employees if they ignore the challenges that these individuals encounter after joining the company. Firms should be conscious of existing policies and traditions that provide advantages for some but not all employees. Promoting affinity groups and paying careful attention to what tasks minorities are assigned to can help improve the work environment for minority employees and should be strongly considered by any employer with a diverse workplace that wants to retain and support minority employees.
Motivation
As more attention is paid to how some individuals face unfair disadvantages because of their identity, employers and employees are increasingly questioning whether their workplace is equitable. For example, Facebook was federally investigated in 2020 due to accusations of racial bias in hiring. In countries like the US, it is illegal to discriminate in the hiring process based on a person's race, gender, or sexual orientation. Consequently, firms that discriminate risk engaging in costly litigation as well as tarnishing their public image. There are also non-legal reasons why a firm would be interested in making sure its workforce is diverse. For instance, firms may value the different perspectives and talents that come with having employees from different backgrounds.
The topic of labor market discrimination has been studied by economists for decades. Primarily, this research has focused on discrimination at the hiring stage. For many of these studies, the researchers create fake applications and submit them to real job postings. The applications are designed to look nearly identical; however, some of the fake applicants' characteristics (e.g. gender) are purposely changed. The aim is to see if there is any difference in callback rates between the fake applicants based on the changed characteristic. If there is a difference, it cannot be explained by differences in factors like work experience or educational attainment because these are qualities that the researcher kept constant across applications. This allows researchers to conclude that employers are discriminating based on the characteristic that was changed. One of the seminal studies that uses this method found evidence of discrimination against black applicants when the researchers sent fake applications to job postings in Boston and Chicago in the US [2]. Another study, conducted in Austria, also uses this technique and found evidence of discrimination against lesbians who are open about their sexual orientation who applied for clerical and accounting positions [3].
If employers only focus on eliminating discrimination at the hiring stage, they may increase the number of new minority employees they recruit, but may miss other issues minorities face after they are hired. These issues could relate to evaluations, task assignments, networking, and work climate. Not addressing issues of disparities or discrimination could have major repercussions on the behavior of employers and employees.
From the employer's side, unwarranted differences in how employees are treated could cause firms to fail to promote or even fire minority employees harmed by this unequal treatment. For instance, if women are systematically rated worse than men on performance reviews, then women may be seen as less productive or be viewed as having less potential relative to equally capable men. This could then result in women having slower career progression or shorter tenures than men. Consequently, employers could negatively affect minority employees' positions in the firm if there are biased procedures or work experiences.
From the perspective of employees, several studies find a connection between discrimination, job satisfaction, and thoughts about quitting. One of these studies uses data from Finland and finds that employees who experience discrimination in the workplace express higher job dissatisfaction and are more likely to have searched for a new job in the last month [4]. In addition, several scientific organizations published a report based on a survey they conducted of LGBT+ physical scientists in the UK and Ireland [1]. They found that 28% of their LGBT+ respondents said that the workplace climate or discrimination toward LGBT+ individuals caused them to think about leaving their jobs at some point. Therefore, minority employees who do not feel like they are treated fairly may voluntarily leave the firm.
Even if employees choose to remain at the firm, they may change their behavior based on their experiences and expectations. For instance, if women believe that supervisors will not properly recognize their work on a particular task the same way they would for male employees, they may change what tasks they undertake. If they switch to a task they are not as good at or that could be handled better by someone else, then this is inefficient. It could also be inefficient for the firm if female employees lose motivation to pursue certain tasks because they are not sufficiently appreciated for working on them.
If employers are spending time and energy trying to recruit diverse workers, then they should also care about retaining these workers and keeping them motivated so that hiring efforts are not wasted. This requires employers to pay attention to how their minority workers may face different work conditions than their nonminority counterparts and consider policies that can reduce any differences that prove harmful.
Discussion of pros and cons
Limitations and gaps
Each employee and employer is different. For this reason, research findings on bias and discrimination in the workplace can be mixed, and solutions that work at one firm or industry may not be effective in other contexts. Countries have different laws, social norms, cultures, and histories that could influence how diverse employees are treated as well as how effective diversity-related policies are in practice. Even within the same multinational firm, research has found that employees in different countries can face different challenges. For example, gender differences in promotions and beliefs about women's role in the workplace may be different based on the office's location. Consequently, diversity issues and their appropriate solutions may vary based on the country. Context matters, and employers should not expect that they will reproduce the same results as another firm even if they perfectly mimic that firm's interventions or policies.
Additionally, it should be noted that early studies on stereotype threat have received skepticism. Regardless, the issues mentioned in the sections above are meant to describe possible situations when an underrepresented employee may experience inequitable treatment. Not every employer or employee will necessarily face the same problem areas. Furthermore, employees' preferences and time demands could have an influence too, but are not discussed here.
Moving forward, more studies on workplace bias should be conducted that focus on identities besides race and gender, which are the main characteristics examined in the current literature. Employees have different religious backgrounds, sexual orientations, and disability statuses, among other characteristics. It would be presumptuous to apply what studies have learned about employees of different races and genders to other underrepresented groups without conducting further research about these groups.
Summary and policy advice
Upon entry, minority employees may face challenges at their new workplace that could cause their paths to diverge from their nonminority colleagues. Opportunities for promotions and raises could be negatively affected by biased evaluation processes, disparities in task assignment, differences in networking, and unwelcoming work environments. These factors could also affect employees' job satisfaction, desire to continue working for their employer, and performance. Recognizing these challenges is the first step for employers concerned about retention rates among their minority employees.
Subjective measures of performance may not perfectly reflect an employee's objective productivity. Subjective ratings allow evaluators' biases to influence their assessments. Creating well-specified rubrics and using standardized questionnaires are two ways to try to discourage this from happening.
To ensure that assignments are not given based on worker demographics, employers should pay attention to the types of tasks employees are completing. For mundane tasks, employers could implement a rotating schedule where each employee is asked to complete the task once before anyone is asked twice. Alternatively, the task could be randomly assigned [8]. Either of these strategies would reduce the chances of certain employees being disproportionally asked to perform such tasks at the expense of working on tasks that would better showcase or improve their skills and help them advance their careers. Importantly, employers should avoid asking for volunteers for these basic tasks because a study has shown that women are more likely to volunteer for low promotable tasks than men are [8].
Making networking opportunities equitable is a challenge. Some employees may be more sociable, personable, or outgoing than others, which may cause mentors and influential colleagues to gravitate toward them naturally. Instead of trying to change people's personalities, employers may want to focus on ensuring that the networking opportunities they organize are inclusive. If a firm wants to organize an informal gathering, they can plan some gatherings during lunch breaks so that those with time conflicts in the evening (e.g. parents picking up their children from daycare) can attend. Try to avoid scheduling any of these events during religious holidays. Ensure that the invitation is widely distributed (e.g. via email to all employees) and do not rely on word-of-mouth, which may unintentionally cause some employees to be left out. The aim should be to provide everyone with a chance to build professional connections, with the understanding that the employee will need to be proactive in order to develop these connections. Formal mentoring programs could also be introduced.
For employers wishing to change perceptions of the work climate, several actions are available. Inclusive social events, as mentioned above, could make a positive difference. They may also consider creating and financially supporting affinity groups, where employees who share an identity can have meetings, host events, and have discussions. For example, Amazon has several affinity groups, including Amazon People with Disabilities, Black Employee Network, and Body Positive Peers. Such groups can foster a sense of belonging and provide support systems for minority employees.
While there are many ways that employers can try to reduce inequities in the workplace, they should be aware that some approaches may be more effective than others. For instance, a 2006 study analyzes whether seven approaches (including, diversity training, networking programs, and mentoring programs) have an effect on the share of white women and black people in management positions [13]. Approaches that involve goal-setting and oversight, like diversity task forces, are effective at increasing diversity. This may explain why universities have begun hiring deans and chancellors of diversity, equity, and inclusion and why companies like Microsoft and Walmart have Chief Diversity Officers. The study also finds evidence that mentoring and networking programs are useful, but they do not help everyone [13]. Networking benefits white women while mentoring aids black women. Interestingly, although nearly 40% of the sampled employers made use of diversity training in 2002, diversity training did not significantly improve the share of white women, black women, or black men in management positions. This is consistent with related work that has found that diversity training may not lead to changes in actions to the degree that might be hoped for. Therefore, employers may want to focus their initial efforts on developing one or more teams of dedicated individuals who would be placed in charge of developing, enforcing, and/or evaluating diversity-related initiatives.
Acknowledgments
The author thanks an anonymous referee and the IZA World of Labor editors for many helpful suggestions on earlier drafts. The author also thanks Ernesto Reuben and Jack Mills. Previous work of the author contains a larger number of background references for the material presented here and has been used intensively in all major parts of this article [12].
Competing interests
The IZA World of Labor project is committed to the IZA Code of Conduct. The author declares to have observed the principles outlined in the code.
© Mackenzie Alston