Elevator pitch
It is a well-established view amongst economists that good-looking people have a better chance of employment and can earn more than those who are less physically attractive. A "beauty premium" is particularly apparent in jobs where there is a productivity gain associated with good looks, though this is different for women and men, and varies across countries. People also sort into occupations according to the relative returns to their physical characteristics; good-looking people take jobs where physical appearance is deemed important while less-attractive people steer away from them, or they are required to be more productive for the same wage.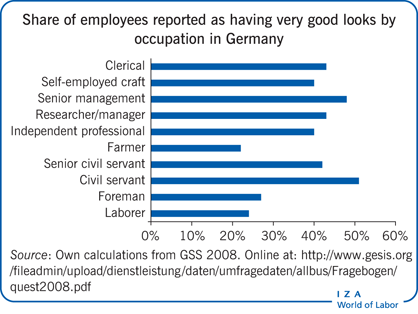 Key findings
Pros
Employer discrimination against less-attractive workers is present in the labor market.
In occupations where looks are important, a beauty premium is apparent.
Good-looking people sort into occupations where the payoff to appearance is higher, while those who are less good-looking avoid them.
The way in which physically attractive people sort themselves in the labor market is different for women and men, which also explains why the "beauty effect" is more pronounced for men.
Cons
There is not one universal standard of beauty. It is also difficult to measure.
Beauty is not a fixed factor, but can be influenced by other factors such as cosmetics or plastic surgery, as well as confounded by confidence or personality.
It is difficult to separate out the effect of beauty from other less immediately recognizable attributes of individuals.
Customer discrimination cannot be easily disentangled from real differences in productivity.
It is not easy to make cross-country comparisons when perceptions of physical attractiveness differ.
Author's main message
The number of employment-related discrimination claims based on employees' physical appearance is increasing. Policies to counter such discrimination are being introduced in a number of countries, but if they do not take into account the channels through which physical appearance is affecting labor market outcomes—such as employer discrimination, customer discrimination, productivity, and occupational sorting—they may fail to achieve their goals. Society should recognize and observe the relevance of a beauty premium. A need for interventions depends on legal considerations and whether such a premium reflects discrimination or productivity.
Motivation
The number of employment-related discrimination claims based on employees' physical appearance has increased in recent years. While beauty is difficult to measure, it is nevertheless a well-established view amongst economists that physically attractive people earn more than those who are considered to be less attractive. A "beauty premium" is particularly apparent in those occupations where there is a productivity gain associated with good looks.
As an illustration of the measures that are now being introduced to counter such discrimination, in 2000 the city and county of San Francisco prohibited discrimination based on weight and height, and issued appropriate compliance guidelines. In 2008, the District of Columbia also imposed a number of protection measures for employees, making it illegal to discriminate on the basis of external physical appearance for the purpose of recruitment, hiring, or promotion [1]. The aim of such local legislation is to protect individuals who could be disadvantaged by physical appearance [2].
Empirical results support the fact that "better-looking" people receive a wage premium, while those with "below-average" looks incur a wage penalty. In order to determine whether effective public policy could be developed to address this type of discrimination, it is important to understand why and how physical appearance can have an effect on people's pay.
Discussion of pros and cons
Limitations and gaps
Economic analyses cannot yet explain what makes some personal physical features or characteristics attractive and others not, or why the same individual features or characteristics bring about different responses from different observers (though individual preferences obviously play a part). In addition, few consistent standards of beauty exist across time and across cultures [2].
Identifying occupations in which looks could enhance productivity has proved to be a challenge. However, one attempt to do this has been through the Dictionary of Occupation Titles (DOT), compiled in 1997. The DOT provides a scale that rates whether physical appearance is important in a specific occupation and allows for the categorization of occupations according to the ratings.
Another method has been to classify occupations into "dressy" and "non-dressy," by taking advantage of questions in a survey that ask people's opinion on the importance of appearance in their professional lives. This strategy generally coincides with the previous classification using DOT. Occupations such as supervisors/managers, intellectual professions, administrative employees, service, and sales employees are included in the dressy category, i.e. those professions within which beauty may enhance a worker's productivity.
A further limitation of this work is that beauty is usually considered a matter of fact in and of itself, whereas in reality it may be influenced by and correlated to clothing, cosmetics, and plastic surgery expenditures. Failing to consider these issues may cause the estimated effect of beauty to be biased upward.
With regard to employer discrimination, it is difficult to state unequivocally whether discrimination is a result of biased beliefs on the part of the employer or due to a dislike of or "distaste" toward the individual.
Job performance is also difficult to measure, and household survey data usually do not provide this information as adequately as other measures of analysis, such as an employer's opinion of a worker's ability. The data do not even adequately capture performance-related wage adjustments. Such measures would help shed some light on the real reasons for employer discrimination. Experimental settings can overcome this to some extent if the wage negotiation process between the worker and potential employer is observed and considered and if workers' task-solving skills, that are not related to physical appearance, are adequately measured [13].
Another challenge in this area of research is the ability to adequately distinguish between the beauty effect that results from productivity, on the one hand, and the effect that occurs as a result of customer discrimination on the other. There is some research in support of the idea of productivity-related discrimination, but the evidence is unfortunately fairly weak. The research argues that due to omitted variables in the data, additional differences in productivity are not identified. To better describe this mechanism of transmission, alternative methods of analysis should be employed. Future research studies could do this by collecting data from a homogeneous group of workers from within one specified occupation, given that productivity-related discrimination is highly specific to a given occupation. For example, a study using a sample of university instructors found a positive relationship between standardized rankings of physical appearance and students' class ratings. It is unclear whether this is due to differences in productivity or to student discrimination in favor of instructors who are more attractive.
Also, in a sample of employees in the advertising industry, it has been found that attractive workers increase a firm's revenue by more than the additional wages that good-looking executives obtain. Therefore, in this case, executives' good looks enhance the human capital of the firm and the wage premium that employees obtain, which is most likely induced by higher productivity [2].
Summary and policy advice
The number of employment-related discrimination cases based on physical appearance has increased in recent years. Empirical research shows that positive labor market outcomes, particularly in terms of wages and "call-back" rates, are indeed related to good looks.
There are several mechanisms through which physical appearance can influence labor market outcomes, such as employer discrimination, customer discrimination, the "productivity effect," and occupational sorting [2]. These must be considered more clearly to understand the policy implications and options.
Policies that fail to take into account the channel through which physical appearance or attractiveness is affecting labor market outcomes may fail to achieve their goals. For example, if customer discrimination is taking place then policies that are geared toward buying from the less-attractive would be more effective than those focused solely on the employer. Examples here might include anonymous job applications, which would ensure less potential bias in selecting job applicants for interview. In some occupations this may make sense in order to avoid employer discrimination. In others it may not if customer discrimination is present.
Customer discrimination is difficult to eliminate and is more or less beyond the control of the employer, but once hiring takes place, an employer could provide in-house training on professional dress codes, approachability, and appealing personality characteristics, etc., in order to limit customer discrimination.
The growing practice in Europe of including candidate photographs on CVs should be abandoned in order to decrease the vulnerability of certain individuals to discrimination. Ensuring that at least one person participating in the interview process has undergone specific training on hiring without prejudice regarding physical appearance would be beneficial for a non-discriminatory recruitment process.
Society should recognize and observe the relevance of a beauty premium. A need for interventions like the introduction of anonymous applications in hiring also depends on legal considerations and whether such a premium reflects discrimination or productivity.
Acknowledgments
The author thanks two anonymous referees and the IZA World of Labor editors for many helpful suggestions on earlier drafts. Previous work of the author together with Xing Liu contains a large number of background references presented here and has been used intensively in all major parts of this article [2].
Competing interests
The IZA World of Labor project is committed to the IZA Guiding Principles of Research Integrity. The author declares to have observed these principles.
© Eva Sierminska